It is rare that I come across a client who says they have too much storage in the nursery. You can never have enough! And just when you think you have enough, you don't. Rather than overload the design with storage cubes and bookcases, I like to try to work in creative storage that will enhance the overall feel. Enter wall hooks. No matter how much furniture and decor you already have in your nursery, there is always a little bit of empty wall space to add in a hook or knob. Whether it be between closet doors, next to a window, or even on the door itself, there is bound to be a free spot. I love suggesting hooks and knobs to store items like towels, a diaper bag, or ring slings. You'd be surprised at how many creative uses you will come up with! Here are a few of my favorites below.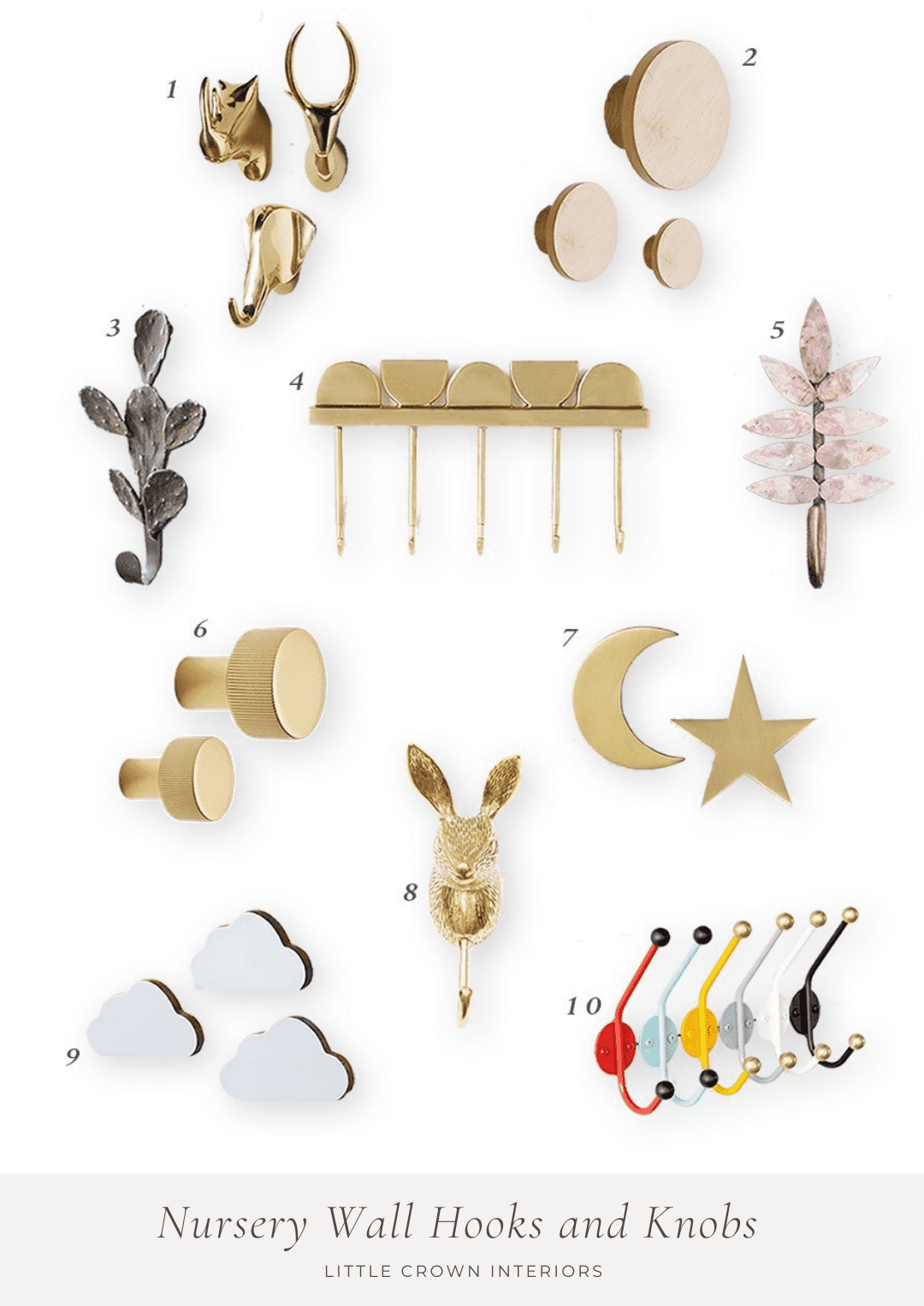 1. Gleaming Safari Busts: Do you remember the gold safari animal figurines that were wildly popular a few years ago? These are pretty much the hook form of this line. These busts are perfect for an animal themed nursery.
2. Beech Wall Hooks: I love the rawness of a light wood finish. The scale of sizes make these especially interesting. These feel a lot more sturdy and would be great for heftier items.
3. Cast Iron Cactus Hook: I really liked the rustic style of these cactus hooks. I also like that this hook doesn't feel gender specific. It would easily work into a variety of themes.
4. Totemic Hook Rack: I especially love this bohemian style hook rack. You can easily fit this piece onto a spare wall and can maximize hanging storage needs.
5. Copper Fern Hook: I wanted to include a few styles that felt a bit more mature. Hooks are equally as useful in children's and adult's spaces! The copper detailing paired with the raw stone work makes this one extra special.
6. West Slope Knob: These are a classic favorite of mine. Maybe they are not the most striking of styles but I love the modern and minimal feel. Rejuvenation is a brand I always find myself scouring for hardware, so I couldn't leave this find out for those who want a modern and classic feel.
7. Night Sky Wall Hooks: These night sky hooks have just enough flare and take to a more modern play on a solar theme. These also work really well as wall decor. I would like to see them incorporated into a gallery wall for functional interest!
8. Brass Rabbit Hook: If you have followed along on blog, you know how much I love anything animal themed. These rabbit hooks are the sweetest! They are available in both a brass and a bronze finish so you can mix and match.
9. Wooden Cloud Hooks: I really was drawn to the cookie cutter effect of these cloud shaped hooks. They couldn't be more simple but the style is so precious. These hooks clustered on a wall would double as a decorative touch as well.
10. Mid Century Double Hook: If you are in need of a color pop, these Mid Century hooks are the perfect find! I really like red in small bursts, so I can't wait to use these in a future design. These are also really great for matching to fit whatever your color scheme may be.
Do you prefer a cute themed hook or a more traditional and functional one?
*This post may contain affiliate links, but don't worry, I only link items that I 100% recommend!*
[et_bloom_inline optin_id=optin_10]