Window treatments are one detail of the nursery that is often overlooked. They are typically the last item to be selected, oftentimes because they push the project over budget or seem frivolous. In actuality, curtains are one of the most important design choices that you can make for your baby's nursery. Not only are curtains crucial for functional reasons, but they can tie an entire design together!
I find that my clients are often intimidated by installing curtains as well. Knowing the right size to order, the number of panels, and the proper hardware can feel overwhelming! Here are a few tips and tricks that I have collected over the years…
1. The higher and wider you mount the curtain rods, the larger and grander your space will appear.
2. Curtains should be mounted high on the wall, fairly close to the ceiling. The curtain length should barely brush the floor, or puddle about 3-4 inches if you prefer that look.
3. To calculate the length of curtains needed for your space, measure the distance from the floor to the ceiling, and then subtract about 3-4 inches to allow for hardware. You can even go closer to the ceiling if your hardware will allow!
4. You will likely need to tailor your curtains to get the right length. When in doubt, order longer than you need. They need just a simple bottom hem that your local tailor should be able to handle.
5. The lighter the curtain fabric color and material, the larger and more open the space will feel.
6. The combined width of the panels should at least double the width of the window. When using two panels, each should equal the width of the window. If you're buying ready-made curtains, this might not be possible, but do make sure that the panels will fully cover your window.
When choosing curtains, another key factor to consider is the direction the room faces. This will determine how much sun the space will receive as well as what time of day the room will receive maximum sunlight and heat. For east and south facing rooms, the decision for blackout curtains may be a given. Much of baby's sleeping time will be during the day for naps, so keep this in mind. In addition to eliminating sunlight, all ambient lighting should be dimmed or turned off including any electronics that can create blue light rays.
Another plus of blackout curtains is that they help to keep the indoor temperature regulated by blocking the sun's heat as well as cold air drafts. This is important for maintaining a comfortable temperature for baby to sleep in.
Below are a few of my go-to options for blackout curtains. Shades of white, off-white, and neutrals are great and versatile choices for any nursery. Make sure to keep scrolling down to read about curtain hardware!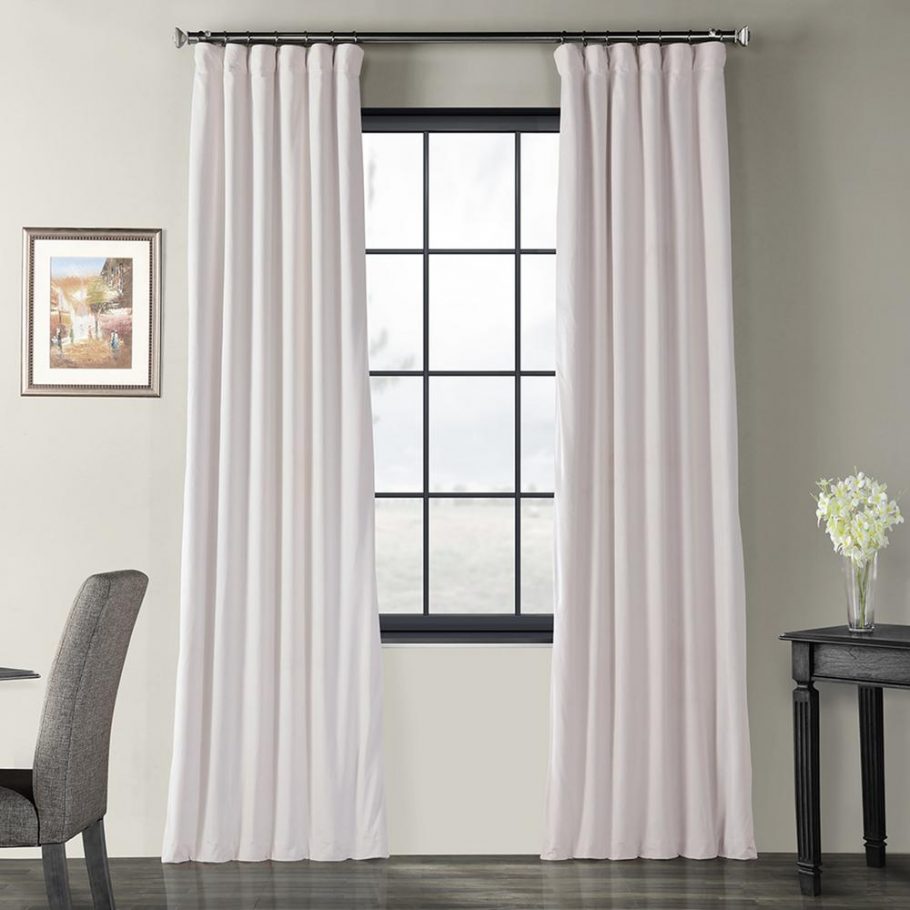 These off-white velvet blackout curtains are my absolute go-to. They are a decent price and made of a thick heavy velvet. Just make sure to get curtain rods that can support the weight!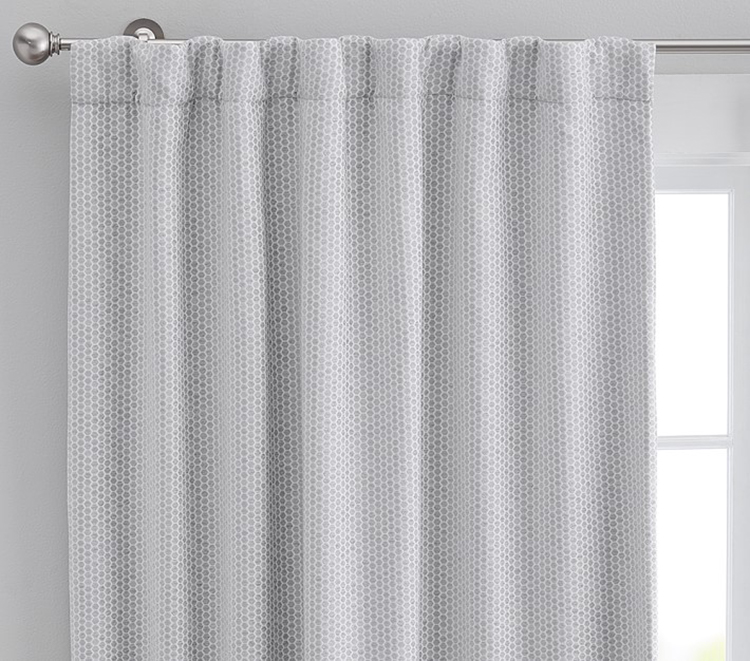 These honeycomb jacquard curtains add a subtle touch of a pattern perfect for any space. I love using this style when I need to add just a bit more interest to a design. This pattern works well in both traditional and modern spaces because it's so transitional. The choice of hardware will dictate how they feel!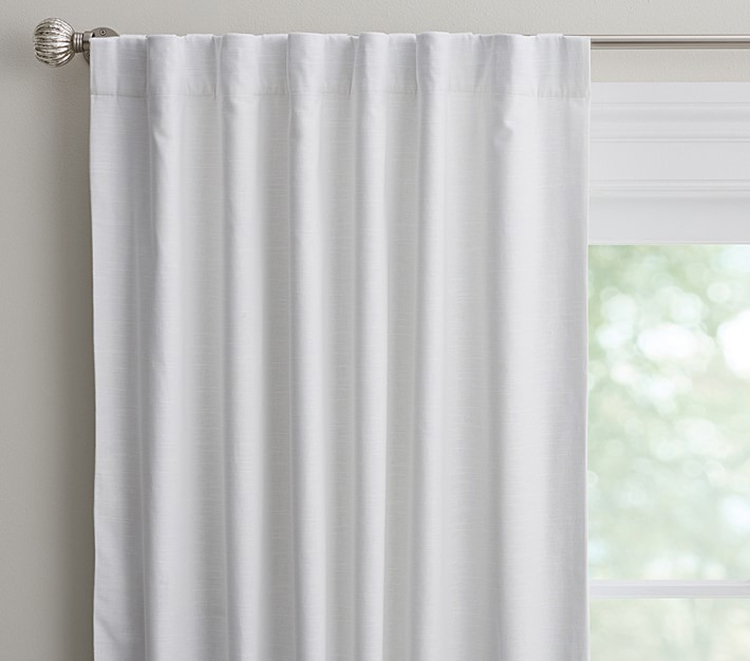 I have so many requests for white blackout curtains. The Evelyn curtain is one of my favorites. The cotton-linen blend combines the look of linen with a softer feel.
If you're willing to spend a little more money to go custom, these Custom Length Velvet Blackout Curtains are a must. They are made of luxurious and high quality velvet fabric and can be tailored to any length and width.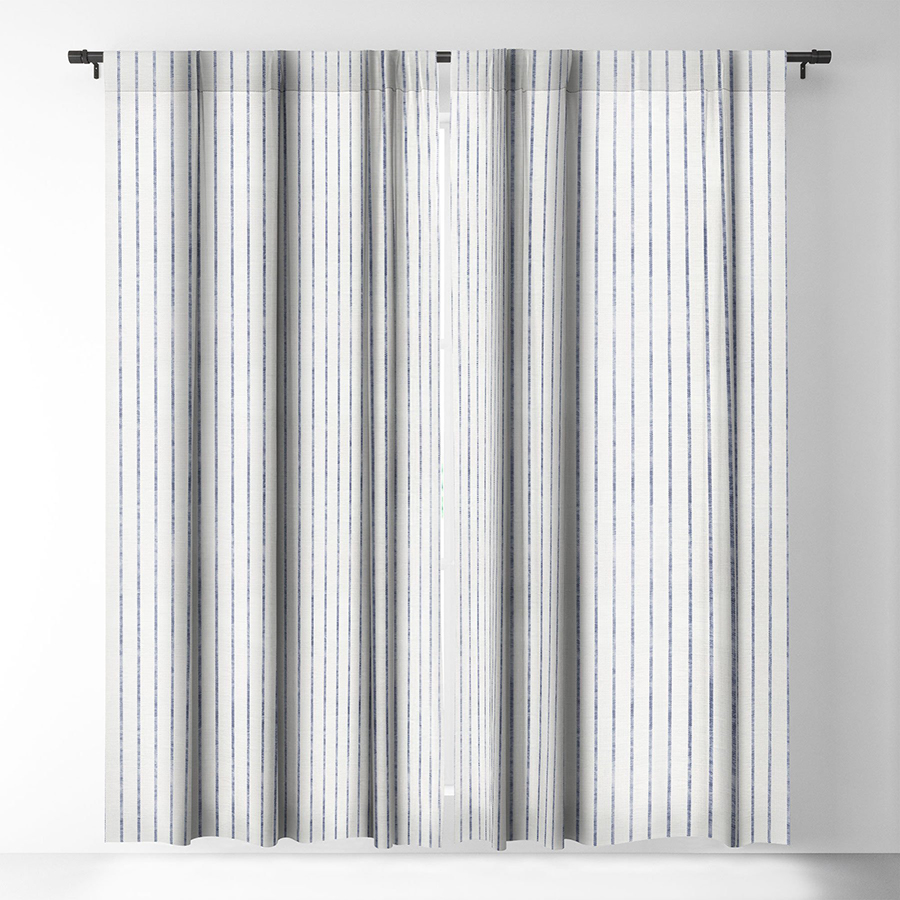 If you want a little more oomph but don't want to go overboard, choose a simplistic and classic pattern. This minimal stripe curtain is soft and subtle, and depending on your hardware and other decor choices, can work in a variety of spaces.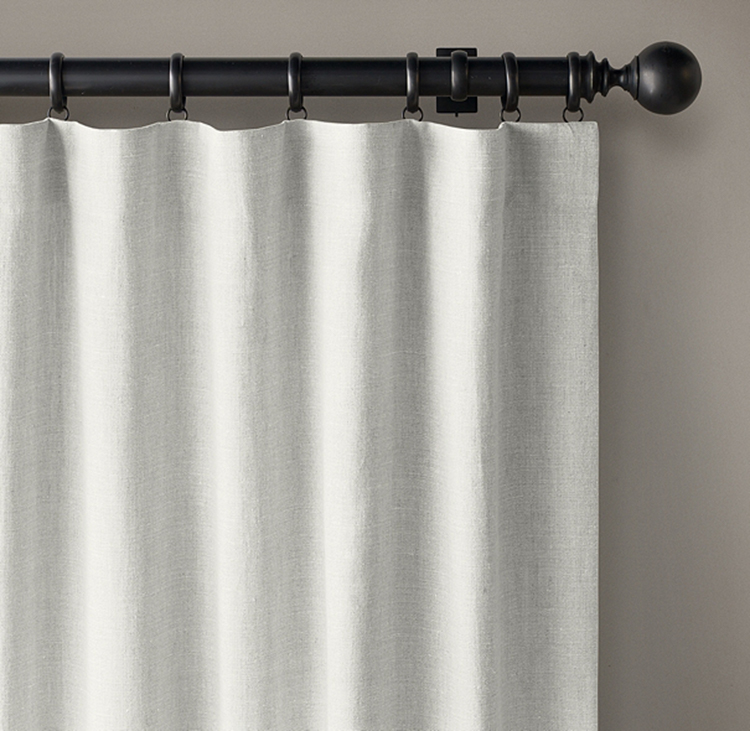 For a pure linen curtain panel, one of my all-time favorites is the Belgian textured Linen drapery from Restoration Hardware. The quality is top-notch and the color selection spans a variety of warm and cool neutrals.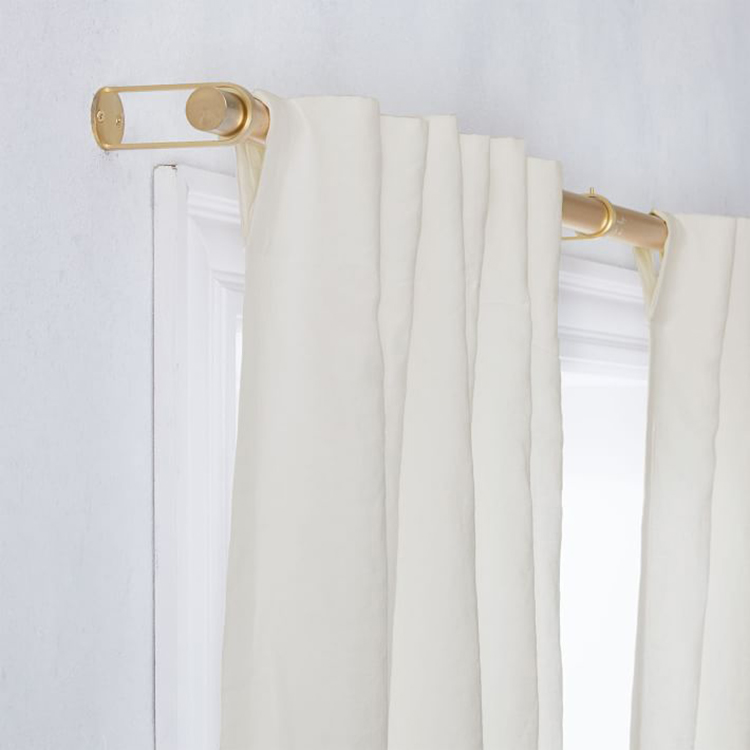 For a more affordable linen option, the Belgian flax curtains from West Elm are a great choice! Like the RH option, this line is also offered in a wide selection of colors.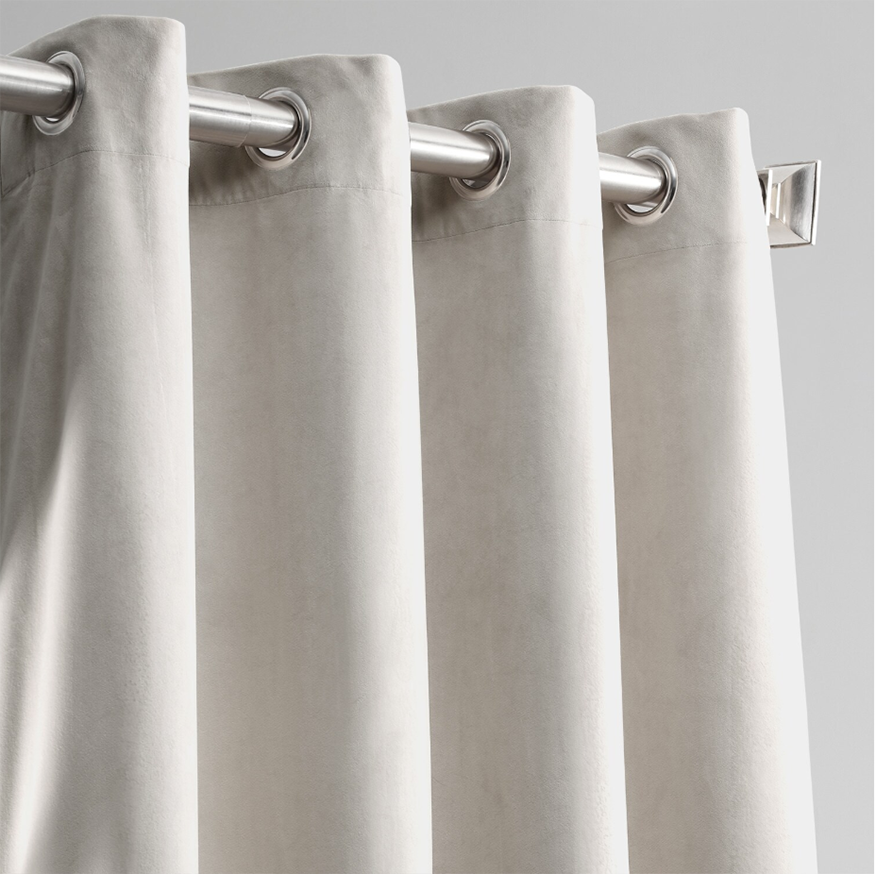 For a richer feel, I love to use velvet curtains. The weight of these give such elegance and sophistication to the design. These Heritage plush velvet curtains are a favorite of mine. These aren't 100% blackout, but they are pretty close.
Here's a roundup of even more blackout curtains that are great for nurseries:
1. Velvet Curtain | 2. Minimal Striped Curtain | 3. Off-white Velvet Blackout Curtain | 4. Pom Pom Curtain | 5. Pleated Linen Blackout Curtain | 6. Custom Length Velvet Blackout Curtain | 7. Evelyn Blackout Curtain | 8. Cross Weave Blackout Curtain | 9. Neutral Linen Curtain | 10. Gray Noise Reduction Curtains | 11. Universal Blackout Curtain Liner | 12. Echo Gold Print Curtain | 13. Honeycomb Jacquard Curtains | 14: Gray Worn Velvet Curtain | 15. Noise Reducing Blackout Curtain | 16. Belgien Linen Textured Drapery
If you have a little more wiggle room in your budget, these curtains below are customizable, so you can get the exact length and style you're looking for:
1. Hockney Pink Curtain | 2. Off-White Euro Pleat Curtain | 3. Rosey Blackout Velvet Curtain | 4. Chagall Sahara Drapes | 5. Solid Linen Blend in Agave | 6. Jaipur Mint Curtain | 7. White Linen Curtain | 8. Deep Green Velvet Curtain | 9. Solid Linen Curtain | 10. Box Pleat Petal Drapes | 11. Murray Stripe Curtain (no longer available) | 12. Organic Gray Cotton Drapery
Now, the other player here is curtain hardware. You'll want to choose a curtain rod that matches the overall style of your nursery. A lot of stores will allow you to choose finials separately from the rods as well which is where you can make your style statement.
Here are some of my favorite places to shop for ready-made curtain rods:
West Elm – Lots of adjustable options and beautiful finials.
Lux Holdups – This Etsy shop makes custom length acrylic curtain rods, and they are GORGEOUS.
Pottery Barn Teen – Good prices and lots of options.
Loom Decor – This one is a little bit pricier, but you can order cut rods instead of adjustable.
Kwik Hang – This product is absolutely ingenious. If you're renting or know you're moving soon and don't want to drill into the walls, you can get these molding brackets. They don't look as great because you won't be able to mount them high above the window, but they are functional, inexpensive and totally perfect for a quick solution.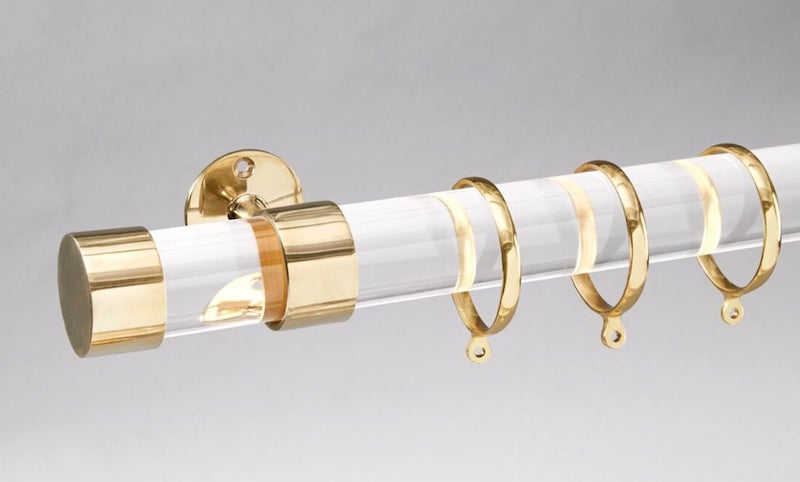 Above is one of the acrylic rods from Lux Holdups—enough said.
Some hardware tips:
1. Blackout curtains are heavier than standard curtains, so don't get a dinky rod, especially if you have a wide window. Make sure to get a rod that's at least 1″ in diameter.
2. If you get rod-pocket curtains, you can hang them directly on the rod, or you can get curtain rings. Curtain rings are great because they will give you a much more polished look, and it will also make it easier to pull the curtains open and closed. Generally, you'll need 7 rings per curtain for a standard 50″ panel.
3. A lot of curtain rings come with clips—I literally throw these in the garbage. They don't look good and they are often not strong enough to hold a blackout curtain. If you get rings, either get rings without clips, or remove the clips. You'll also need drapery pins to attach them to the curtain panel. There are lots of YouTube videos that can show you how to attach these.
*This post contains affiliate links, but don't worry, I only link products that I would 100% recommend!*