It's been such a busy year for nursery E-Designs! We've been working on at least 3-4 of these each month in addition to our full local clients here in Southern California. We love being able to offer design services to those who aren't local since there are so few nursery designers in the country. This one below is one of our most recent virtual designs, and as you can see, it has a soft and neutral vibe.
This client wanted a gender neutral nursery design with a soft and calming color palette, lots of texture and a cozy feel. The rest of their home was also mostly neutral, so they wanted the nursery to flow with that. The nursery also didn't get a lot of natural light, so we wanted to keep things bright and open feeling.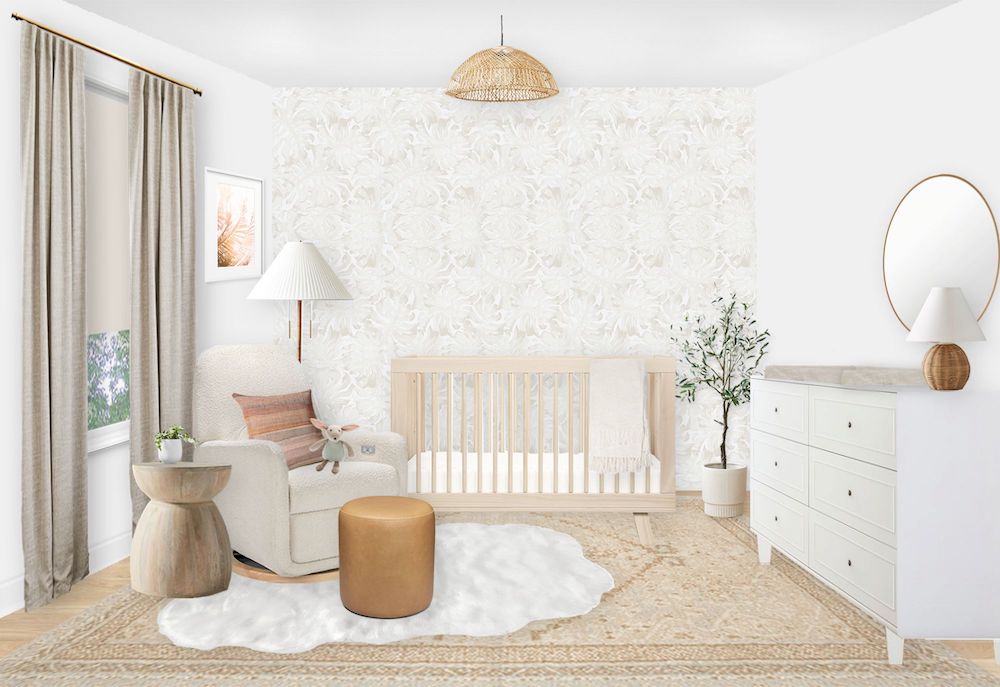 Neutral Palm Leaf Wallpaper | Ivory Boucle Glider | Wood Crib | Tan Ottoman | Wood Side table | Neutral Patterned Rug | White Changing Table | Floor Lamp | Throw Pillow | Rattan Table Lamp | Gold Round Mirror | Faux Olive Tree | Ceramic Planter | Neutral Blackout Curtains | Palm Leaf Wall Art | Throw Blanket | Rattan Chandelier | Faux Sheepskin Rug | Stuffed Bunny
We always start our Virtual E-Design projects with a floor plan. This room was a little tight in some areas, but we were able to fit the crib, changing table, and glider. We pushed the area rug up toward the crib wall to avoid the door swing, and added a small accent rug to help fill in that gap.
As for the design, we went with a light wood crib and a white changing table. By mixing and matching the finishes, the room feels more layered. The white of the changing table also helps to keep the room feeling light and airy. Because the room was lacking on natural light, we put a mirror above the changing table directly across from the window. That will help to bounce the light around the room.
The main design feature of this room is the wallpaper. We wanted to include something fun with a little pattern in here, but something soft enough as to not overwhelm the space. This neutral palm leaf wallpaper adds so much to the nursery!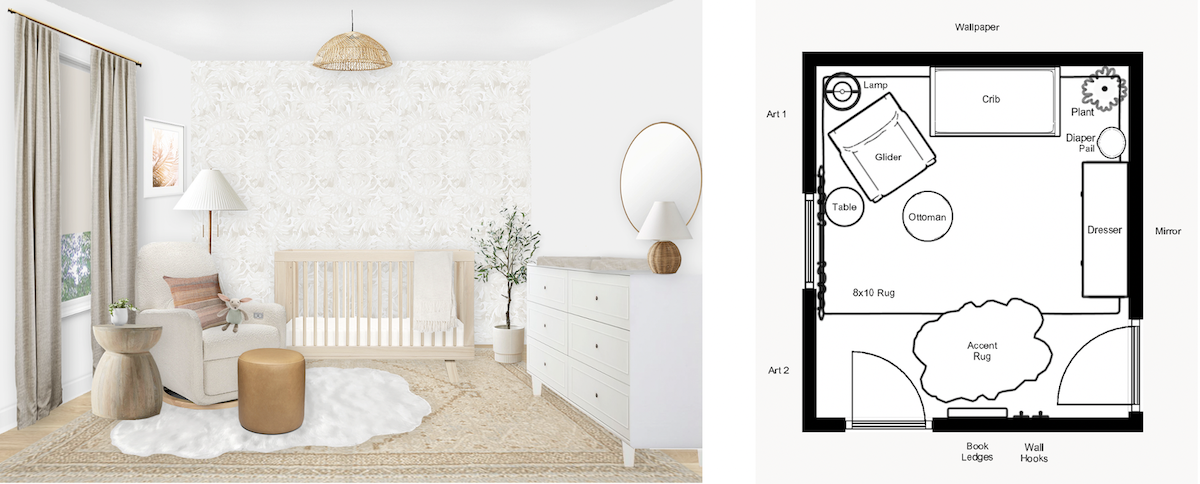 Neutral nursery designs have been so popular lately, and for good reason! The neutral color palette works so well for parents who want a space that feels serene. There are also so many more parents choosing not to find out the gender, or that find it irrelevant altogether. When the child is old enough to start voicing their opinion on their room, it's easy to add in those elements on an already neutral foundation.
Want your own nursery E-Design? Take a look at our design services page—we do book up quickly!
*This post may contain affiliate links, but don't worry, I only link items that I 100% recommend! You can view our Disclaimer here.