A while back, I was contacted by an E-Design client to help her pull together her nursery design. I've been so busy with designs that I haven't had time to reveal them all, so I'm using some of my quarantine time to get some older projects published. A lot of my E-Designs are in design board format, but sometimes I have clients who want a full rendering, so this one may look a bit different.
This client already had a super fun neutral star wallpaper, and needed help pulling the rest of the design together. She was having a hard time deciding what the accent color should be, and I even did a second rendering with a blue accent instead (which you can see below). Ultimately though, she decided on the orange!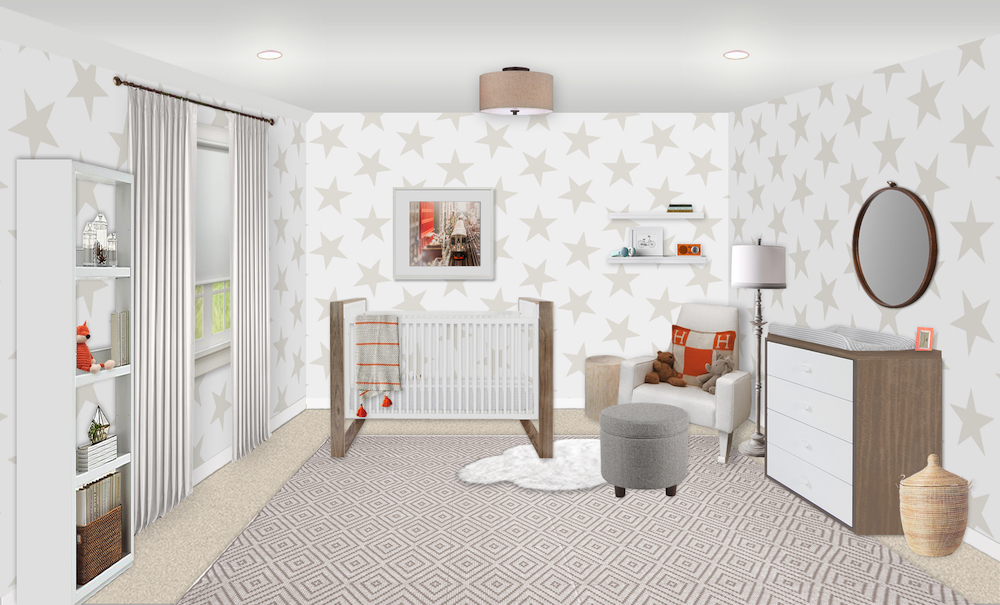 Star Wallpaper | Bookcase | Rug | Faux Sheepskin Rug (similar) | Floating Shelves | Wall Mirror | Tree Stump Side Table | Plow Truck Artwork | Porsche Car Artwork | Train Artwork | Fox Stuffed Animal | Drum Pendant | Crib Sheet | Changing Pad Cover | Photo Frame
The nursery furniture is fun and modern, and has a really nice two-tone finish. I've seen these samples in person and they are WAY nicer than it looks in the rendering. If you need a high quality crib or dresser, check out those links above. The two-tone finish gives the room dimension and texture while still remaining modern and sleek.
The rocking chair is white faux leather, so it will clean easily even though it has a light color. We added in some pops of gray as well in the ottoman as well as some other neutrals like the side table, ceiling fixture and floor basket. I love mixing neutrals to give a space depth!
Then of course, we have the orange. It's not overwhelming, but just enough color to give the room some energy. It's hard to see above, but the artwork over the crib is a photograph of a train running against an orange building, which is very urban and modern. It gives the room a sophisticated feel while also remaining whimsical.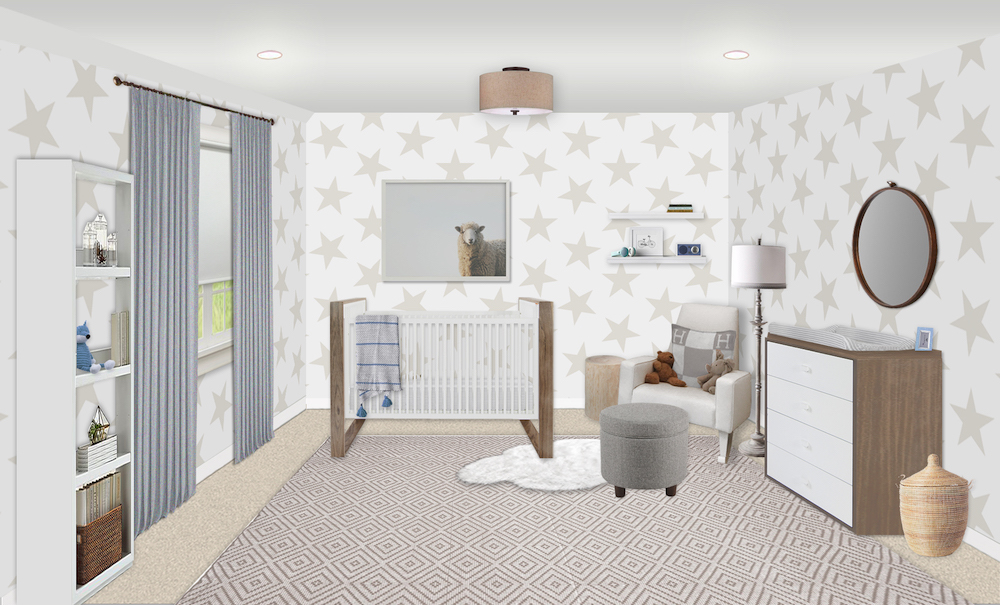 Here's the blue version that we did as well. What do you think? Which version do you prefer?
Interested in an E-Design? Inquire soon! My E-Design spots fill up very quickly!
*This post may contain affiliate links, but don't worry, I only link items that I 100% recommend!*
[et_bloom_inline optin_id=optin_10]