Here's a little secret of mine—the thing I love most about my job is creating nursery design boards and renderings. I will get completely sucked into Photoshop for hours, forgetting to eat, fully absorbed in the fun. It's monotonous, tedious and requires me to lean in with my face inches from my computer screen trying to perfectly trace the edge of an item, probably damaging my already terrible eyes. But I do it anyway (you're welcome, Lens Crafters).
Anyway, Pottery Barn Kids recently partnered with West Elm to create the West Elm + PBK collection. That was awesome, and humanity gained some much needed Mid-Century Modern children's decor. But then, THEN, Pottery Barn Kids released another line, PB Modern Baby, with a whole slew of new nursery furniture and decor that not only includes Mid-Century, but also touches of Hollywood Regency, Minimalism, and even Art Deco. Always wanted a Great Gatsby inspired nursery? Well, now you might actually be able to pull it off since a black crib with gold detailing exists in the world.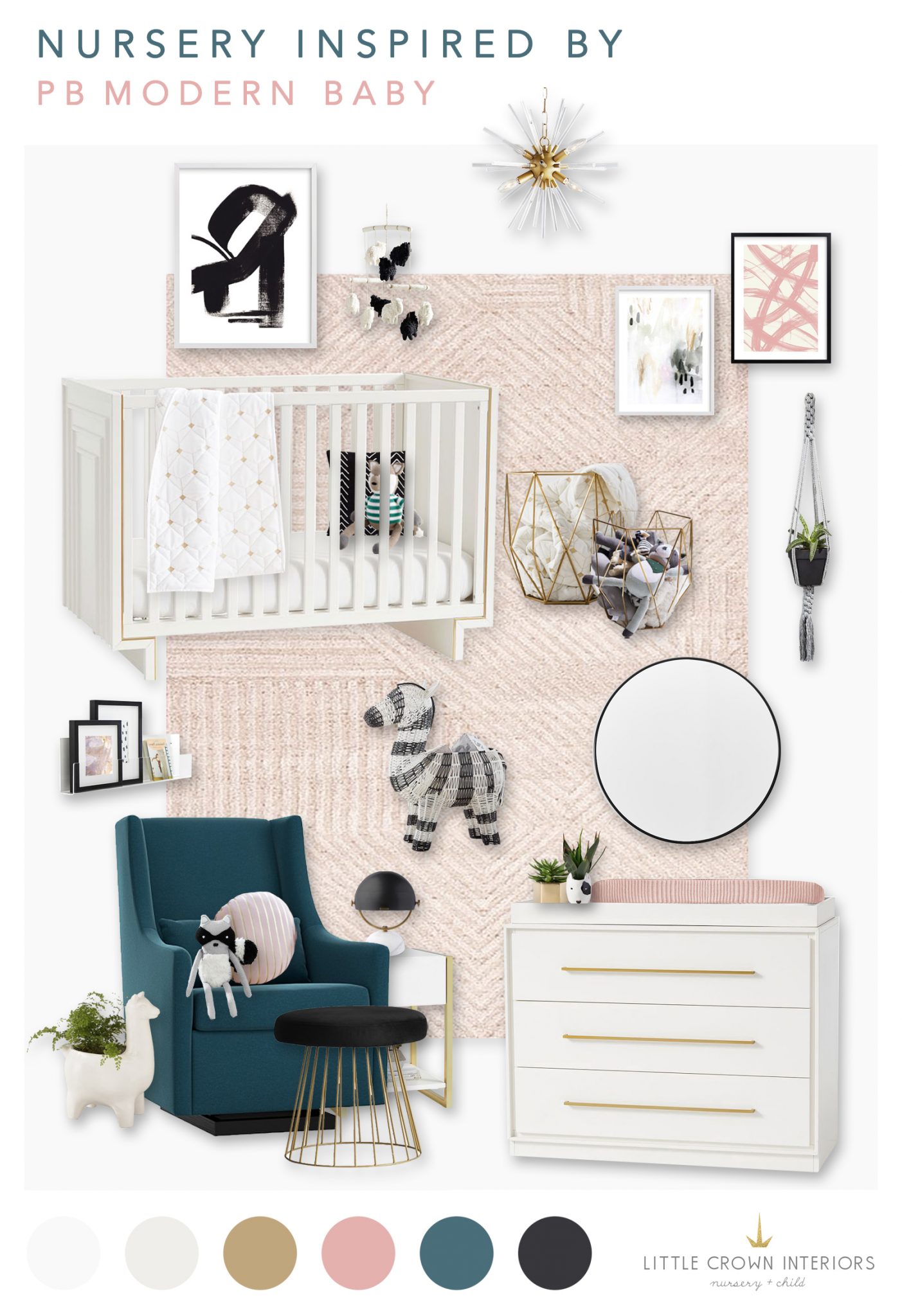 This is great for me, really great. As a nursery designer, I'm constantly fighting against the "catalog" look. In the past, I would avoid certain brands because I didn't want my clients to say, "Oh, that looks like page 43 from the Such-And-Such catalog." But some of these brands have been seriously upping their game lately, widening the scope of styles they offer and even being a little risky with new and original designs. This is great news for my clients too, since they can get great style and a unique look without spending a bloody fortune.
So, this is why I spent several hours creating a nursery design board inspired by this new collection. No, I'm not being paid for this (although I wish I was!). I just genuinely enjoy spending my free time being a Photoshop nerd and ruining my eyes for your benefit—you're welcome!
Design Board Sources: Crib | Dresser | Glider | Ottoman | Chandelier | Mirror | Rug | Side Table | Table Lamp | Black & White Art | Pink Abstract Art | Pastel Abstract Art | Acrylic Shelf | Zebra Bin | Round Pillow | Black Pillow | Metal Baskets | Sheep Mobile | Quilt | Changing Pad Cover | Raccoon Doll
[et_bloom_inline optin_id=optin_10]