We've been super inspired by board and batten style wall paneling lately, and wanted to share this gorgeous dark nursery that features this type of paneling. Paneling is an excellent alternative to wallpaper and adds much more texture than paint (however it can be more expensive and is definitely more permanent). With paneling, you have a couple of options—panel the entire room, just an accent wall, or even just half or a quarter of the walls. It also comes in a ton of options such as square, rectangle, or more ornamental designs. The options are bountiful!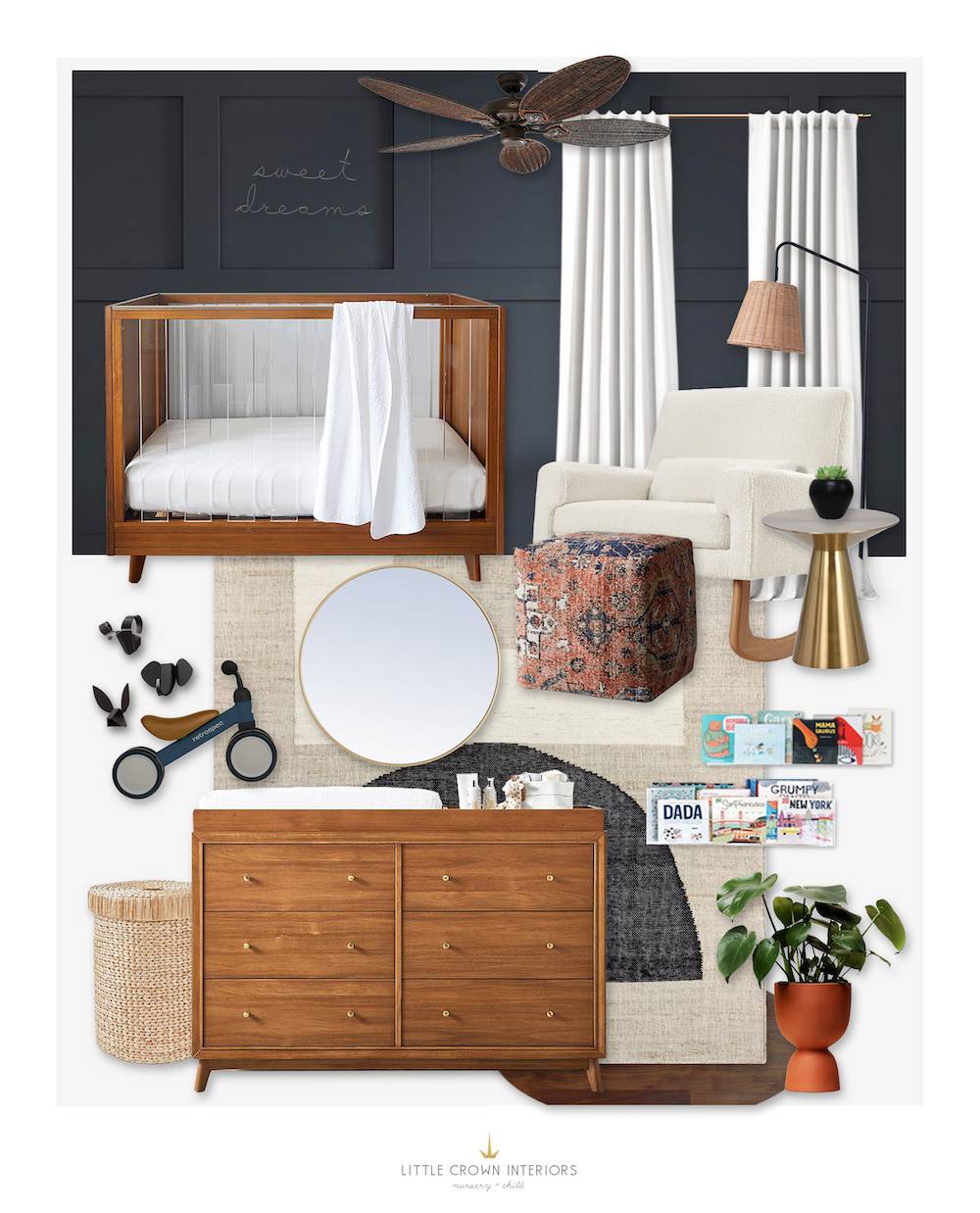 For the nursery design above, we used a wide panel board and batten look and then highlighted the space with contemporary elements such as acrylic and modern shapes. Pulling in different textures and design styles creates a timeless look that can evolve with age. With clean lines, durability, and unlimited color and design styles, paneling could be the perfect option for your nursery.
Paint color can vary from neutrals to bold, depending on your intended result. For example, small ornamental paneling with neutral colors has a more traditional feel while wide paneling in a square pattern is more modern. You can paint the paneling the same color as the wall for a monochromatic feel, of change it up for higher contrast.
---
· Nursery Details ·
Wall Art | Wood Acrylic Crib | Rug | Boucle Rocker | Floor Lamp | Gold Side Table | Pouf | Round Mirror | Rattan Basket | Wood Dresser | Book Ledges | Planter
---
Installing paneling can be tricky as it needs to be pretty accurate, level, and clean. There are many tutorials online these days if you are looking to DIY. Paint can forgive blemishes here and there, but without experience, it's usually a good idea to have a contractor help out with this.
So back to this nursery design—the paneling is a rich dark charcoal/blue, and we wanted the furniture to stand out against it. We went with a warm wood tone to contrast the cool paneling color, and to give the room a cozy feel. White furniture would have worked as well, but it would have taken the design in a totally different direction.
We also pulled in some gold details to add more warmth, and a few fun shapes to give the space some movement, like the area rug, side table and planter. The last touch is a few natural pieces, like the rattan hamper and ottoman so the nursery feels welcoming.
*This post may contain affiliate links, but don't worry, I only link items that I 100% recommend! You can view our Disclaimer here.