I'm finally getting around to some older e-design reveals that never made it up on the blog—2020 was one of the busiest years and 2021 is shaping up to be even busier, especially after the release of my book! So, apologies for my tardiness, but this one is worth the wait.
Every now and then, I'll have a client who wants a beautiful bold nursery. The black and white trend has been around for a while and I've designed many black and white nurseries, but this client wanted something even bolder, something more glamorous and that truly makes a statement.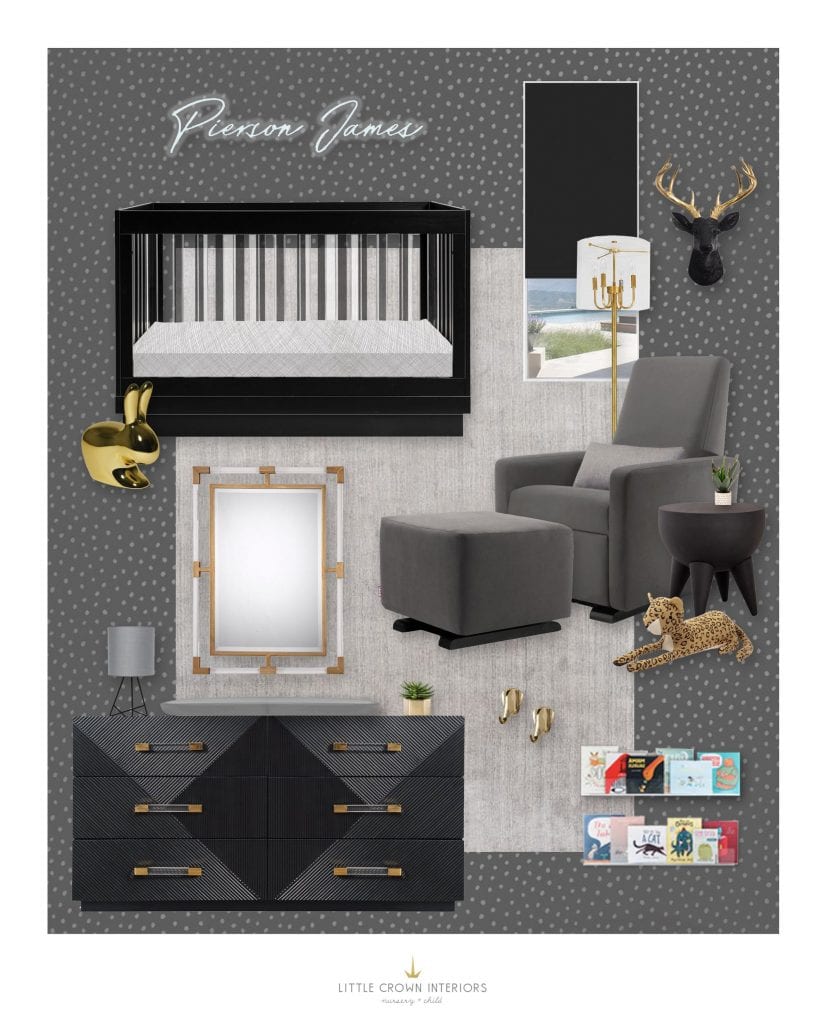 Crib | Dresser | Mirror | Glider | Wallpaper | Rug | Floor Lamp | Wall Shelves | Book Ledges | Table Lamp | Side Table | Neon Name Sign | Gold Bunny Chair | Plush Toy | Gold Wall Hooks | Deer Wall Art | Crib Sheet | Crib Skirt
So cool, right? When this client sent me her inspiration photos and a few products she had her eye on, I knew this one was going to turn out amazing. From the black acrylic crib to the gold and acrylic mirror to that stunning gray dotted wallpaper, there's truly nothing I don't absolutely love about this nursery design!
We started with the wallpaper, which is just the coolest in person. the background is a deep gray, but those dots are actually metallic silver (and it also comes in a bunch of other colors). I ordered the full set of samples so I could save the other color options, and I'm glad I did!
My client knew she wanted black furniture, and was eyeing the black Harlow acrylic crib. This nursery, like many, is on the small side, so using an acrylic crib helps the room feel more open. We also added a big mirror over the dresser to help bounce the light from the opposite wall's window.
For the glider, we were initially going to go with black as well, but I didn't want the nursery to feel too overwhelmingly dark, so we went with the charcoal color instead, and used a black side table to bring in that pop over on that side of the room.
To amp up the glam, we brought in elements of shiny gold and some animal accents (who would have thought that animals could be glam?) My client found that gold rabbit and fell in love with it, so we got it to sit in the corner by the crib. To punch up the glam even more, we added a neon sign over the crib.
Interested in an E-Design for your nursery? Check out my services page. But hurry—E-Designs book up fast and because of Covid related delays and backorders in the industry, things are taking a bit longer than usual.
*This post may contain affiliate links, but don't worry, I only link items that I 100% recommend! You can view our Disclaimer here.