[The following is a piece I wrote for Project Nursery]
Sometimes when I start working with a new client, they show me a favorite piece or sentimental item that they love and want to use as their nursery inspiration. They have the inspiration item, but don't know exactly how to pull a whole room design from it. This can be anything from an old photograph to a piece of furniture, but either way, it can be daunting to pull a whole room design together.
Below is a nursery design board that I created around a single piece – the rocking chair. The legs of the chair have a vintage feel in a warm white, so I chose the crib and dresser to flow with that look. The main colors on the fabric are blue and fuchsia, so I chose blue as the main color and fuchsia as an accent color. To pull in the floral pattern on the cushion, I included some other nature inspired pieces, like the artwork, throw pillow and light fixture.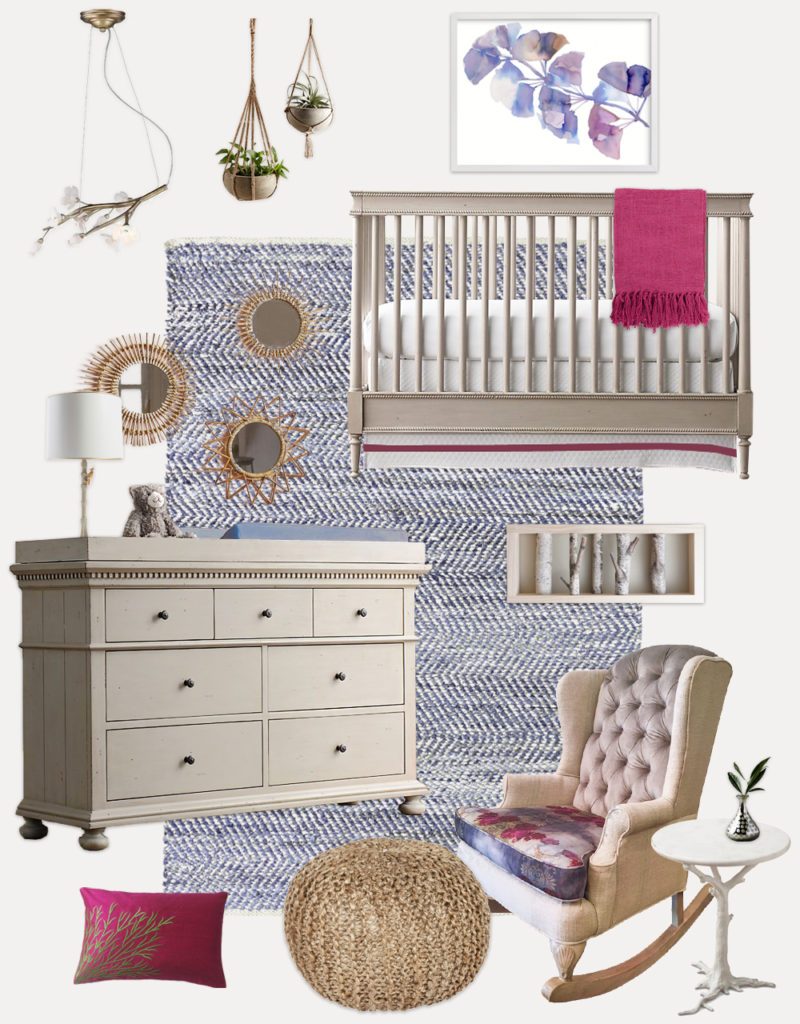 Crib | Dresser | Rocking Chair | Side Table | Ottoman | Mirrors | Light Fixture | Hanging Planters | Floral Artwork | Crib Skirt | Blanket | Table Lamp | Vase | Throw Pillow | Branch Shelf | Rug
There are a few things that I always consider when I'm using a client's favorite piece or a sentimental item as the inspiration for a space. Here are my tips on how to design a nursery around a single item.
1. Choose an item that has a color scheme you like. If your inspiration item is orange and yellow, but you've been envisioning a blue and green nursery, you might consider using that item as an accent, and not as the main inspiration piece. You can still showcase a special item in another way, like displayed on a shelf or framed on the wall.
2. Choose a few colors, but not necessarily all of them. If your item is multi-colored, you don't have to use every color in your nursery. Choose two or three colors, using one as the main color and one or two more as accent colors.
3. You can also take inspiration from pattern or texture. If your item has a pattern or texture, you can use that as the inspiration as well. For example, if you have an antique wood cradle, you can use the same wood texture or wood grain in other areas. If you have a blanket with a butterfly pattern on it, you can use butterflies in other areas of the space.
4. You don't have to use the actual item. If you have an item that isn't really your style or isn't functional for you, but is sentimental, you can use the idea of it to create a theme. For example, if you have a vintage crib that has been in your family but may not be safe anymore, you can still create a nursery with the same vintage feel using new pieces to keep the memory alive. You can take a photograph of the original crib and display it somewhere in the room.
How have you used special items as your nursery inspiration?