We get more requests for floral wallpaper from our clients than any other type! Floral wallpaper is stunning and timeless, and contrary to popular belief, it doesn't just have to be for a girl's nursery. Below are some wallpapers we have used and others we would love to use in the future. But either way, we hope you get some good design inspiration from them!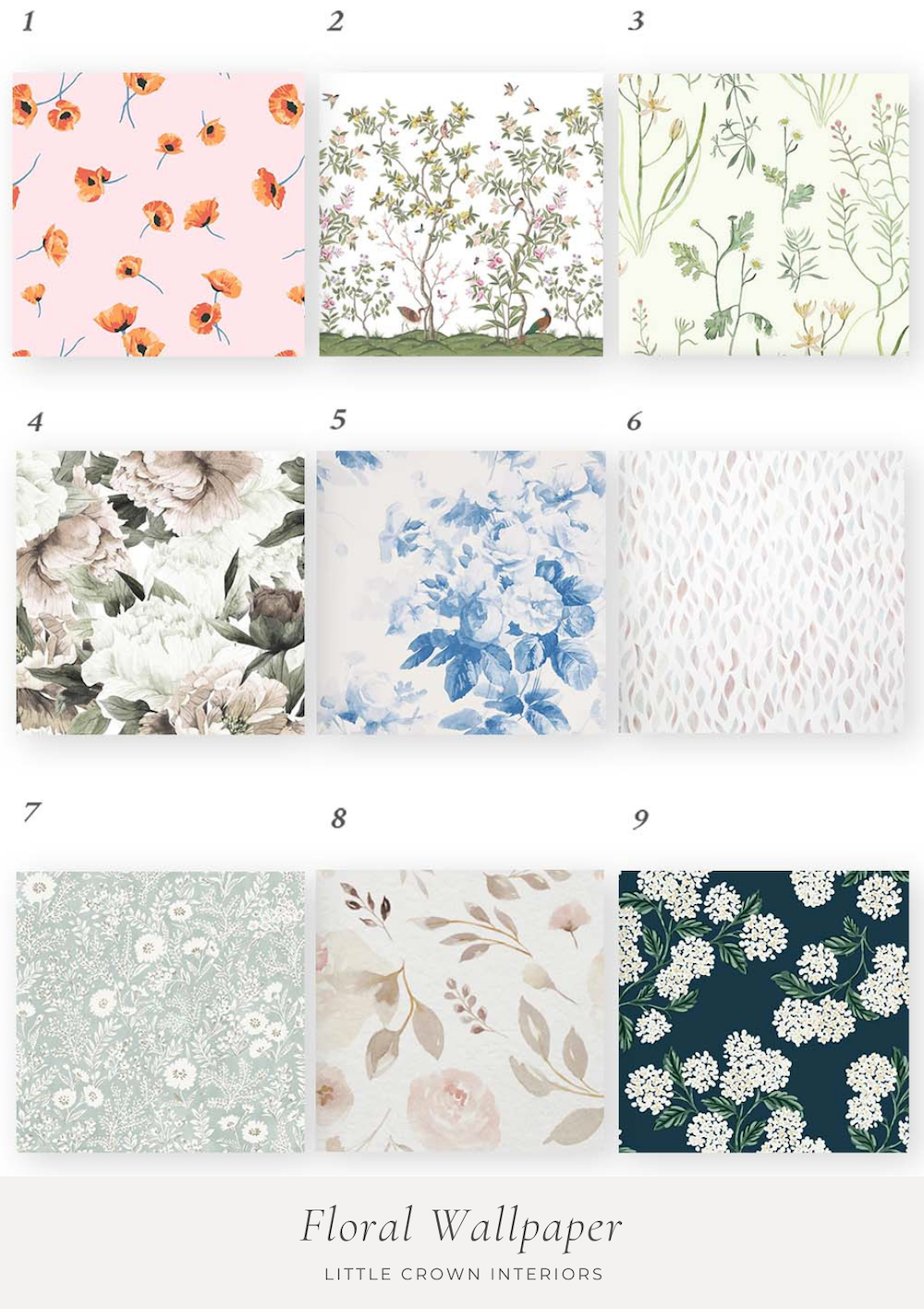 1. Poppy Floral Wallpaper: We're starting with a bright, fun floral that can grow with a baby to a children's room and beyond. The falling pattern also adds a great movement to the paper, and the colors are joyful and vibrant.
2. Floral Chinoiserie Wall Mural: The Chinoiserie look has been coming back into popularity and we've been getting a lot of requests for it from clients. You can see how we incorporated it in our Chinoiserie Girl's Bedroom.
3. Wildflower Floral Wallpaper: Natural watercolors of native wildflowers make this simple print soft and sweet. This one has more neutral and natural colors, making it a good choice for a gender neutral nursery.
4. Large Floral Wall Mural: This by far our most popular wallpaper! We've done a few projects with it locally, and it's also the bestseller on our website. It's a beautiful mural with large-scale peony florals and a subtle vintage style. You can see how we've used it in this Floral Girl's Bedroom.
5. London Rose Wallpaper: This wallpaper is more of a vintage style floral with muted blues, giving a twist to the traditional colored florals. This stunning pattern is reminiscent of blue and white china and feels oh-so-elegant!
6. Blush Leaf Wallpaper: This is one of our simpler and more gender-neutral floral wallpapers. It's really more of a leaf pattern than a floral, but it still has the same vibe. You can see this one in action in our Leafy Blush Nursery Design.
7. Seafoam Floral Wallpaper: A classic French country design makes this wallpaper stand out with its intricate design. The seafoam color is gorgeous and the wispy florals have a natural feel.
8. Desert Rose Wallpaper: Individual soft floral pieces make this an excellent choice for a neutral nursery with pops of blush. The muted colors would look great with earthy wood tones and other neutrals.
9. Hydrangea Floral Wallpaper: This is an elegant and bold pattern with beautiful detail throughout. Hydrangeas are a great choice since they feel whimsical and not to formal. This wallpaper comes in multiple color combinations if you're not feeling the super dark background.
Would you use floral wallpaper in your nursery? Which one is your favorite?
*This post may contain affiliate links, but don't worry, I only link items that I 100% recommend! You can view our Disclaimer here.