Most of our Virtual E-Design clients send inspiration photos when we start on the project, but sometimes they also have a particular item they want to design the whole nursery around. In this case, our client had a sweet Gray Malin photograph and wanted the whole nursery design to be inspired by that piece. It had so many fun colors to choose from, so we had a blast working the rest of this design around it.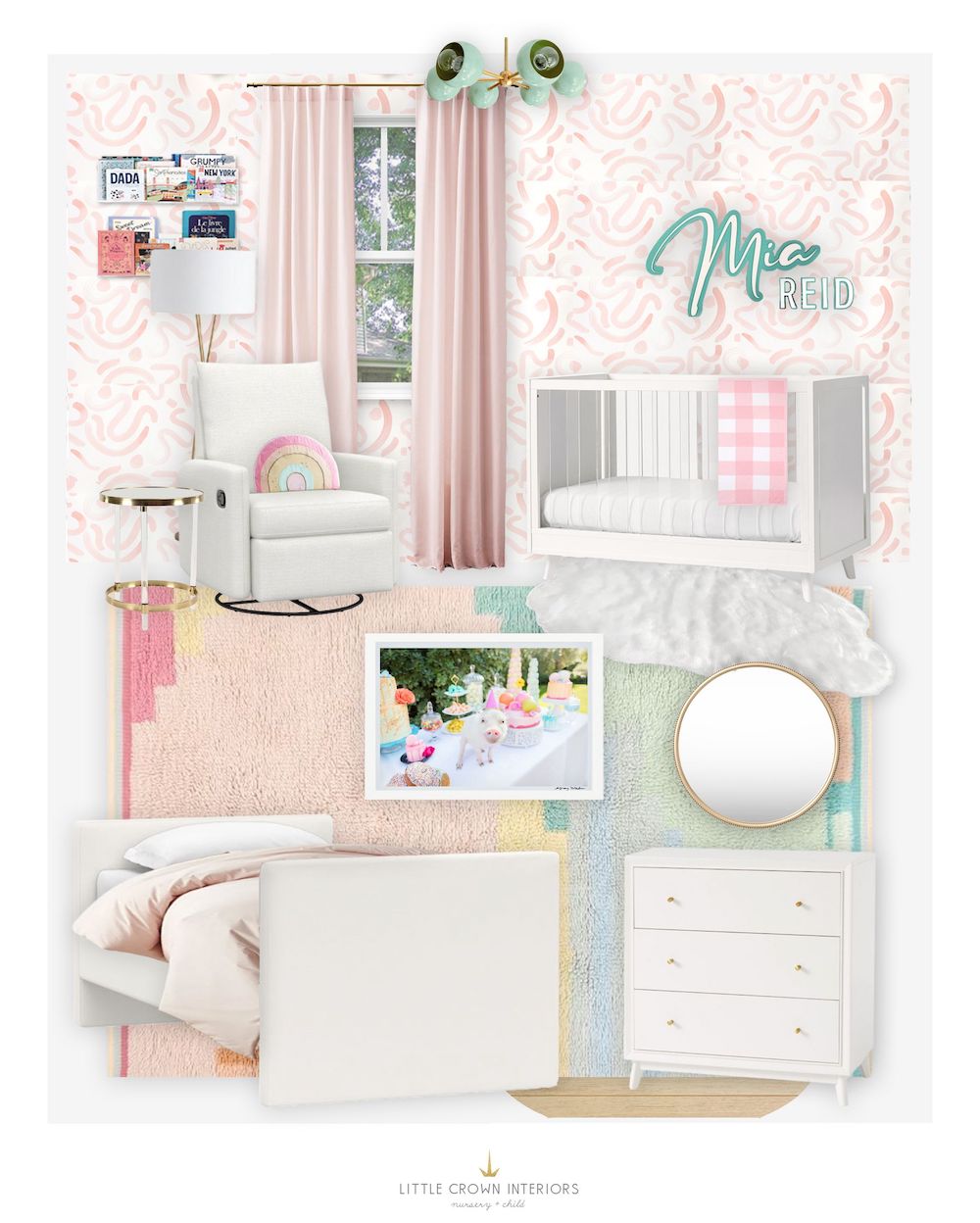 Pink Patterned Wallpaper |  | Colorful Rug | White Crib | White Dresser | Gray Malin Photograph | Gold Round Mirror | White Day Bed | Aqua Chandelier | White Glider | Acrylic Side Table | Gold Floor Lamp | White Book Ledges | Rainbow Throw Pillow | Gingham Throw Blanket | Custom Name Sign | Faux Sheepskin Rug | Soft Pink Bedding | Blush Blackout Curtains
Since we had a great starting point, we just needed to pull furniture and decor to coordinate. Our client wanted wallpaper in the nursery design, so we started with a super playful patterned wallpaper in various shades of pink for the accent wall behind the crib. To balance the pink, we added pops of aqua throughout the room.
The rug is also a foundational item of the design since it helps to pull in more colors from our Gray Malin photograph. There are some peaches, greens and yellows in there as well! It gives the room a more well-rounded fell instead of just being pink and aqua alone.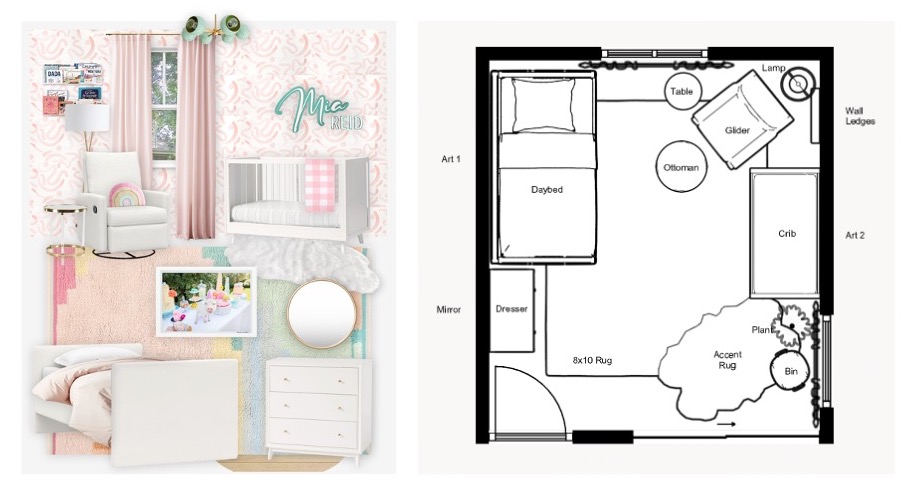 We are often asked to make room for a daybed in a nursery design for clients who need space for a caretaker, or who just want a place to sleep in the nursery. This is often a space planning challenge, but we made it work by using a smaller dresser. We used an 8×10 rug because a 9×12 would have encroached on the door swing—we always check for this. Sometimes clients have plenty of space under the door, but other times, we need to use a smaller rug so the door won't get stuck.
All of the main furniture pieces are white, like the crib, glider, daybed and dresser. We didn't want to go too overboard with the space, so the white furniture adds balance and can also be reused for future children. The acrylic touch on the crib helps the room feel more open as well.
The nursery also has blush blackout drapery, an adorable aqua chandelier, and a custom name piece over the crib in aqua. We can't wait to see how this nursery turns out!
Want your own nursery E-Design? Take a look at our design services page—we do book up quickly!
*This post may contain affiliate links, but don't worry, I only link items that I 100% recommend! You can view our Disclaimer here.