I am a HUGE fan of plants. I have them all over my home, and try to include at least one in every nursery or kid's room that I design. There's just something about that fresh greenery that brings life to a room (plus, plants help to clean the air!) That said, plants are not always easy to care for, especially in a room that doesn't get a lot of light and might have blackout curtains closed frequently.
I've personally tested every plant on this list, and I'm the perfect candidate because I'm really bad at keeping plants alive! These all have my badge of approval for easy to care for plants that you have a low chance of killing, and that will also look great in a nursery or kid's space!
These are all plants that are real, come pre-potted, and are available to buy online. Several of the shops offer a gorgeous selection of colors and styles to choose from for the pots. This makes it incredibly easy so you can find the perfect plant/pot combination for your space without worrying about which plant will fit in which pot.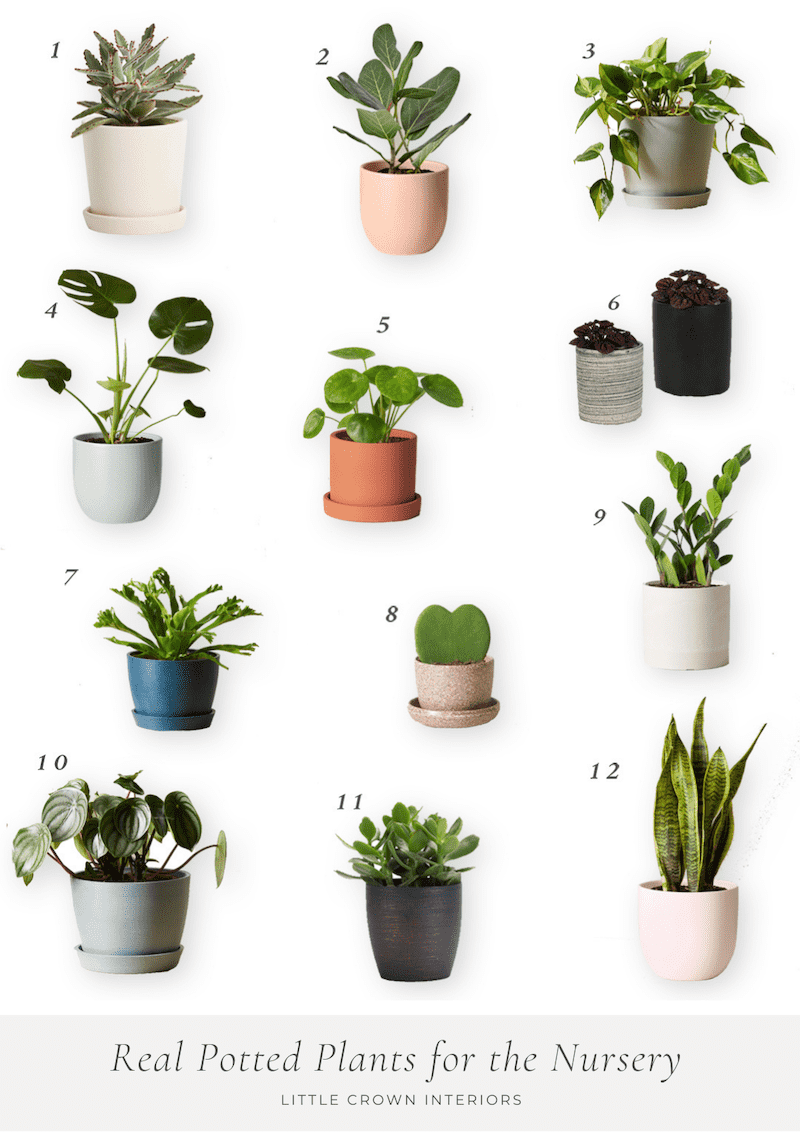 1. Panda Plant: This indoor plant loves bright, indirect light, however, I've had a few of these in low light and they seem to do fine. It's a succulent and doesn't require much water, but I find that it's less finicky than other succulents if you accidentally over water it. Sometimes this one is also referred to as Rabbit's Ear. This one comes in a cute ivory pot, done and done!
2. Ficus Audry: A cute blush ceramic pot and pretty muted green leaf! Keep this one out of reach from babies and pets. Anything in the ficus family tends to be a little tricky to care for sometimes, so starting with a small one is always a good idea (I'm looking at you, Fiddle Leaf Fig).
3. Philodendron: Heart shaped leaves seem perfect for a nursery and this plant grows some striking ones in shades of deep green, lime green and yellow. It's a forgiving plant and it grows easily. Philodendrons are great for taller dressers and bookcases because they grow over and hang down. And just when you don't think plants can't get any cooler, this one actually removes formaldehyde from the air! *It is not pet friendly if digested.
4. Monstera: With the cutest, quirkiest large-hole leaves, this plant got the nickname Swiss Cheese Plant. This plant enjoys bright indirect light and about a week or two between watering. This is such stunning sculptural plant with pretty green leaves. *Also not a great one for pets.
5: Pilea: This one has such a sweet look! sometimes called UFO plant or pancake plant due to the charming coin like leaves. I love the lily pad appearance of this plant—it feels quirky and cute.
6.Ripple Peperomia: The wildcard of this roundup! This pretty plant does not have green leaves but instead produces deep reddish-purple leaves. It feels a bit elegant and a bit edgy at the same time. These come in a set of two and are potted in mid century modern pots of slightly different sizes and colors. The Ripple Peperomia does not tolerate direct light, so keep that in mind if you as buying plants for a specific spot.
7. Birds Nest Fern: No fuss and and overall low maintenance house plant! Just water when top soil dries out and find a cozy spot with low to bright indirect light. It purifies the air and is also pet and kid safe.
8. Heart Hoya: Also called a Hoya Kerrii, this one is a great option for a full sun spot! With one simple and super adorable heart shaped leaf, this little succulent only needs occasional watering. It's slow growing and pet friendly. Cluster this one with other decor and plants or let it make cute statement by itself!
9. ZZ Plant: The ZZ plant plants are practically impossible to kill. I have two of these in my house—one of them is already 5+ years old and it looks as good as new, even with my neglect! It has vibrant green, waxy leaves and thrives in indirect light. If you only plan to water every few weeks then this plant is for you.
10. Peperomia Watermelon: As the name suggests, this plant has a really pretty watermelon look to the leaves. It's non-toxic and pet friendly, and super straightforward to take care of. It also detoxifies the air!
11. Jade Plant: Jade plants are also really hard to kill and have a pretty cactus look without the spikes. I've had a little jade plant on my dining room table for years, and it still looks great! *This one is toxic for pets.
12. Snake Plant: The Snake Plant Laurentii is a succulent and is super low maintenance as it tolerates both drought and low light. The Snake is another one of those plants, like the ZZ, that's just super easy to care for. This one comes in a cute light pink ceramic pot too!
Whenever you're choosing plants for the nursery, a space with young children or a home with pets, always keep safety in mind. If a plant gets knocked over, soil can spill out and the ceramic can break. Keep plants out of reach, and remove them from the room if your child tries to climb on things or grabs at them.
*This post may contain affiliate links, but don't worry, I only link items that I 100% recommend! You can view our Disclaimer here.