If you've been following me on Instagram, you may have seen some behind-the-scenes videos of this nursery coming together. I used to do a ton of traditional nursery design years ago, like this pink and gold nursery, or this neutral and lavender nursery. Then the trends went more modern for a few years. But recently, it seems like some traditional design elements are coming back, at least with my clients here in Orange County. I've had a few clients ask for soft and more neutral traditional decor with glamorous and crystal accents, and of course, gold!
So all that said, here is a sneak peek of a more traditional girl's nursery I've been working on! This design is super luxurious and almost everything in the room is custom. There's only one crib in the design board, but this room is actually for twin girls, so there will be two cribs in the final room.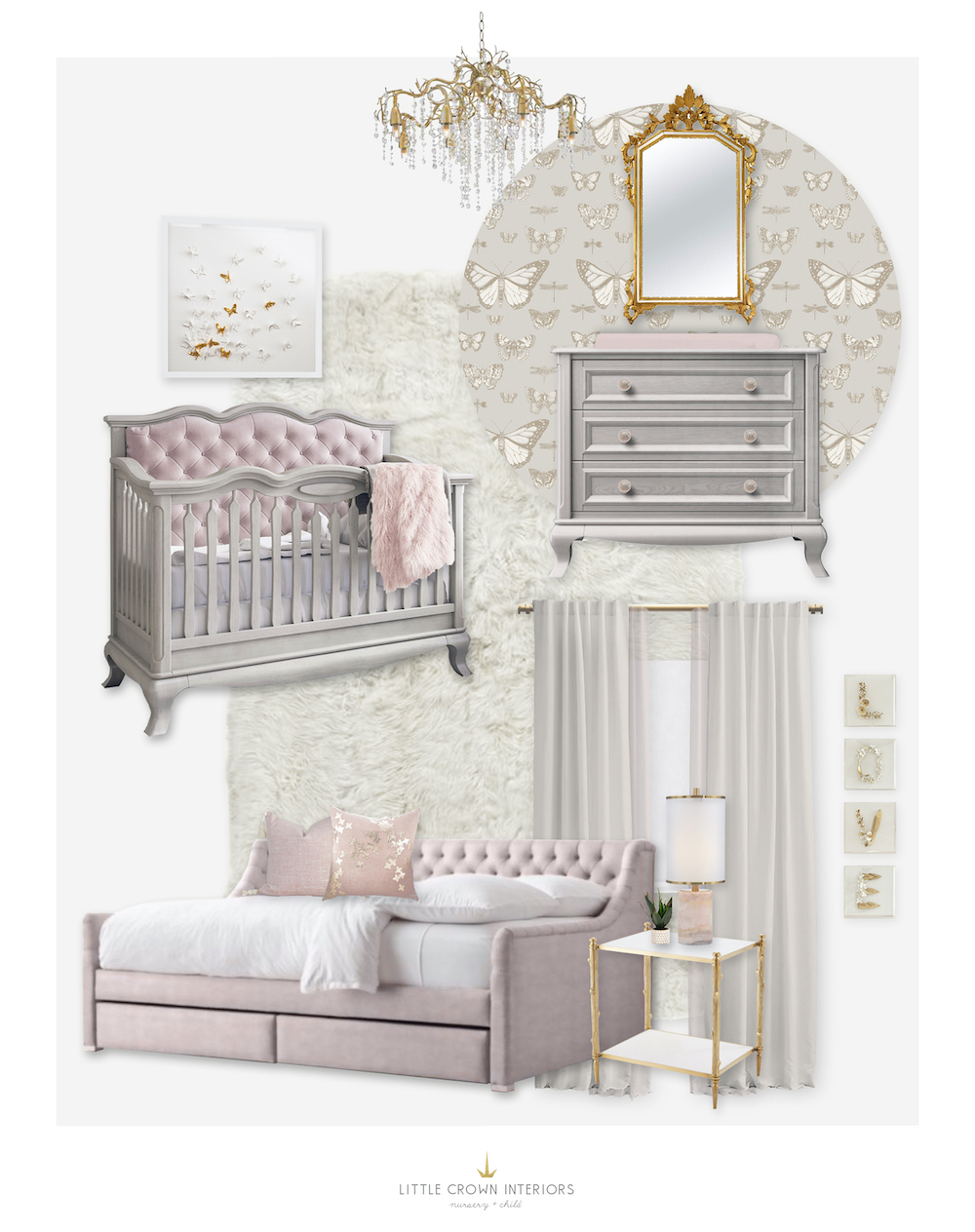 Wallpaper | Crib | Changing Table | Daybed | Side Table | Chandelier | Crib Sheets | Pillow | Love Art
My client really wanted to have a butterfly nursery theme, but without being too heavy on the thematic elements. I chose a neutral butterfly wallpaper that has some metallic in it which looks so amazing as the light shifts in the room. We did a super pale mauve paint color to give the room some color, but nothing too bright or saturated.
The cribs and changing table are both custom pieces from Romina Furniture that are seriously so pretty. The finish is a rich warm grey tone with lots of depth. It's so hard to tell by the design board, but the finish in person is amazing. The upholstered crib panels are a lilac pink color in a soft velvet fabric. The daybed is also a light mauve-pink velvet, and then we mirrored that same color in the sheer curtains that are underneath the heavier ivory blackout curtains. The dresser even has gold and crystal knobs!
To add just a little more butterfly decor, I chose some gorgeous custom butterfly art with plexiglass shadowboxes. We kept with the gold and did a vintage LaBarge mirror over the changing table, and then custom finished the chandelier in gold as well.
Keep an eye on my Instagram for updates on this room!
[et_bloom_inline optin_id=optin_10]