Every nursery design needs a throw blanket! You never know when you'll need to cozy up in that room, and you are going to need more than a baby-sized blanket. No matter your nursery style, there is sure to be one you'll want to wrap up in. While baby needs small blankets for various things, it's important to also remember that the parent needs one too! After all, you'll be in the room in the middle of the night and you may end up napping in the glider fairly often. We always recommend an adult-sized throw blanket for every nursery that's soft, cozy and washable.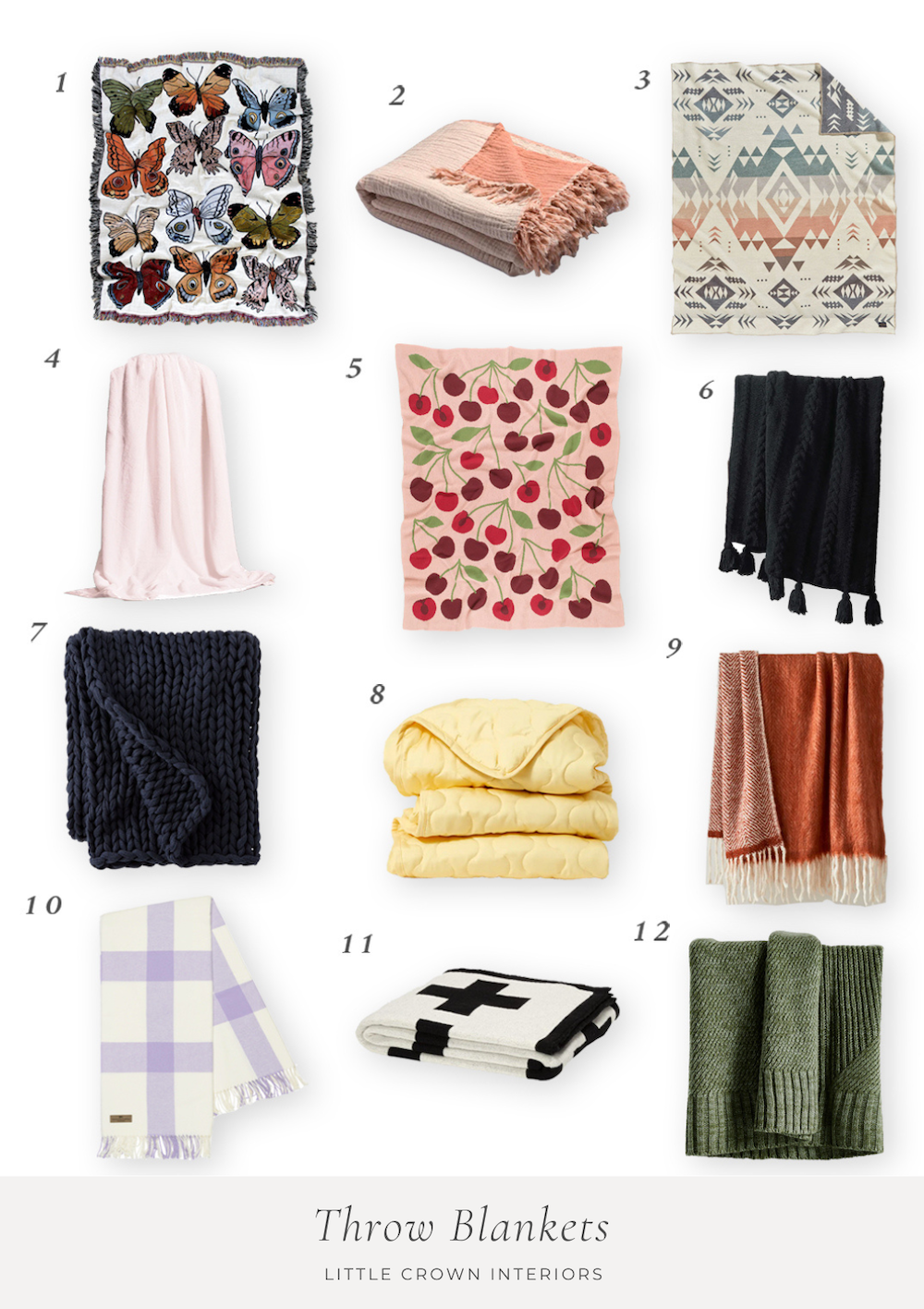 1. Butterfly & Moth Blanket: This beautiful reversible tapestry blanket highlights butterflies and moths (which are super trendy right now!). The bright, muted tones and fringe edges make this throw blanket feel modern yet worn in and totally snuggle-worthy.
2. Textured Cotton Throw: This is a great lightweight cotton option. We love the soft fringe edge and dual-sided color! If you live in a warmer climate, this is an excellent throw if you need to wrap up quickly.
3. Agate Blanket: Patterned with agates found on the Oregon coast, this classic Pendleton blanket has such beautiful coloring and will be a true heirloom in any room. This wool blanket is super thick and ready for any adventure! *Note—if you're skin is sensitive to wool, maybe skip this one.
4. Lush Throw: Silky soft and fluffed with faux fur, this blanket is known as the forest blanket on earth. We love the silk outer edge, which reminds us of traditional baby blankets in larger family sizes to have enough blankets to share!
5. Cherry Blanket: Made from eco-friendly upcycled yarn, this beautiful cherry-printed blanket is said to symbolize beauty, harmony, and friendship. All Superstitchous blankets are adorned with luck symbols to add to your nursery.
6. Braided Pom Pom Throw: Known for its ultra-soft blankets, this Sunday Citizen throw is a cozy addition to snuggle up on cold nights. We love the added pom detail that looks great, draped over a glider. We use this brand all the time in nursery designs!
7. Chunky Knit Throw: This is a great throw that is cozy and heavy yet has maximum airflow due to its chunky knit. Also, this is a great way to add some texture to your nursery!
8. Puffer Blanket: What's better than a multi-use blanket? This stylish puffer blanket is made of recyclable PET and can be used indoors and outdoors, keeping you warm and cozy.
9. Herringbone Throw: This brushed throw is modern and cozy with beautiful contrasting tones. This comes in multiple colors to add a pop to any nursery.
10. Plaid Throw: Plaid is always a beautiful classic for blankets. These Wellington plaid throws come in many beautiful colors to match almost any room!
11. Swiss Cross Reversible Throw: Black and white nurseries are some of our most asked-about designs, and this throw would be a perfect pick to add to a boldly hued room. This is a simple yet dynamic design that is also sustainably made.
12. Sweater Knit Throw: A basic sweater knit throw is always a good choice! We love the homey feeling of these throws, and the comfort factor is unmatched. In addition, they always come in multiple colors, making them versatile for a nursery and the whole house!
*This post may contain affiliate links, but don't worry, I only link items that I 100% recommend! You can view our Disclaimer here.