You may not think of a storage bench as something to use in your nursery design, but we end up using them all the time. If you have the space, a storage bench can add some serious function. Not only does it serve as a second seat, but it can also be used for toys, blankets and other bulky items that don't fit nearly in drawers. The best part of a storage bench is that it's so easy—just open the lid, toss things in, and close it. Done and done!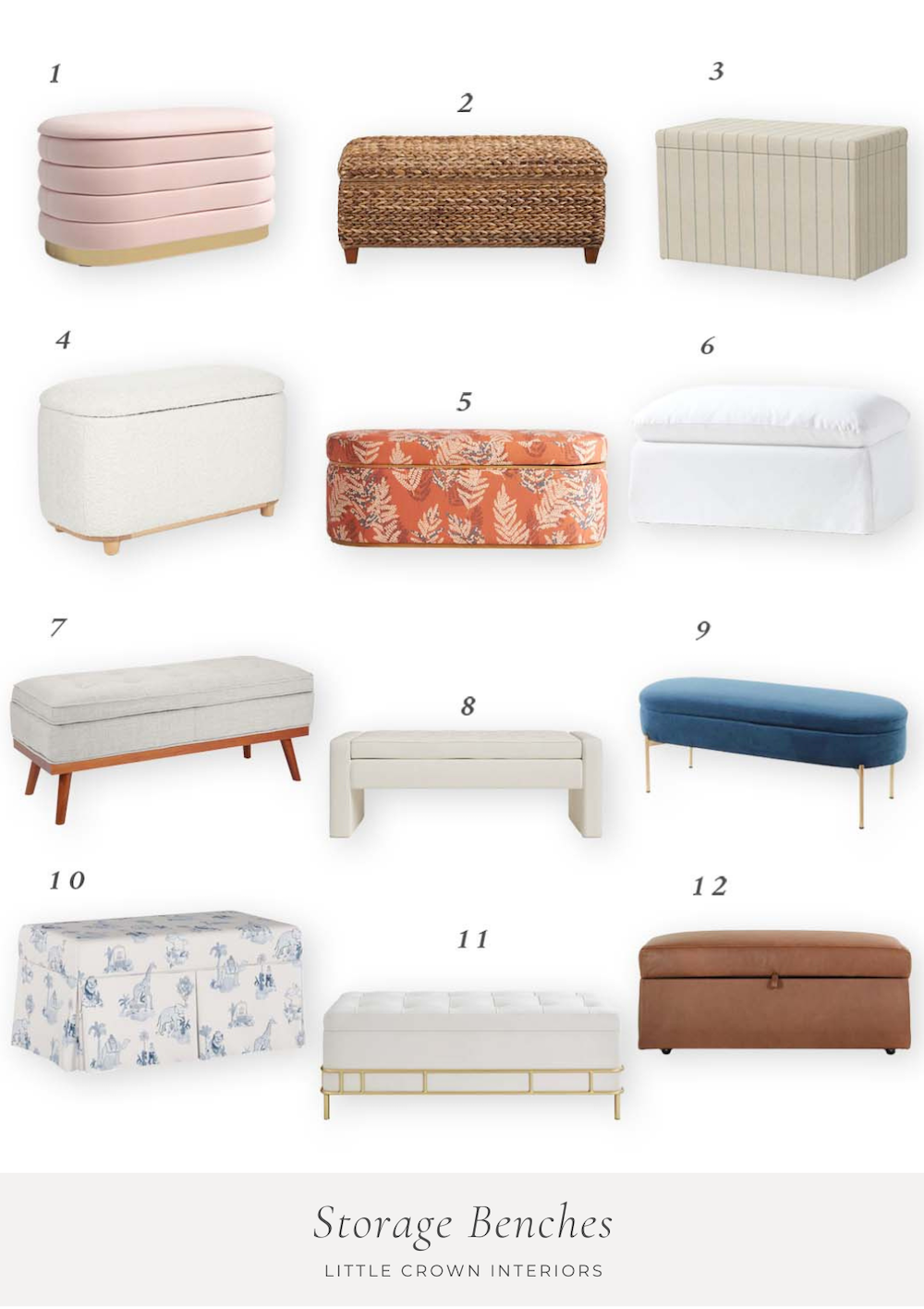 One quick safety note before you go any further! Storage benches may pose a suffocate hazard depending on how they are built. Ideally, you want to make sure it has spring-loaded hinges (so it won't slam shut on little fingers), and air holes somewhere inside. If it doesn't have holes, you can always drill them yourself on the lower back side which won't be visible.
1. Grayton Velvet Storage Bench: If you're trying to add a little glam to your nursery, look no further! This modern velvet bench is perfect for adding a little elegance with much-needed storage. We also love the gold base!
2. Laughton Rattan Storage Bench: The woven rattan texture is beautiful on this bench, bringing out all the natural colors within. These more natural materials have been majorly trending lately, and rattan is more popular than ever.
3. Lily Stripe Storage Bench: The simple stripe on this piece adds a hint of pattern, making the base a sturdy option no matter where you put it in a room. This is a classic and simple shape, sure to work in a variety of design styles.
4. Maribo Boucle Storage Bench (No longer available): Boucle has been seemingly everywhere lately, but it's so gorgeous that I don't see it going away anytime soon. The simple natural wood base and feet on this piece add just a touch of interest. This bench also comes in a few different sizes.
5. Floral Louise Storage Bench: We love this warm beautiful pattern! The rusty colors and simple floral make it a great way to add color to your nursery. This bench also low to the floor, which makes it great for safety and accessibility!
6. Pillow Top Storage Bench: This dreamy pillow top is so luxurious looking. It has ample storage and a machine washable slipcover which is always a plus. It also has a matching chair, glider, or sofa for easy additions.
7. Mid Century Modern Storage Bench: The more Mid Century look is something we often see in both crib and dresser styles with pin cushion upholstery and wooden legs. If you're into a little retro touch, look no further!
8. Spence Neutral Storage Bench: This bench is on the larger side, but if you have the space, it's an excellent addition. It fits two people, so more room for friends or family! The style of this one is more sophisticated, which so many of our clients love.
9. Harper Velvet Storage Bench: With more of a streamlined look, this velvet storage bench is great to add a pop of color to a room. The gold pencil legs are great for height and you can always add some storage baskets underneath.
10. Toile Storage Bench: An upholstered bench is a great way to bring a custom look to a room, and toile is a very traditional pattern. Every now and then we'll get a client with very traditional taste, and this type of piece would be great in a more traditional leaning nursery.
11. Tufted Storage Bench: We love this upscale bench with its geometric lines and tufted cushion. It's a sophisticated design, so it can go from nursery to living room. The bright white fabric is an excellent contrast to the gold, and we love the low profile and mini legs.
12. Leather Storage Bench: Quality leather stands the test of time, and that is just what this storage bench will do! Not only great for a nursery, but this piece will also grow with the child throughout the years.
*This post may contain affiliate links, but don't worry, I only link items that I 100% recommend! You can view our Disclaimer here.