I hate clutter. There, I said it. Kitchens with glass cabinets so you can see inside of them? Nope, not for me. I wouldn't call myself a minimalist, but I definitely lean minimalist. I like to keep a tidy home with little clutter, and if you can believe it, mu closet isn't even full (and no, it's not a big walk-in). Nurseries are not usually the type of space where minimalism is practiced in full. Babies have stuff. A lot of stuff. But there are definitely things you can do to achieve a minimalist nursery design.
Minimalism in interior design has gone through a variety of interpretations. It's been viewed as very modern, sometimes cold, often with hard lines and angles. Over the years, it has come and gone with the trends in design. For nurseries in particular, minimal design has been gaining popularity again, but not the type of cold and uber-modern minimalism.
Minimalism for today's parents means much more than just a design style. It means keeping things simple, functional, and convenient. It means not having more furniture than you need, and clearing out the clutter to make more space for play and family time. It means investing in a few quality pieces that you really love, and not going overboard with every little thing.
Minimalist design also has a reputation for being extremely expensive, but really it just has a focus on quality pieces that will last. There is so much available now in the nursery world that finding quality pieces doesn't have to cost thousands of dollars.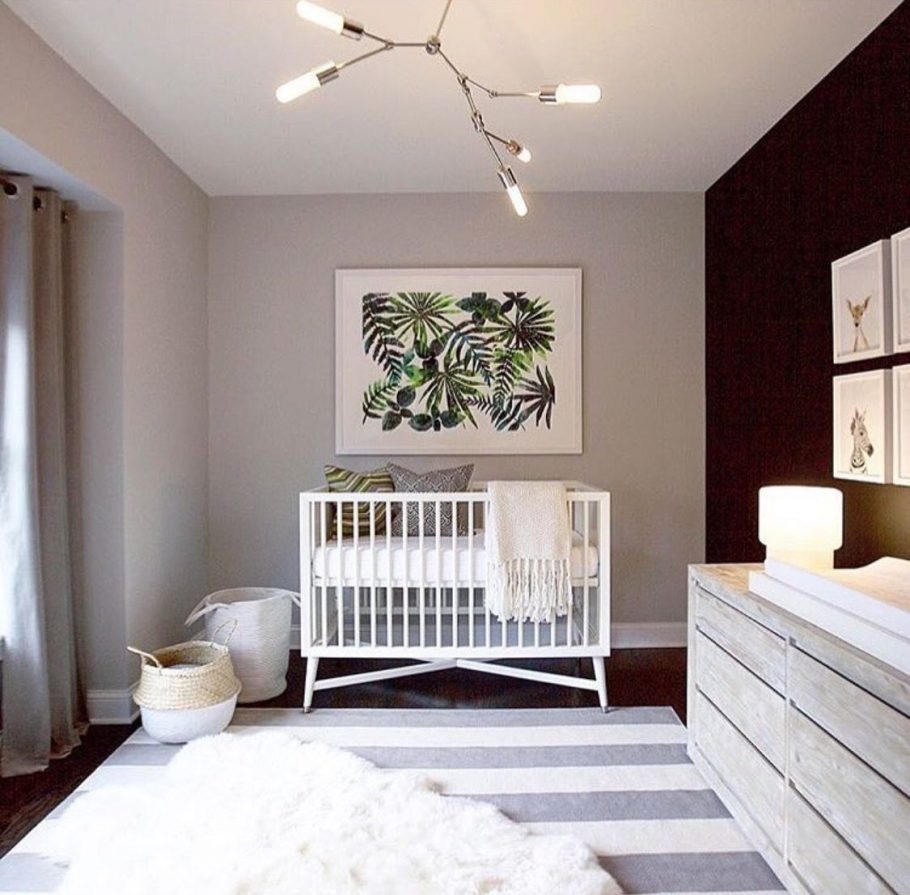 Neutral Modern Nursery via La Chateau Style
I love how this nursery above uses a bold accent wall to bring contrast and interest into the space, but when you really look at it, there's not a ton of furniture and decor. A simple crib and changing table, a few pieces of art and a few accessories. There aren't even any visible toys! The dark accented wall gives the whole room added dimension.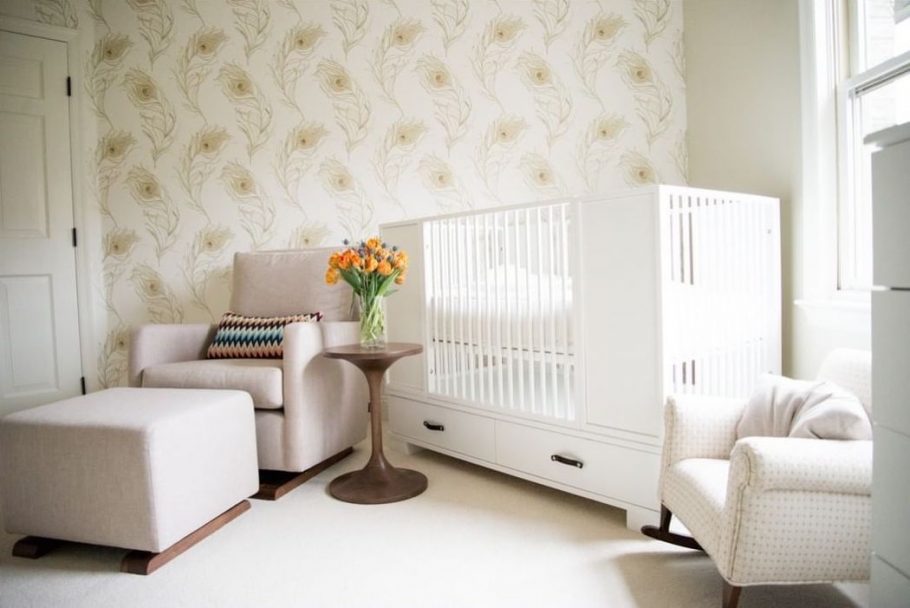 Simple Minimal Nursery via DucDuc
Minimalism also works so well for nurseries that are tight on space. If you're only purchasing the essentials, you will have more room to move around in a space. In the nursery above, you can see how minimalism doesn't have to mean overly modern. By pairing simple modern furniture with the more traditional wallpaper and side chair, the room feels warm and soft.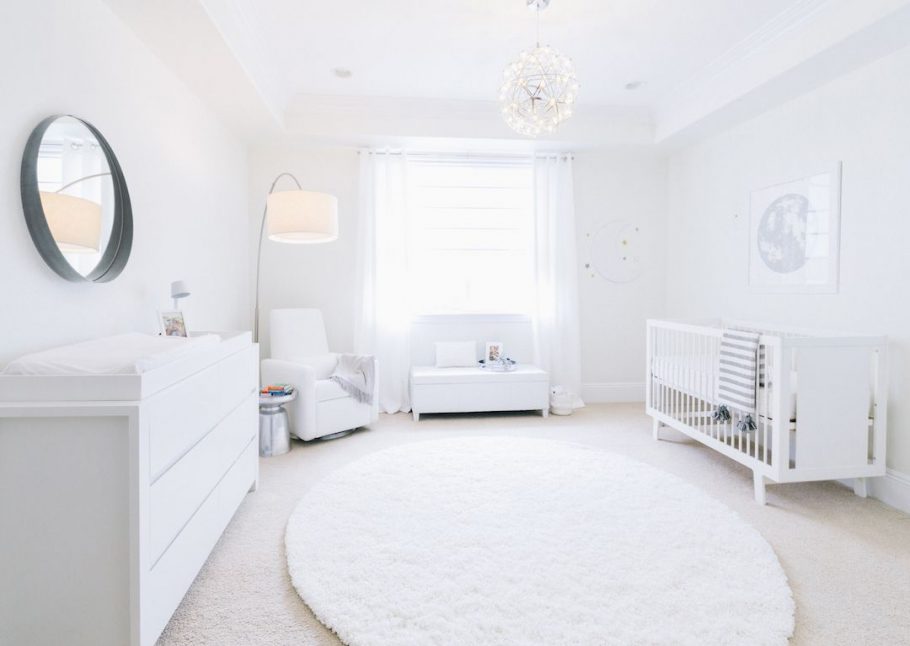 All White Minimalist Nursery by Little Crown Interiors
Of course, you could still go with the lack of color that minimalism has been historically known for. In this all-white nursery, the pieces are all simple, monochromatic, and modern. The few small gray and silver accents give it just enough contrast, and the rug and throw blanket add some texture. Including pieces with rounded edges and shapes also helps the room feel less sharp and angular.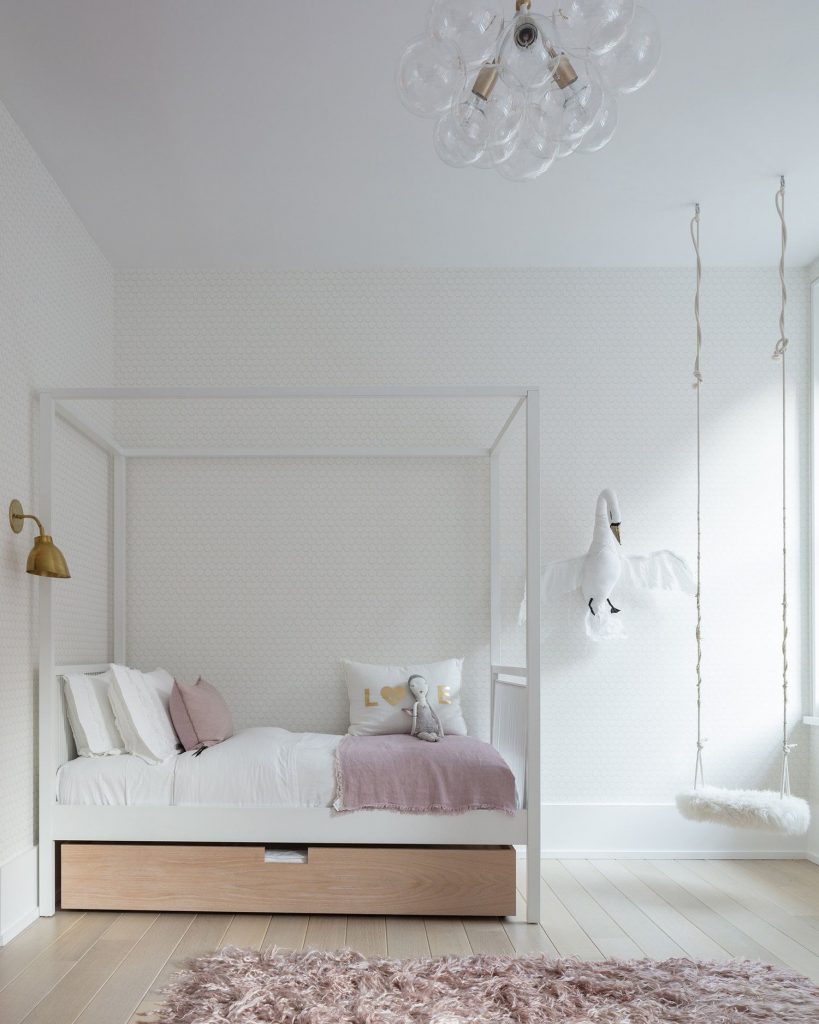 Minimalist Girl's Room by Sissy & Marley
OK, so this isn't a nursery, but the minimalist whimsy of it is adorable! There isn't a lot of furniture or decor in this space, but all the pieces are intentional and serve the overall design. Clutter is hidden in the drawer under the bed, and the space feels fresh and relaxing.
[This post was adapted from my original post for Gugu Guru]
[et_bloom_inline optin_id=optin_10]