Expecting parents are already overwhelmed by the amount of items needed for the nursery, let alone the baby registry, but do you also need to think about those items being non-toxic? Many consumers have become much more savvy when shopping and are always on the lookout for products that are non-toxic, organic and safe for their families. When it comes to baby products, this is even more important because your baby's little developing lungs are much more susceptible to toxins than a grown adult.
We've pulled together a list of some of my favorite non-toxic and organic products for baby and the nursery so you don't have to worry!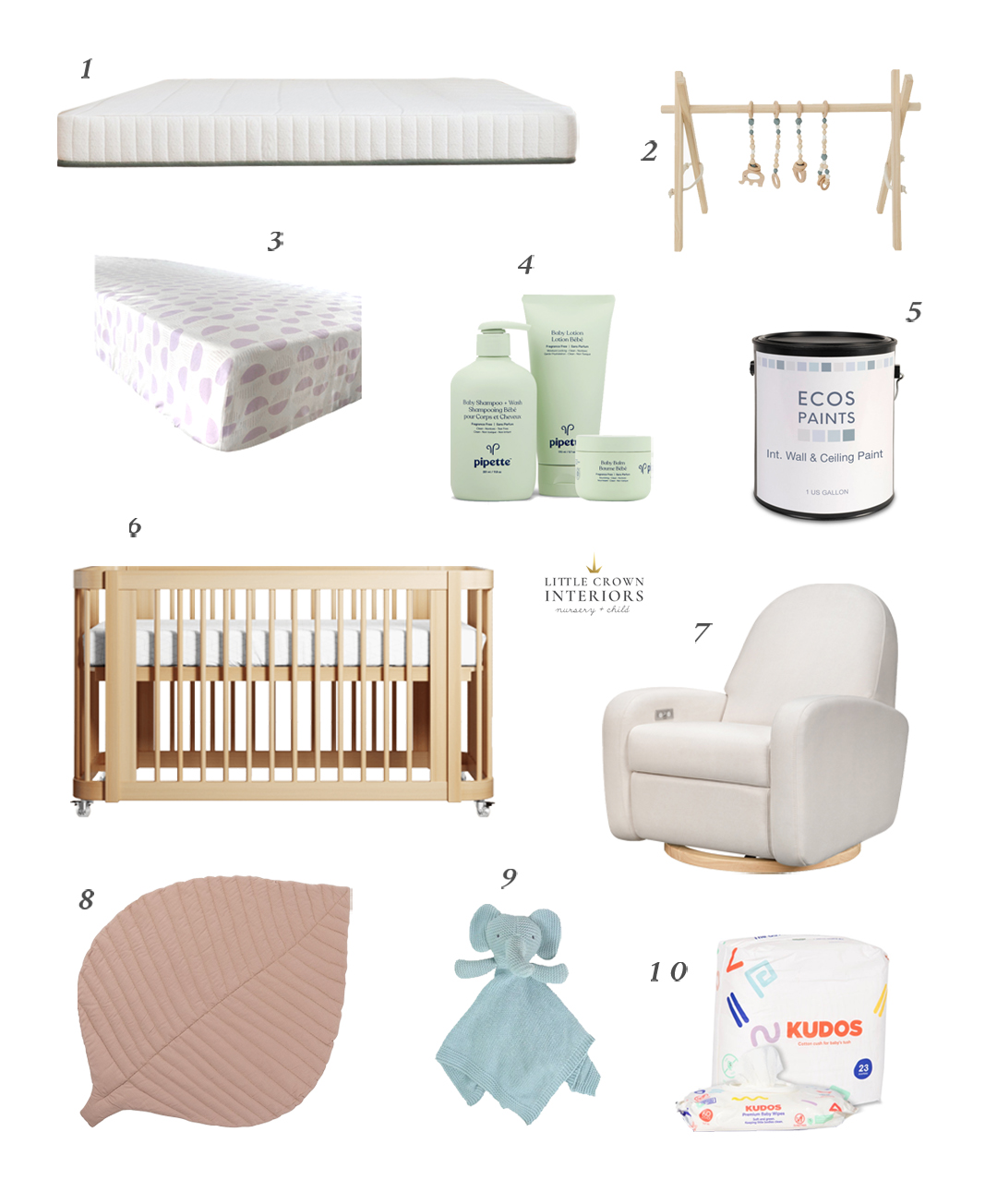 1‍. The Crib Mattress: The crib mattress is one of the most important items in the nursery that should be non-toxic. Your baby will be spending many hours with their face very close to the mattress and you don't want them breathing in any toxic chemicals or VOC's. One of the best non-toxic crib mattresses out there is the Avocado Eco Organic Crib Mattress. It meets the highest standard of requirements and is certified by Greenguard Gold and GOTS.‍
2. Activity Gym: Sometimes it's best to go bare-bones with nursery decor, and luckily that unfinished wood look is trending! This natural Wooden Baby Gym from Poppyseed is raw wood with absolutely no finishes whatsoever, and it's adorable!‍
3. Crib Sheets: Similar to the crib mattress, crib sheets are another item that will be close to the baby's face for long periods of time. Luckily, there are tons of options out there now for organic crib sheets. One of my favorites for cute patterns is Kindred Kid & Baby.‍‍‍
4. Baby Care Products: Anything you're slathering on your baby's skin should be free from toxins as well. Their skin is much more sensitive to things like fragrances and fillers, so watch out for any suspect ingredients. Pipette is a wonderful brand you can check out for a full range of products that are gentle and safe for the whole family. ‍
5. Paint: When you're preparing your nursery, you may want to paint the walls. But all paints are not created equal! Many paints release a lot of VOC's and toxic chemicals into the air, and can linger for a long time. To make sure your nursery is the safest it can be, I would recommend a zero VOC paint like ECOS Paints. They even have a line just for babies and kids called Lullaby that's durable and washable too.
‍6. The Crib: You might not have thought about the crib needing to be non-toxic, but the truth is that your baby may end up chewing on the top rail or bars. If the crib has a paint finish that can flake off or a chemical varnish, then that's going right into your baby's mouth. Luckily there are many cribs available that are using non-toxic finishes, or no finishes at all. One of my favorites is the Wave crib by Nestig. Nestig creates non-toxic, lead and phthalate free cribs constructed from sustainably harvested Brazilian pine. And bonus, it's also a 3-stage crib!
7. The Glider: Having a great glider is an absolute must for a functional nursery, and having one with non-toxic fabric is a bonus! I love the Nami Glider from Babyletto—the design is modern and it's Greenguard Gold certified with emissions tested fabrics. This glider also has a motorized reclining function!‍
8. Rugs: Non-toxic rugs are often the most difficult product to find. That's because rugs need adhesives to hold their fibers together, and those fibers are often heavily treated. Most non-toxic rugs are made of wool, but wool isn't great for baby skin (or to clean). Lorena Canals is a great option for smaller rugs. If you can't find a non-toxic option that works for you, you can always add a mat on top that's toxin free, like this cute Organic Leaf Mat from Toddlekind.‍
9. Toys: Yes, even toys can have chemicals! Aside from the more obvious brightly colored plastic toys, even stuffed animals and softer toys can have toxic chemicals in them. I love the Lovey collection from Sammy + Nat because they are made from organic sustainable cotton and have the cutest designs!‍
10. Diapers: Think about it—your baby is going to be in diapers pretty much 24/7. That material will be hugging their delicate skin and ideally shouldn't harbor any toxins. Because diapers have to be moisture repellant and absorptive, they often contain plastics and chemical coatings. Kudos Diapers is a great alternative. They have hypoallergenic and breathable diapers that are also free of chlorine, latex, phthalates and fragrances.
There are some great websites and resources out there as well to help you navigate through all the options. For non-toxic living, I love recommending Sway, a home furnishings marketplace that does all the vetting for you so you can truly trust the products they recommend.
*This post may contain affiliate links, but don't worry, I only link items that I 100% recommend! You can view our Disclaimer here.