With Mother's Day approaching quickly, we are excited to share this year's gift guide with you. As an interior designer specializing in nurseries and kid's spaces, we work with moms on almost every single project. We see the many changes that happen over a short time and know that a feel-good moment, even if brief, can make a difference on the harder days. We handpicked a few feel-good items perfect for moms of any age. These are products that elevate your daily routines, like journaling for mental health, beautiful items you see every day, or flowers to both enjoy and give away for an instant mood boost!
As with previous years, we love to spotlight some small, female- owned and mom-owned businesses. Take a peek below to find some inspiration for this year's Mother's Day.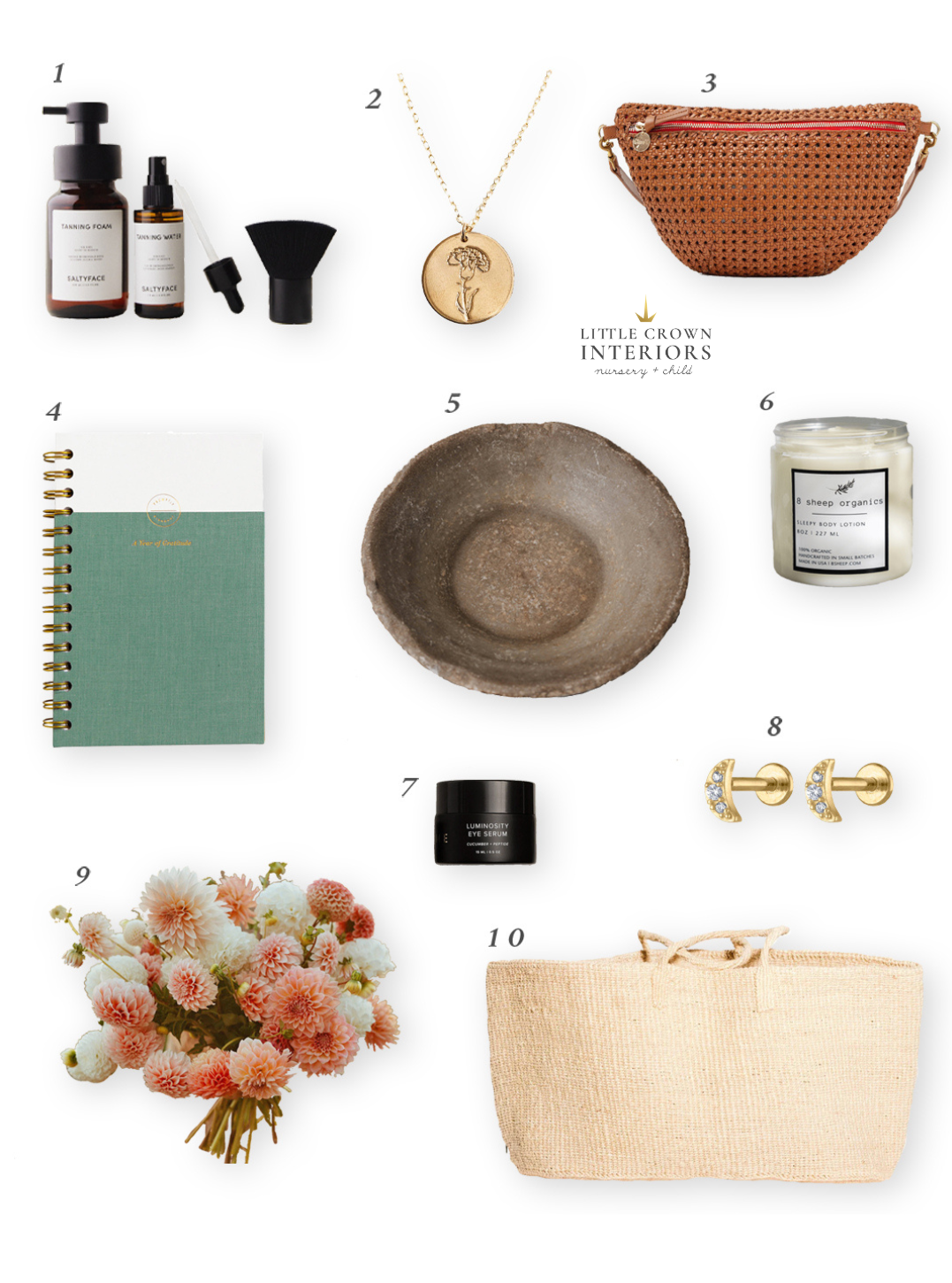 1. Salty Face Tanning Water Set: An easy, safe and subtle sun-kissed look year round is perfect for a busy mama. This formula is no fuss and simple to incorporate in your skincare routine. It's buildable so you can look as tan as you want. This set comes with face and body solutions and a soft brush for a no streak tan.
2. Birth Month Flower Necklace: Are you looking to mix up the standard name or initial necklace? Look no further! We are head over heels for this sweet floral necklace. Wear the flower of your child's or your own birth month for a subtle but sweet sentiment. You can add multiple tags to your necklace.
3. Fanny Bag: This bag makes it easy to keep essentials close by while chasing a toddler. With handwoven leather in a lattice pattern, this bag has personality but feels timeless and elegant at the same time. It can be worn three ways: around the waist, across the body, or on the shoulder.
4. Gratitude Journal: Promptly Journals offers a range of journals such as grief and anxiety processing, recording birthday memories, baby's first year, and many more. They are all gorgeously created and made to make journaling effortless.
5. Marble Bowl: A stunning, elegant and modern marble bowl that can complement any interior style. We love this as a catchall on a nightstand for jewelry or on a coffee table styled with a pretty book and candle.
6. Sleep Lotion: This organic sleepy lotion is handmade in small batches with clean ingredients. It's magnesium infused lotion that may help with pain and can help promote better sleep. 8 Sheep Organics also offers pregnancy and new mom pampering kits.
7. Eye Cream: Dime is a super transparent company who lists the EWG score right there with their product! This luminosity eye cream has a cooling effect and is truly for moms and women of all ages and stages.
8. Crescent Moon Nap Earrings: Earrings with the word "nap" in the name are no doubt made for parents. We love these dainty crescent moon studs designed with a flat back so nothing pokes when you take that mid day nap. They also come in a solid 14k gold option.
9. Dahlia Tubers: Shopping for a loved one with a passion for gardening? This company will ship an assortment of premium dahlia tubers ready to plant. Watch these lovely flowers grow, bloom and eventually make your own bouquet. These are from a non-profit company, Growing Kindness, which is all about spreading kindness by sharing homegrown bouquets.
10. Oversized Sisal Tote: The coastal tote is perfect for this summer's beach trip, picnics and park adventures. This large carryall is ethically created and a part of an exclusive line from the new SHOPPES marketplace. SHOPPES is female owned and features goods curated with sustainability and mindful consumers in mind. We've also had our eye on this gorgeous alpaca knit.
We hope you get to celebrate the day just the way you hope. Happy Mother's Day from the LCI team!
*This post may contain affiliate links, but don't worry, I only link items that I 100% recommend! You can view our Disclaimer here.