There have been a lot of nursery design reveals coming at you lately! Because of Covid, we had to postpone a lot of photoshoots, and now they are all piling up. I'm making my way through all the photos and finally getting these reveals up on the blog!
This gorgeous butterfly nursery was for a client in Orange County. She was having twin girls and wanted a space that was soft, sophisticated and had a butterfly theme. Her home was very traditional as well, so we designed the space to flow with her home by using some more traditional elements.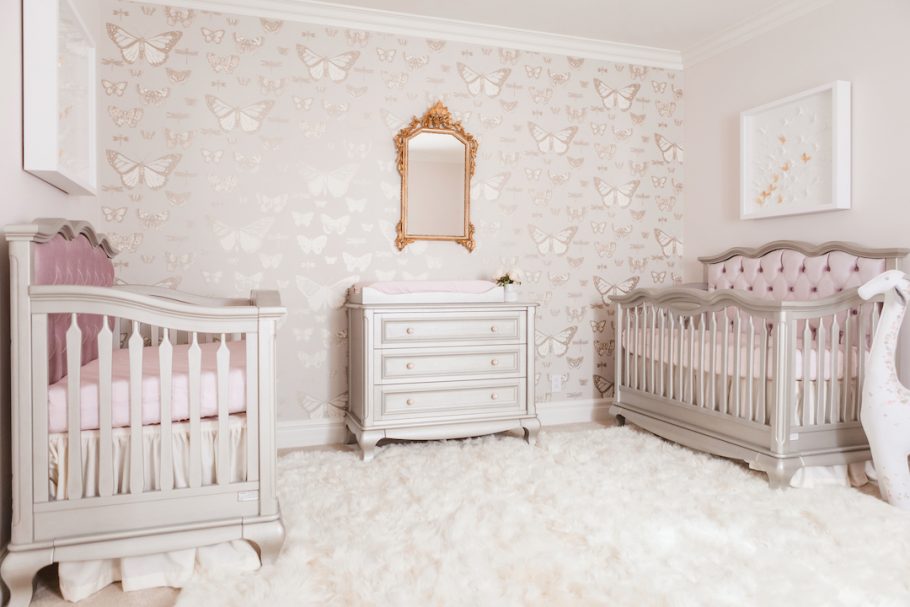 Upholstered Cribs | Butterfly Wallpaper
The biggest challenge with most twins nurseries is fitting in two cribs. Luckily, this space was on the larger side and we were able to fit not only twi cribs, but a changing table and daybed as well. The cribs are both a stunning warm silver finish—it's hard to tell by the photos, but the finish is more like a champagne silver and so unbelievably pretty. The upholstery on the back panels is also different depending on where you're standing in the room, and changes from a light pink to mauve-lavender.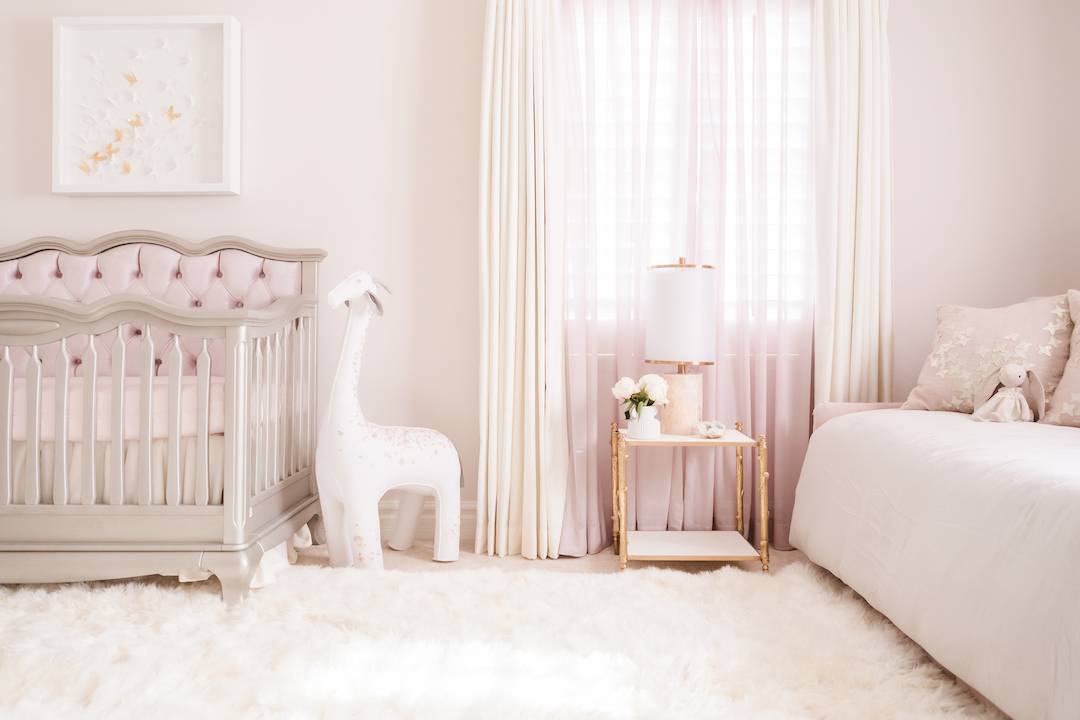 Large Giraffe | Branch Side Table | Table Lamp | Daybed | Throw Pillows
Having a daybed in a nursery can be an amazing perk if you can fit it. In this case, we left out a glider since my client wanted to use the daybed to nurse both babies at the same time (lots of elbow room!). It's also great because she can sleep in there while nursing.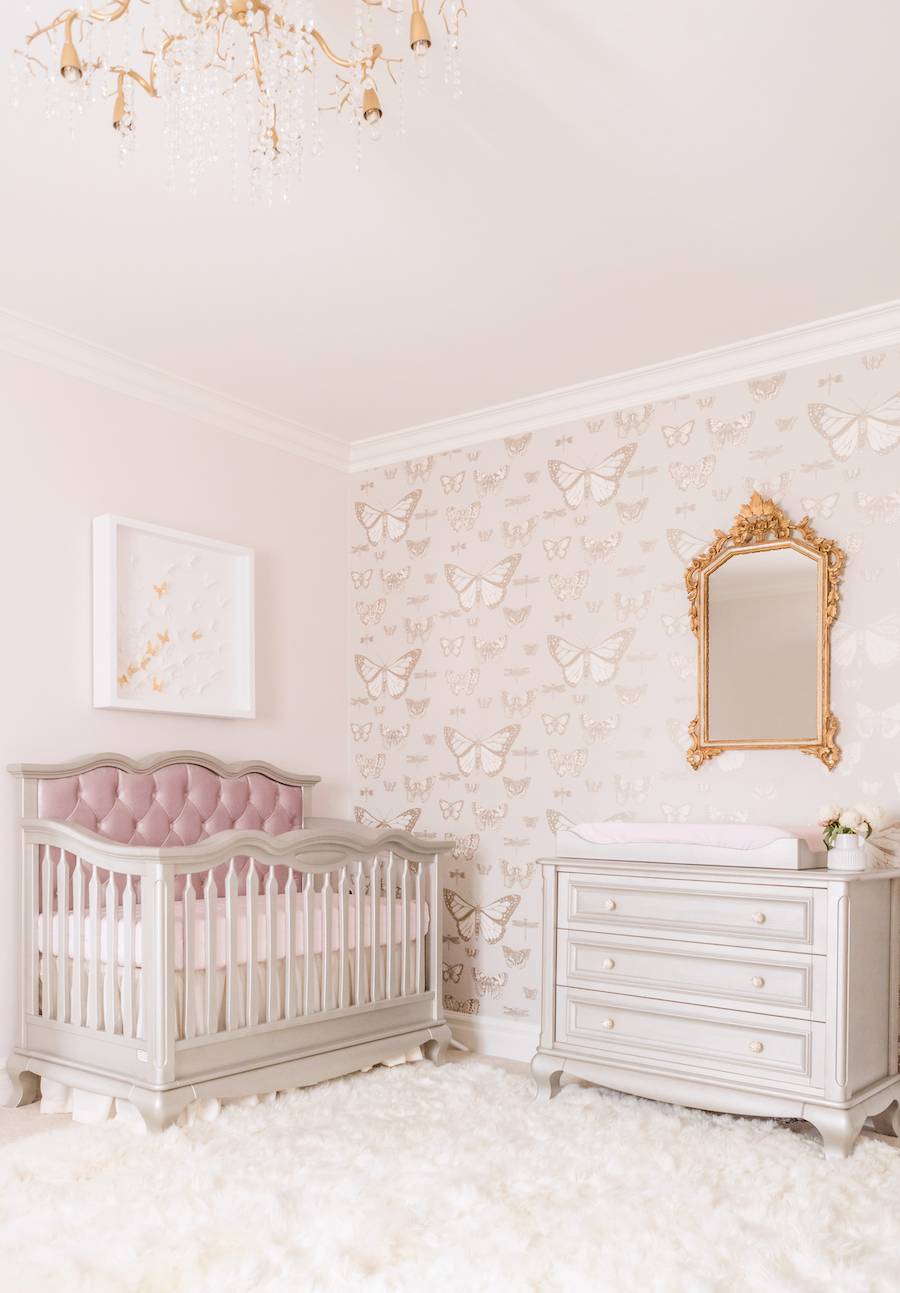 Upholstered Cribs | Butterfly Wallpaper | Chandelier | Silver Changing Table | Changing Tray
When I was posting little updates on this nursery on Instagram, I was getting a lot of requests for this wall color. It's a super pale mauve/blush, and it's gorgeous in person. The color is Dunn Edwards Windmill.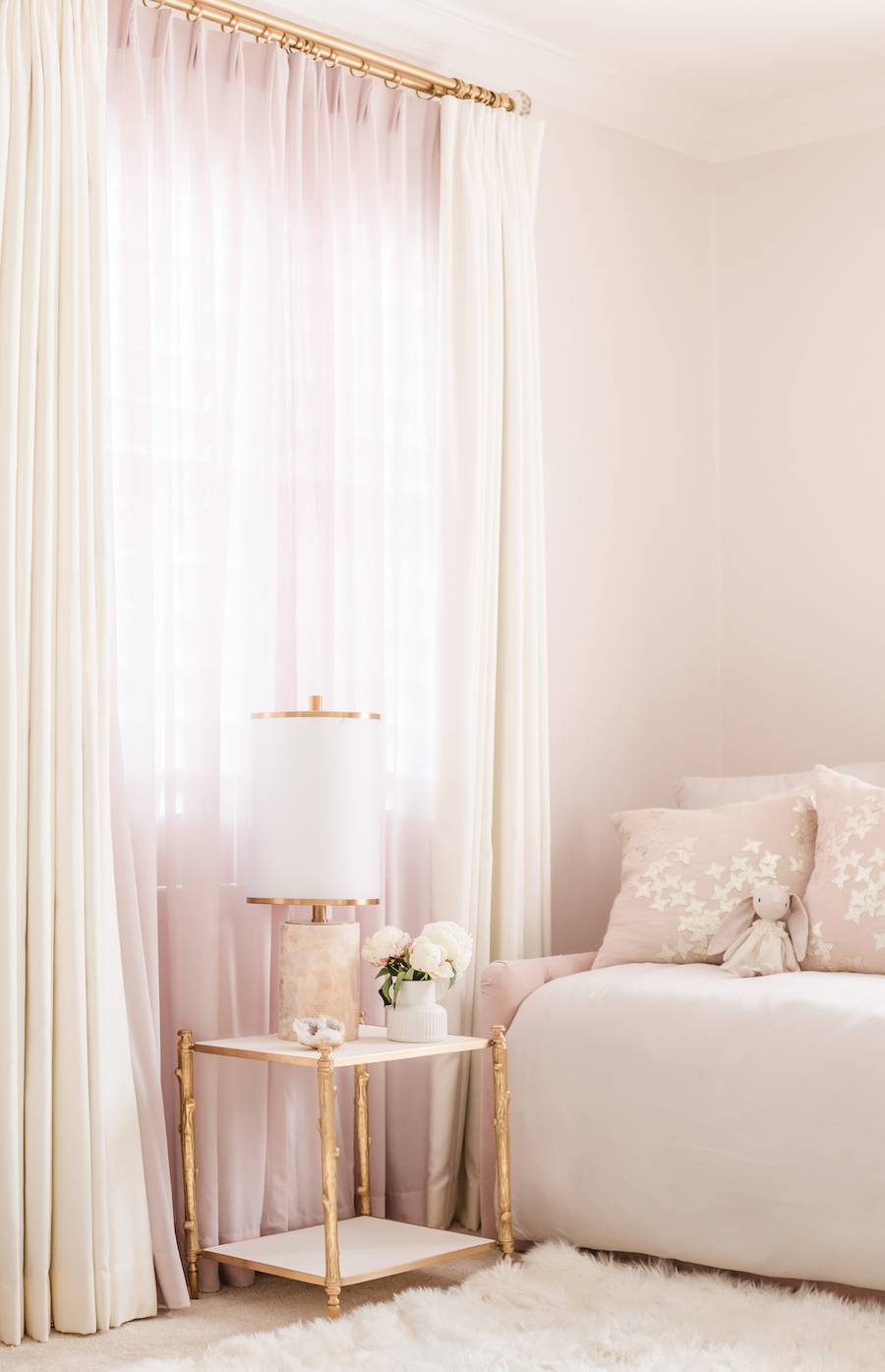 Daybed | Throw Pillows | Branch Side Table | Table Lamp
One of my favorites things in this nursery is the drapery. These are fully custom blackout curtains with a sheer layer on the inside. I love using double layer curtains in nurseries because it gives you maximum flexibility to adjust the lighting. We used a pink pleat header on these to give them a more formal feel, and hung them high up to give the room a grander and taller look.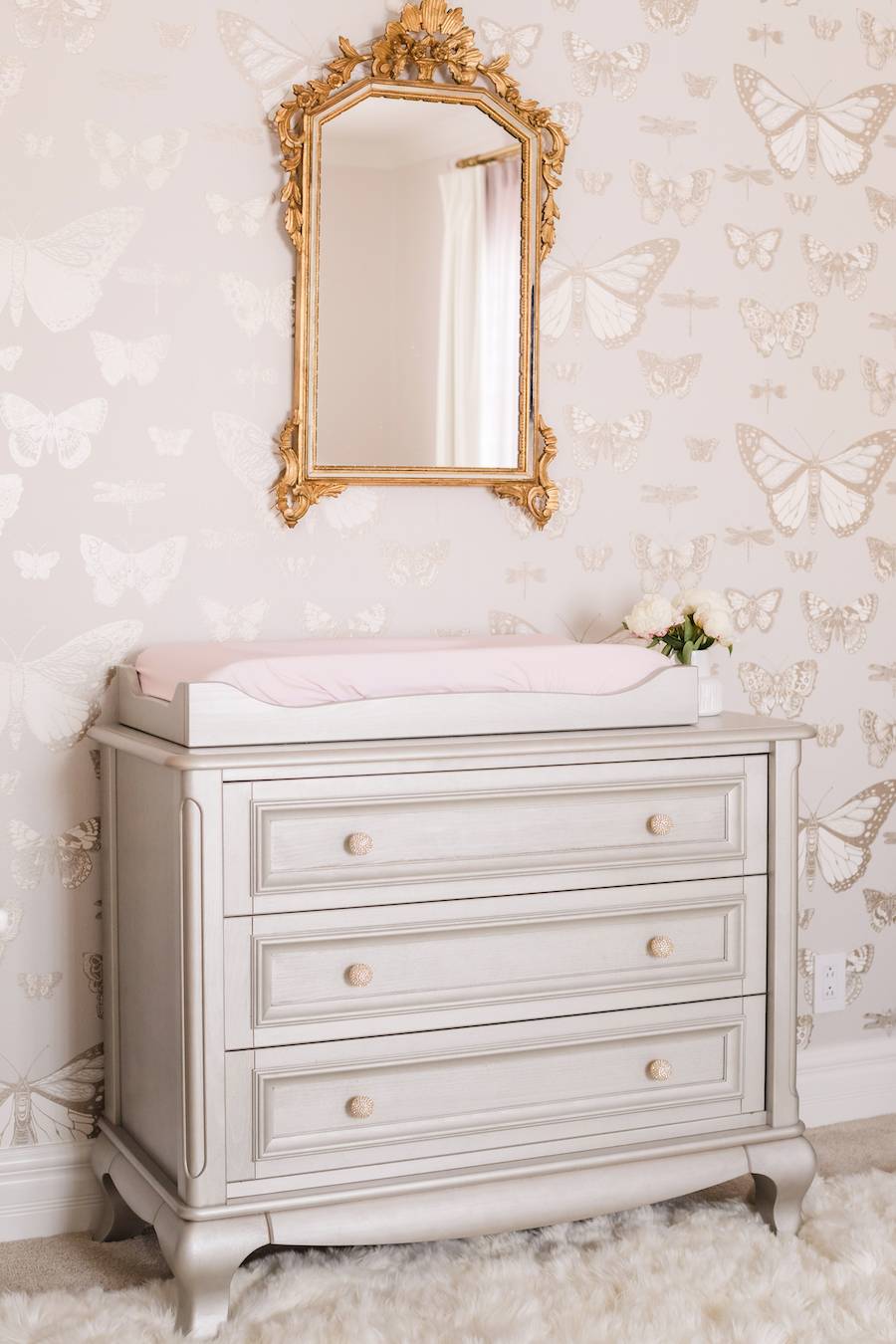 Silver Changing Table | Changing Tray | Butterfly Wallpaper
Because we had to fit in the two cribs and daybed, we didn't have a ton of space for a larger dresser. So instead, we went with a smaller changing table. There is a full closet as well for storage and the daybed works as a large surface to change on as well. Those custom knobs are gold with tiny pink crystals, and they are amazing!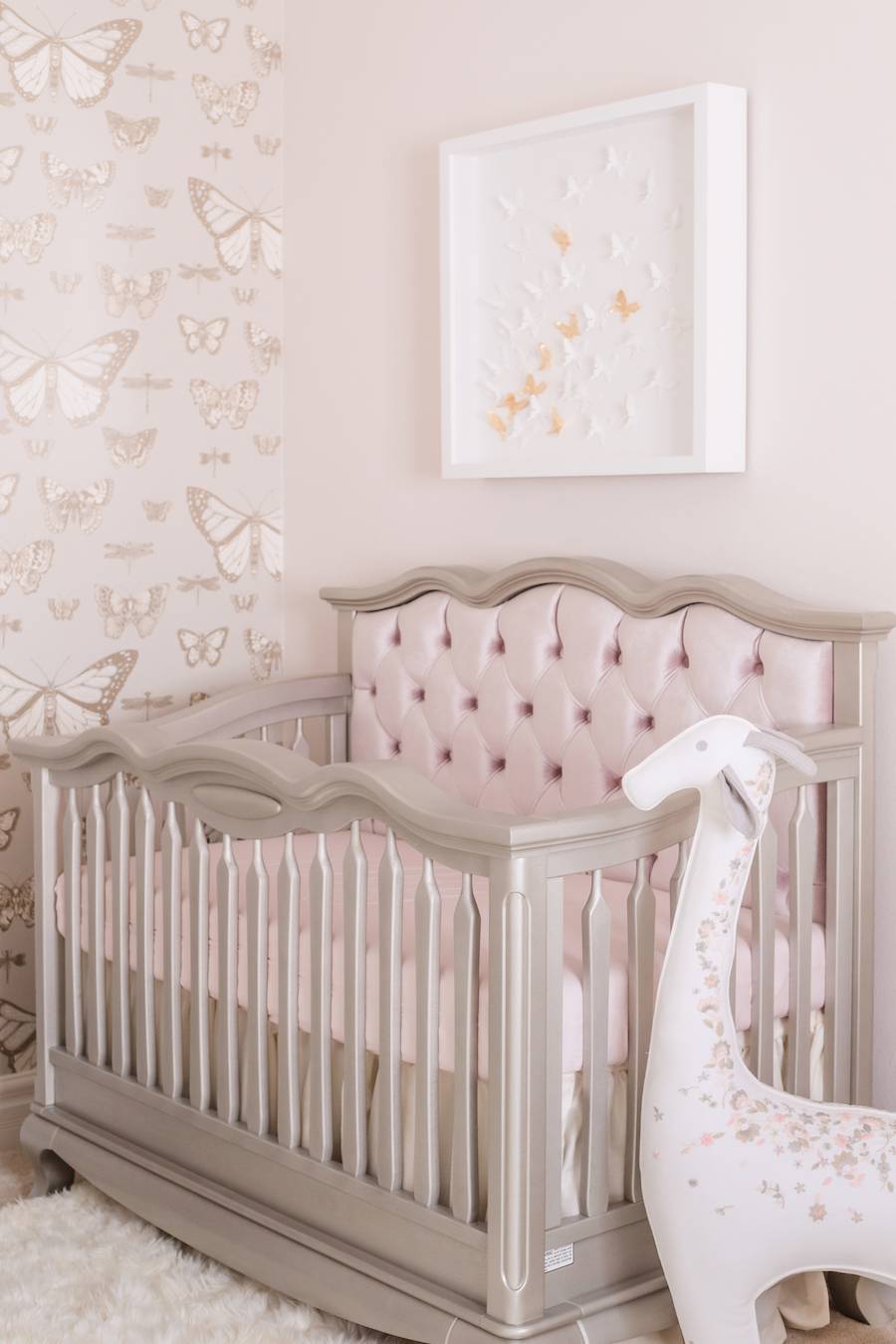 Butterfly Wallpaper | Upholstered Crib | Large Giraffe
To complement the butterfly wallpaper, we also chose some custom 3D butterfly art pieces. And don't worry, they are framed with plexiglass and heavily attached to the wall. We used heavy duty anchors, earthquake hooks and installed a lock at the bottom as well which prevents it from being lifted at the bottom. They don't move AT ALL.
Butterfly Wallpaper
My client had a love of antiques and had a huge collection in her home. She wanted to make sure we included something antique in the nursery, so we chose this gorgeous antique wall mirror. It's important to be careful with antiques and vintage items in a nursery since they can have lead paint or a lack of structural integrity, so always check everything carefully. I would never recommend using anything antique or vintage that the baby can chew on (like toys or smaller furniture).
You can see all the photos of this nursery in the portfolio!
*This post may contain affiliate links, but don't worry, I only link items that I 100% recommend! You can view our Disclaimer here.