It's official—nursery design trends are leaning more traditional! We used to get a fair amount of requests for traditional nursery design way back when we first started. Then it tapered off a bit and leaned much more modern and transitional for several years. In the past year or so, we've been seeing a slow and steady increase in either traditional nursery decor and furniture, or traditional accents woven into a modern design. And we love it!
This Virtual E-Design client wanted a traditional nursery with lots of warm neutrals and pinks. She didn't want baby pink, but rather a warmer and richer rose color. She knew she wanted an accent wallpaper, traditional style window treatments and that Restoration Hardware look for most of the furniture.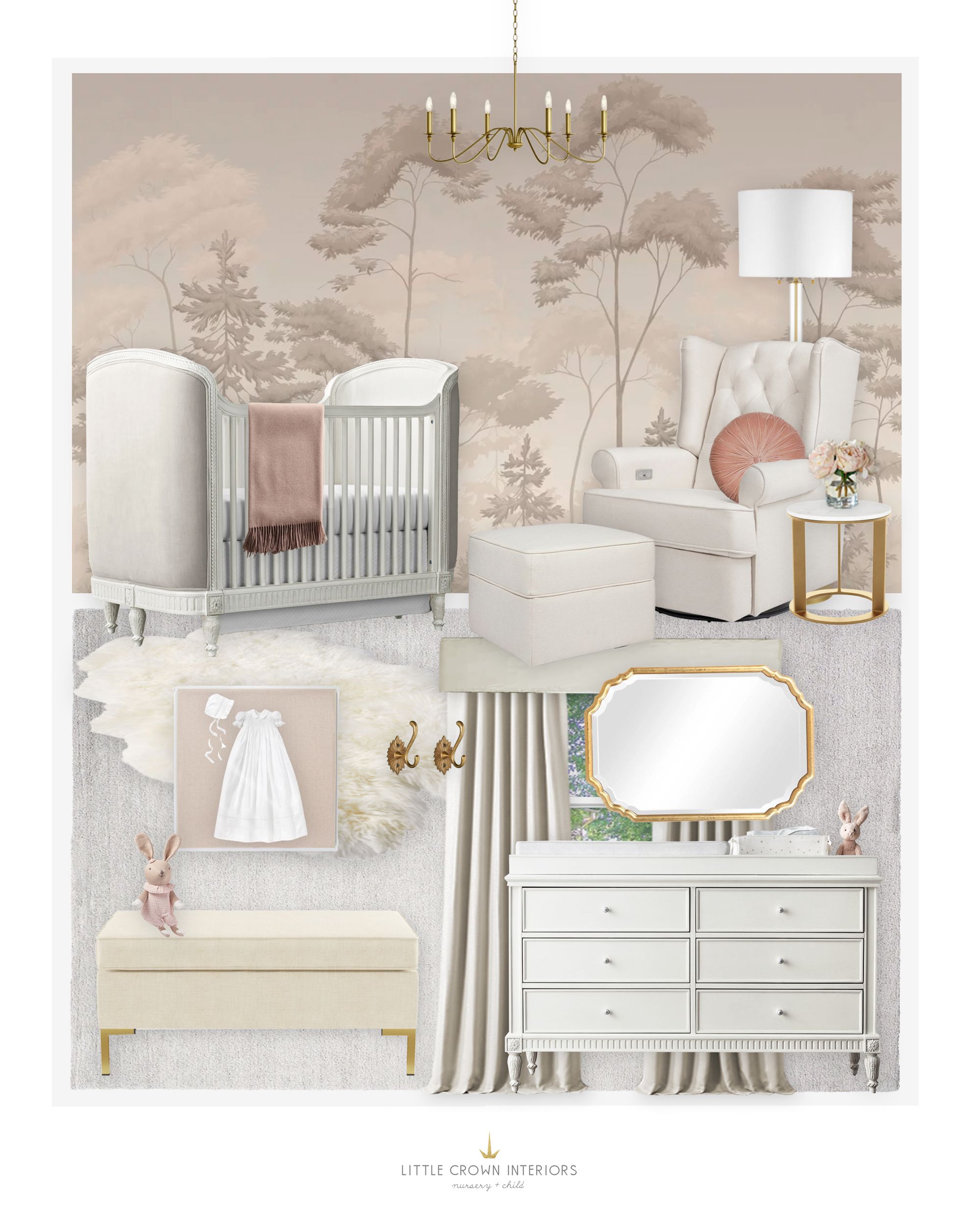 Neutral Tree Wallpaper | Upholstered Traditional Crib | Wingback Tufted Glider | Neutral Ottoman | Traditional Brass Chandelier | Brass Floor Lamp | Gold Side Table | Antiqued White Dresser | Gold Wall Mirror | Sheepskin Accent Rug | Linen Storage Bench | Rose Throw Pillow |  Mauve Throw Blanket | Brass Wall Hooks | Faux Peonies | Plush Bunny Decor
We always start Virtual E-Designs with a floor plan. As you can see below, we had plenty of space in this nursery to include the crib, changing table, glider and a bench as well. The entire nursery already had a plush carpet, so we didn't need an area rug. Instead, we went with a little sheepskin accent rug to add a little dimension to the space. In the little entry hallway, we added some wall hooks so she has a quick spot to hang a diaper bag.
We chose a gorgeous traditional crib with upholstered panels as the centerpiece of the design. We used the coordinating changing table, along with a tufted wingback glider. We kept all the furniture neutral in color so they can reuse it for future children.
The neutral tree wall mural is of course the stand out element of this nursery design! The colors are so rich and warm and the design is whimsical yet sophisticated. We incorporated several other neutral pieces as well, such as the blackout curtains, accent rug and the storage bench. The storage bench is on the more modern side so balance everything out.
The art piece that hangs over the bench is a sentimental piece for the client, so we were sure to include it. We suggested the framing color and style so it matches the rest of the design. We finished up the design with some pops of gold, like the gold chandelier, side table and wall mirror.
Want your own nursery E-Design? Take a look at our design services page—we do book up quickly!
*This post may contain affiliate links, but don't worry, I only link items that I 100% recommend! You can view our Disclaimer here.