Every now and then a project will come along that's a little different. We work on so many nursery designs and a fair amount of kid's rooms, but rarely do we do them at the same time. An E-Design client needed a room designed for her two girls that were going to share a space. The house was brand new and they weren't bringing anything with them, so we started from scratch.
She knew she wanted a soft wallpaper with a greenery/nature feel, and lots of neutrals with some pops of blush pink. We started with this beautiful eucalyptus leaves removable wallpaper and a house shaped bed to give the older sister a sense of her own space within the shared room. Since the room was functioning as a nursery as well, she definitely still needed blackout curtains, so we chose some with a pretty texture to give the room an elevated feel.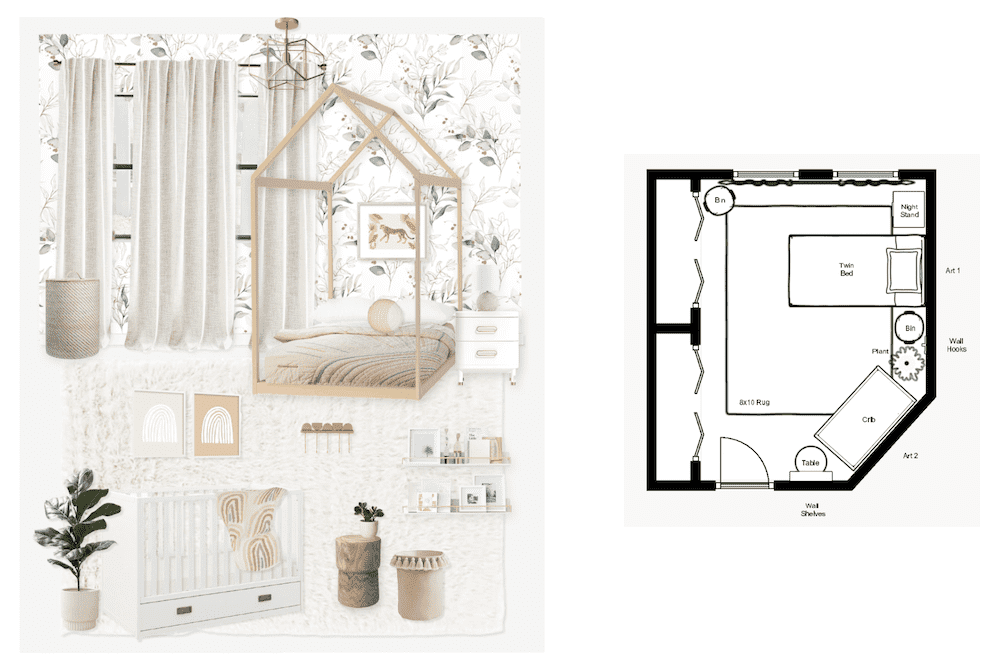 As you can see in the floor plan above, this space was a little tricky. As with most nurseries and kid's rooms, this space was on the smaller side, and had an odd angled wall. The two windows prevented us from putting the crib near that area for safety reasons. The crib is also closest to the door, which will come in handy if the baby needs tending without disturbing her sister in the bed.
Luckily there were two large closets to use in the room which worked out great since we didn't have room for a dresser. The crib has some storage drawers at the bottom which will help a little for smaller baby items, and we added some wall shelves as well for a small display. There is also a neutral storage bin and a pretty blush storage bin to help with bulkier items.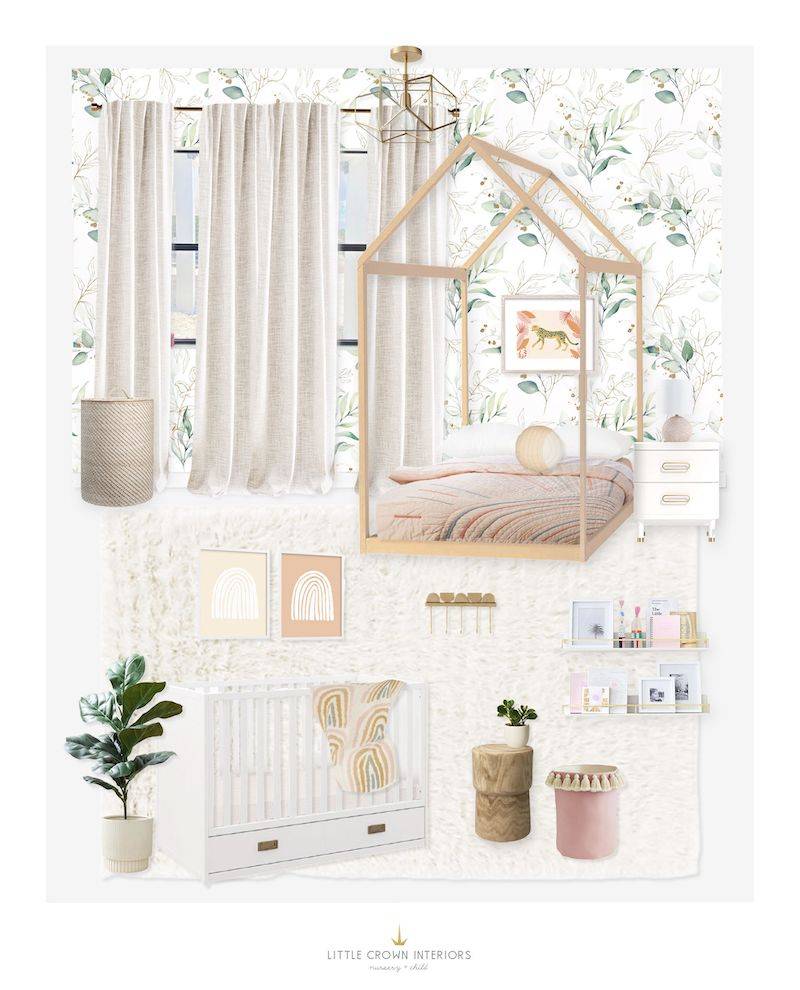 ---
· Room Details ·
Storage Crib | House Bed | Cream Rug | Removable Wallpaper | Gold Chandelier | Wall Shelves | Night Stand | Table Lamp | Pink Tassel Bin | Neutral Hamper | Wall Hooks | Faux Fiddle Leaf | Planter Pot | Rainbow Bedding | Wall Hooks | Rainbow Throw | Tiger Art | Rainbow Art 1 | Rainbow Art 2 | Round Pillow | Blackout Curtains
---
As for decor, we went for some Scandinavian inspired rainbow art pieces that coordinate with the cute soft rainbow bedding. A nightstand and side table also add some additional functionality, and a surface for a lamp, small plant, etc. Since the space was small, we chose a large neutral rug to give the floor a more expansive look. Overall, I love how this space came out and think it will work great for these sisters!
*This post may contain affiliate links, but don't worry, I only link items that I 100% recommend! You can view our Disclaimer here.