It's amazing how many E-Design clients are asking for nature and floral patterned wallpapers now. We're seeing a lot less neutral and a lot more pattern and whimsy, especially with botanical elements. Oftentimes these are paired with neutrals as well, but it's fun to see how nursery design trends develop.
This Virtual E-Design client wanted a fresh nursery with whites and muted blues, and a botanical or nature themed wallpaper. We found an amazing soft blue and white tree wallpaper that set the stage for the rest of the design.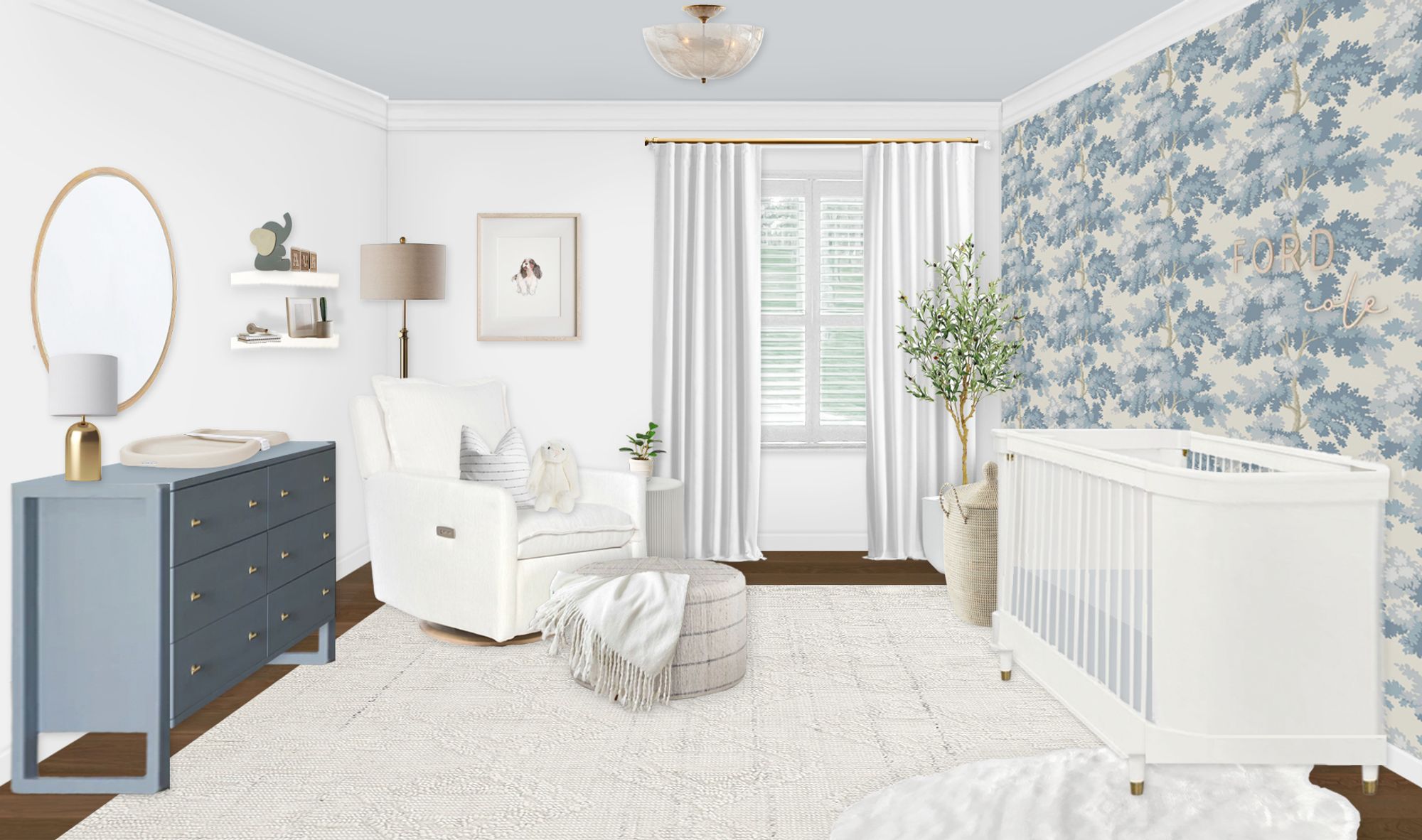 Muted Blue Trees Wallpaper | White Convertible Crib | Slate Blue Dresser | White Recliner Glider | Textured Neutral Rug | Blue Stripe Ottoman | Fluted Round Side Table | Faux Sheepskin Accent Rug | Gold Table Lamp | Round Gold Mirror | Floor Lamp | Blue Striped Throw Pillow | Dog Art Print | Wood Name Wall Sign | Storage Hamper | Muted Blue Crib Sheet | Faux Olive Tree | White Floating Shelves | Plush White Bunny | White Bamboo Throw Blanket | White Linen Blackout Curtains | Glass Semi-Flush Chandelier
We always start with the nursery floor plan to make sure we can plan for the right pieces. As you can see below, we had plenty of space for all the nursery furniture we needed, with a little extra to spare! We centered the white convertible crib on the right wall with the wallpaper behind it to make a statement when you walk into the room. The slate blue dresser is opposite the crib and mirrored the color from the wallpaper. Then the white nursery glider is in the corner with a striped ottoman to pull everything together.

Because we had a wallpaper with a pattern, we wanted to make sure to keep the rug fairly simple, so we chose a neutral rug with a very slight pattern and then layered on a faux sheepskin accent rug. We also added some white blackout curtains to block the sunlight. Since the walls are white and the nursery furniture is white, we opted to paint the ceiling a muted blue to give it some whimsy and color!
When choosing a paint color like this for a nursery, we usually tell clients to order a sample of the wallpaper first. Then take the wallpaper to your favorite paint retailer and have them match one of the colors. Typically, you'll also want to drop that color down a bit lighter so it's not too dark.
Want your own nursery Virtual E-Design? Take a look at our design services page—we do book up quickly!
*This post may contain affiliate links, but don't worry, I only link items that I 100% recommend! You can view our Disclaimer here.