Over the past few months, I was working on a nursery design for Jenna Kutcher. If you're not familiar with her, she's an incredible role model—a photographer, entrepreneur, podcaster and advocate for women, body positivity and inner truth. She's exactly the right kind of person we need right now, showcasing herself and her life in an honest and sometimes brutally brave way on social media. She's talked openly about events in her life, such as being judged because she's married to someone who's "better looking", struggling with fertility and the loss of two babies via miscarriage. Real shit.
After years of trying to conceive and suffering two miscarriages, she finally got pregnant and announced it to the world. That's a lot of pressure (which of course she's shared about as well). I had the opportunity to work with her on designing the nursery, and it was quite the experience.
I've worked with plenty of parents that had risky pregnancies, complicated adoptions and pregnancies post-miscarriage. Some even go so far as to have me design the whole nursery, but not actually purchase or install anything until after the baby is home safe. Pregnancy is scary and uncertain and stressful and exciting and miraculous! I think these things are so important to talk about, and I love that Jenna is doing it. Because at the end of the day, thousands of women and families are going through the same thing.
Acrylic Crib | Walnut Changing Table | Mid Century Side Table | Floor Lamp | White Wall Ledges | Gold Wall Mirror | White Blackout Curtains | Woven Baskets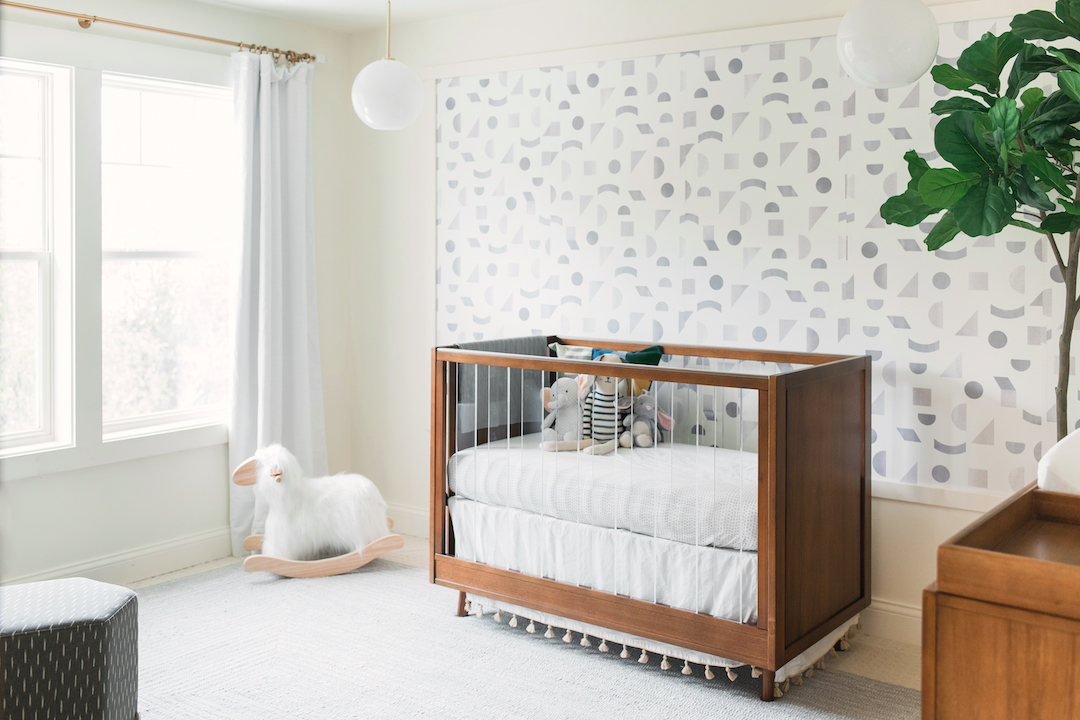 Jenna and her husband decided not to find out the sex of the baby, so I knew I was going to create a gender neutral nursery. Since Jenna lives in Minnesota, I did an E-Design for her. I created her floor plan, made a design board, sourced all the items and gave her instructions on all the DIY elements. They were so excited and her husband, Drew, really wanted to be involved. He installed the wall molding, built the crib and hung the wallpaper!
I chose all of the nursery furniture from the new Pottery Barn Modern Baby line that was launched recently as part of the Pottery Barn Kids and West Elm brands. Since their home had both farmhouse and modern features, I selected a crib and dresser that had elements of a mid century modern look, but that also had a rich wood texture.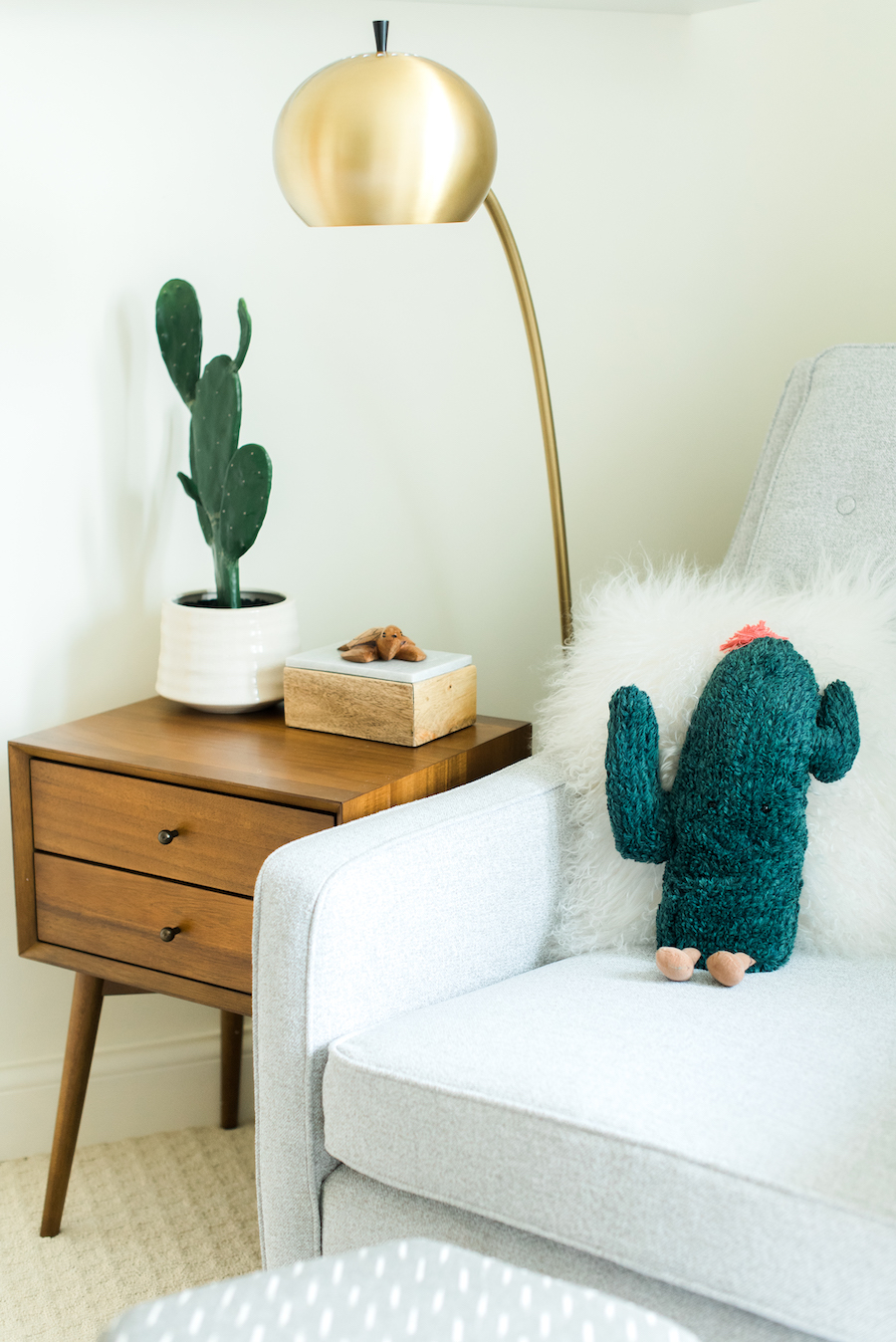 Jenna really wanted wallpaper in the nursery and had seen a photo online that had it framed inside of wall molding. I helped her select wall molding that coordinated with the farmhouse-style molding already in the room, and then picked a neutral and playful geometric wallpaper to install inside. We kept a balance of whites, creams and other neutrals and added color mainly with the accessories and plants. She wanted the space to really feel calming, relaxing and breezy.
---
· Nursery Details ·
Acrylic Crib | Walnut Changing Table | Mid Century Side Table | Floor Lamp | White Wall Ledges | Gold Wall Mirror | White Blackout Curtains | Woven Baskets
---
I am so glad that I was able to be part of this amazing journey with Jenna, and with all my clients going through this incredibly challenging and exhilarating time in their lives. It makes me so happy to know that I can be there for them—to ask me questions they may be embarrassed to ask their friends, to feel confident knowing that someone is there to help with design decisions and safety concerns, to not judge them when they freak out at 2am and send me 7 emails. This is why I do what I do.
You can see more photos of the nursery in the design portfolio. All photos by Jenna Kutcher.
*This post contains affiliate links, but don't worry, I only link products that I would 100% recommend!*