I was working with a client last week who was considering an accent wall with some fun Moroccan trellis wallpaper. I explained to her about the process of installing wallpaper, and how it might need to be removed in the future if her daughter doesn't like it anymore.
Her eyes opened up and she said, "Oh, I never thought about that."
For the past 5-6 years now, wallpaper has been back in a big way and almost every nursery client I have asks for it. But will they regret it? Will they get sick of the pattern? What if they decide to move and sell the house – won't it affect the resale value?
These are common questions that I get on a regular basis. I like to give them as much information as possible so they can make the right decision for their lifestyle and family. Here's what I give them to chew on:
1. How much do you love the wallpaper?
If there's one thing that's important, it's that you love the wallpaper you've chosen. Like, love it. Can't stop thinking about it. Want to cover every inch of your home in it. While we're usually only talking about an accent wall in a nursery, it's still important that you love that pattern because the more you love it now, the more likely you are to still love it down the road. You're also more likely to think that the installation and possible future removal are worth it.
2. You know yourself – are you prone to changing your mind?
I have had many clients tell me, "I just know that I'll get sick of it." If you're the type of person who likes to change up your look often and you get bored with things fairly quickly, permanent wallpaper might not be the right choice for you. But if you tend to love the same things for years and years, it might be a fantastic choice.
3. How likely is it that you'll move in the next few years?
Typically, furniture and other interior items are redone or changed up every 7 years or so. So no matter what you put in your nursery, you can expect to redo that room at some point. You'll definitely have to make some changes to transition to a toddler room or big kid room anyway. But if there's a good chance you'll move in 2 years, it might not be worth it to invest in wallpaper and installation.
OK, you've decided you want wallpaper, but you're still not sure about it being permanent. What can you do? Well, I'll tell you.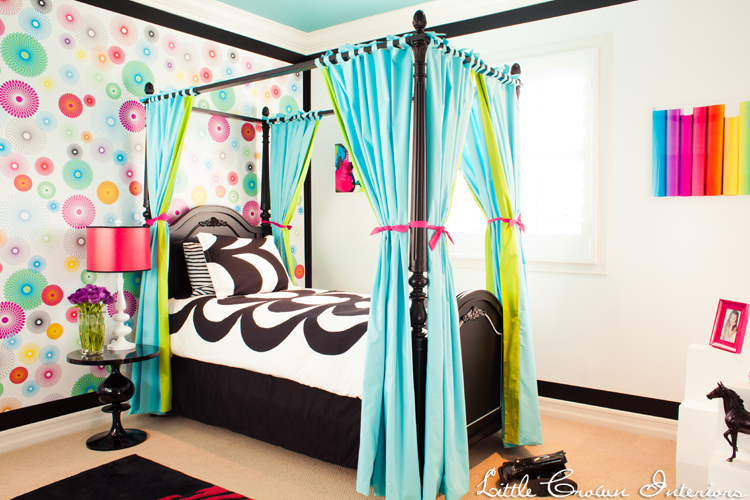 1. You can get removable wallpaper.
Yes, fully removable wallpaper does exist! It works like a wall decal – just stick it on and it peels right off later. It does have a few downsides: It won't have a "paperlike" texture or any flocking or velvet options, it may still require a professional installation (you can try to do it yourself, but it is NOT easy), and it's also fairly pricey. However, you'll save money by not having to hire someone to remove it later. We put removable wallpaper in the girl's room above – you'd never know!
2. You can do a wall stencil.
Wall stencils are a great way to get the look of wallpaper at a drastically reduced cost. You may still need some professional help if you're not great at DIY projects. Also, if you decide you're over it in a few years, you'll have to repaint the wall.
I'm a huge fan of wallpaper and I love to use it as much as possible, but it's an investment, and like any investment, all the angles and options should be considered. Would you consider nursery wallpaper?