If you've been following us on social media or on the blog, you may know that because of Covid, we haven't been able to photograph all of our nursery designs in the regularly scheduled way we used to. It's been a tricky few years, but we're finally getting back on track! I'm still catching up on blogging, E-Design reveals and photography, so you can look forward to a ton of nursery and kid's room design content over the next few months (and probably longer).
This colorful nursery below was completed quite a while ago for a client in Orange County, and we were trying to get it photographed amidst shut-down after shut-down here in California, and it just didn't happen. So instead, I had the whole nursery 3D rendered. We did another post a while back when we were still in the design phase if you want to take a look at how this nursery design evolved. It was a bit different when we started, and as the design process moved forward, we refined and finished the room.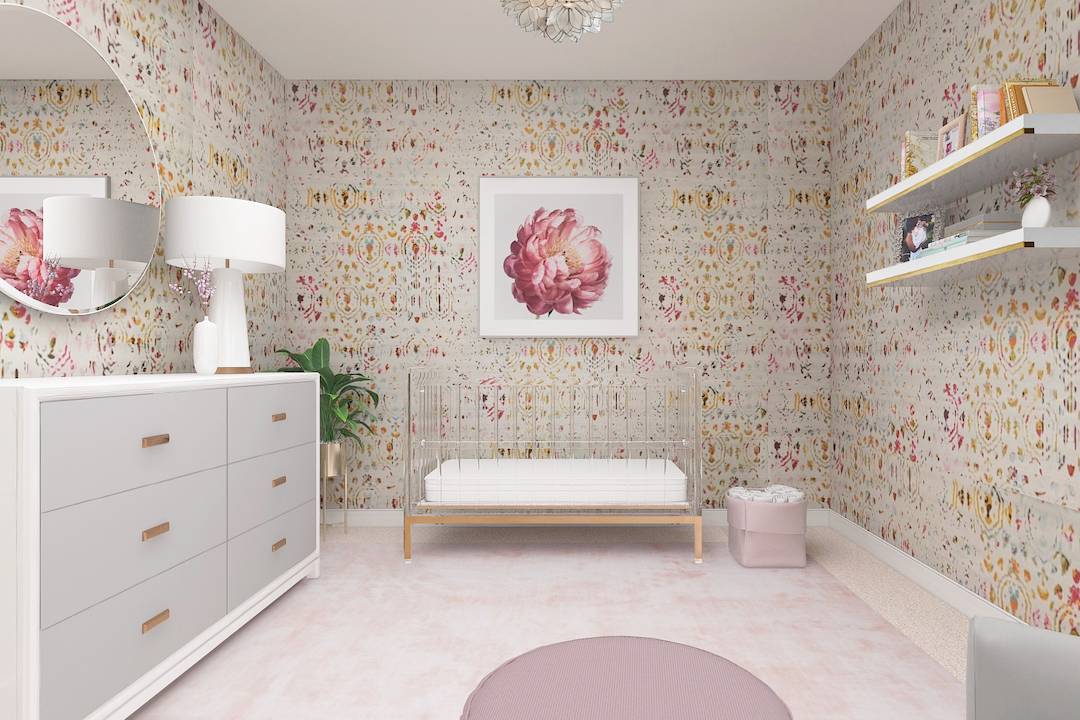 Yep, that nursery photo above is a rendering! It's pretty amazing what technology can do these days. A big thanks to Spaces by Lin for the beautiful renderings. The acrylic crib is slightly different in person, but it's still so amazing. My clients specifically asked for an acrylic crib, and they loved this particular one because it has a gorgeous rose gold base.
We went back and forth on whether to wallpaper the whole room or just an accent wall, but eventually decided that it would make a way bigger impact to do all the walls. There is plenty of natural light in the nursery and the ceilings are a good height so it doesn't feel closed in. It's seriously so stunning in person!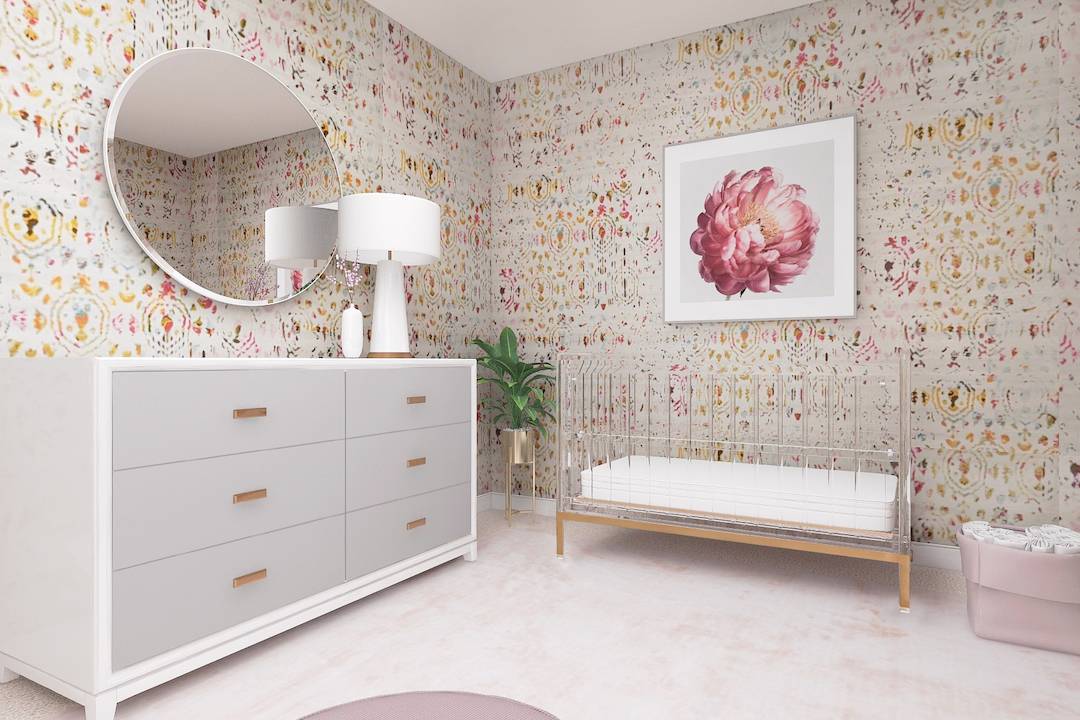 What you can't see in these renderings is the back wall. There is a gray glider, white blackout curtains with an acrylic and gold rod, and a light blue side table for a punch of color. The wallpaper is obviously the star of this room, but all the other elements really help to bring it all together.
---
· Nursery Details ·
Wallpaper | Acrylic Crib | Glider | Ottoman | Wall Mirror | Floral Chandelier | Pink Rug | Wall Shelves | Pink Peony Art | White Lamp (similar)
---
I think my favorite piece in this whole nursery is the pink peony photograph over the crib. I came across this piece from a photographer that I love, and we ordered it in a large-scale size. The size helps to break up the wallpaper, and also looks so amazing over the crib. The whole piece is framed in acrylic, so there is no glass, and it's heavily secured to the wall. There is a really pretty floral chandelier in here as well, which you can see just the bottom of in the photos (the link is above if you want to see the actual product).
What do you think? Isn't this the coolest wallpaper ever?
*This post may contain affiliate links, but don't worry, I only link items that I 100% recommend! You can view our Disclaimer here.