Predicted as one of the breakthrough design trends of the year, acrylic is now popping up everywhere. If you've followed me for any amount of time, you've probably seen it. I got on the acrylic train way back when and luckily the trend only seems to be growing (good news for me). For lovers of acrylic, there are now countless brands offering a variety of acrylic decor pieces you can use to accent your nursery, playroom or kid's room.
Acrylic finishes are perfect for nurseries and playrooms due to the lightness (both visually and physically) of the material. At the same time, acrylic has the power to remain gender neutral and works alongside virtually any color scheme. The best part is that it's practically indestructible. When I was shopping for dining room chairs, I went with acrylic. They won't break, will last forever, wipe clean and pretty much survive anything a kid can throw at them. There are 2 downsides however: fingerprints and scratches. I will say though that I've never had a problem with scratching myself, nor have I heard it from any of my clients.
Acrylic adds structure without weighing the space down. It is great as a base to then layer on pops of color, and texture without creating too busy or eclectic of a feel! The opacity lends to a floating effect as the pieces nearly disappear into the space. Because of this, acrylic is a great solution for smaller spaces as the functional element remains without visual overcrowding.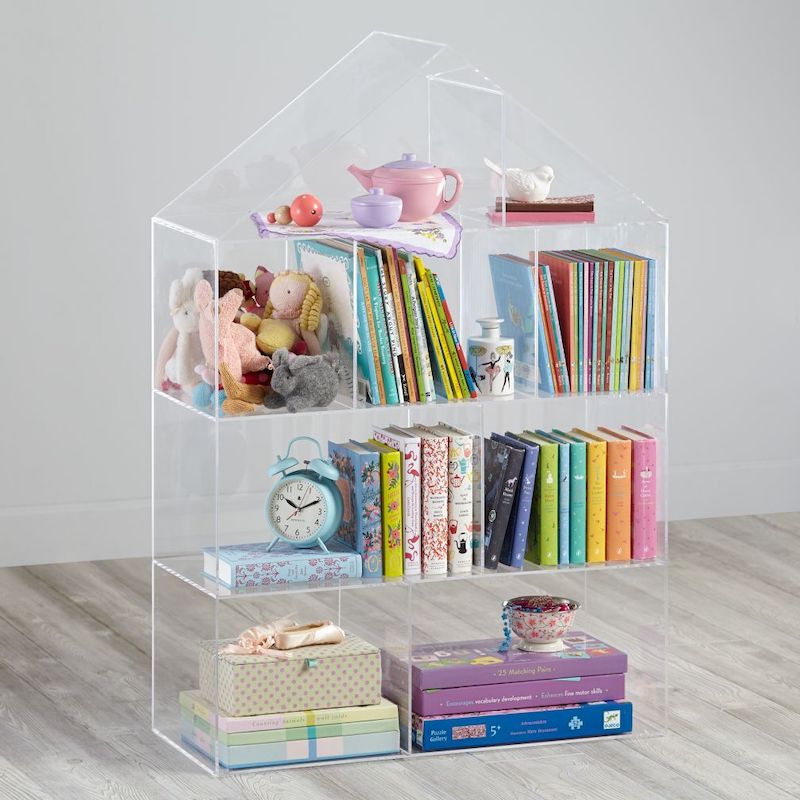 This acrylic house bookcase uses acrylic to make a visual (and functional) statement! I love the way this bookcase gives the decor a floating effect. This piece could also function as a dollhouse in a playroom as baby grows, or could even sit on a desk for small books and homework accessories. For a more masculine alternative, try this mod locker toy box!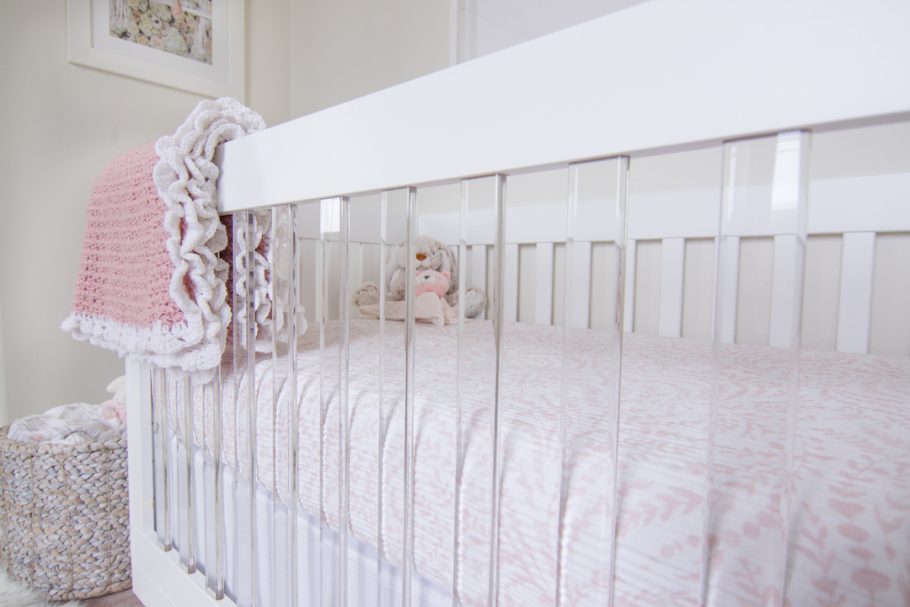 If you are looking for a strong, base piece to design your space around, this acrylic crib is the perfect fit. I can't even tell you how many of my clients have requested this crib! I've used it in the nursery above, in this floral girl's nursery, and this modern boy's nursery just in the past few months!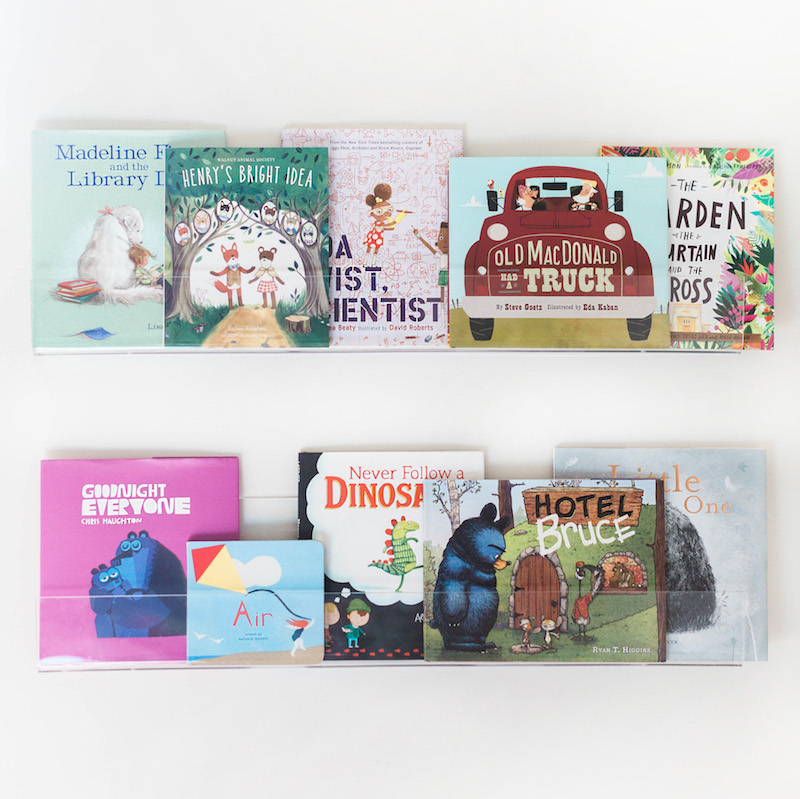 These acrylic book shelves are also one of my most requested items. You'll see them all over my portfolio. The shelves can be staged with book covers to fit your color scheme for a custom wall decor solution. The opacity of the shelves allows books to be visible to your child which is a great way to encourage reading!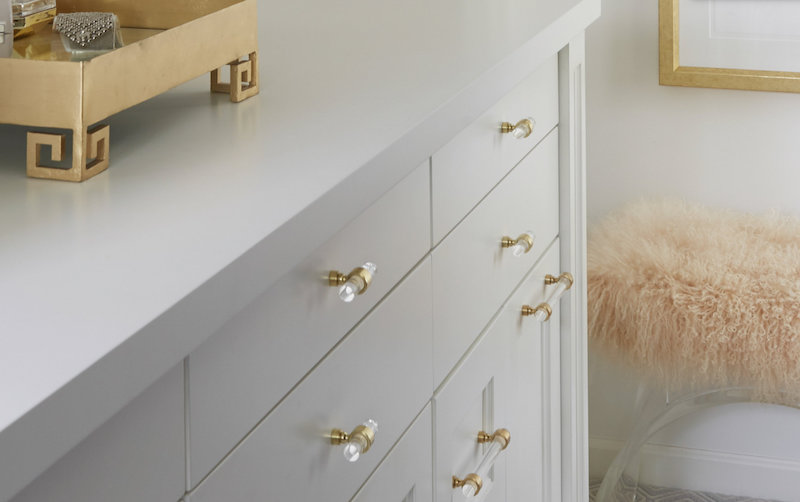 Hardware is the perfect solution if you're looking to work in a subtle touch of this trend or tie in a more statement acrylic piece. These lucite drawer pulls add such a thoughtful touch! Consider pairing these with an acrylic curtain rod. I was recently working on a nursery where my client wanted to reuse a Pottery Barn changing table, but wanted to modernize the room. We switched out the knobs for these acrylic pulls for a totally new look.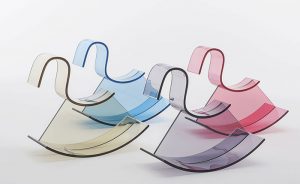 I've been a fan of Kartell forever, and one of the products I love the most is the acrylic rocking horse. Called the H-Horse, this piece comes in really pretty colors and is as much of a design statement as it is a toy.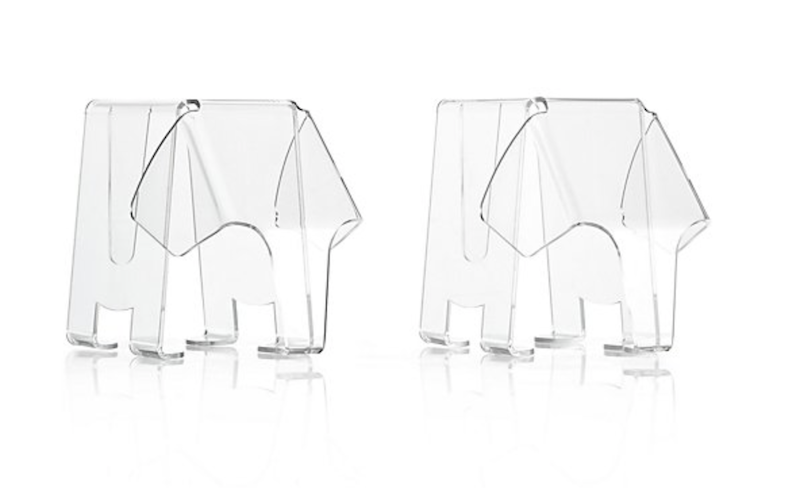 I couldn't help but fall in love with these acrylic elephants! They would add such a whimsical touch to a jungle-themed space! It's hard to tell in the photo, but these guys are little, about 6-8″ wide.
Not sure if you are on board with the acrylic trend just yet? Start small with a decorative item like the elephants above and work your way up! Regardless of your room type, theme, or child's age, there is a piece to fit your need! Would you use acrylic in your nursery or kid's space?
*This post may contain affiliate links, but don't worry, I only link items that I 100% recommend!*
[et_bloom_inline optin_id=optin_10]