Nursery art can be one of the trickiest things to find for your design. When we work with clients, the art is often the most personal aspect of the room. It plays such an important role in the overall design, but is sometimes the hardest to nail down. Luckily we have a wealth of sources we love that consistently have great art pieces.
We handpicked a few favorites below so you don't have to! These art prints are all from some of our go-to shops for quality pieces that we love for the nursery and kid's spaces. You may even recognize some of them from our previous designs!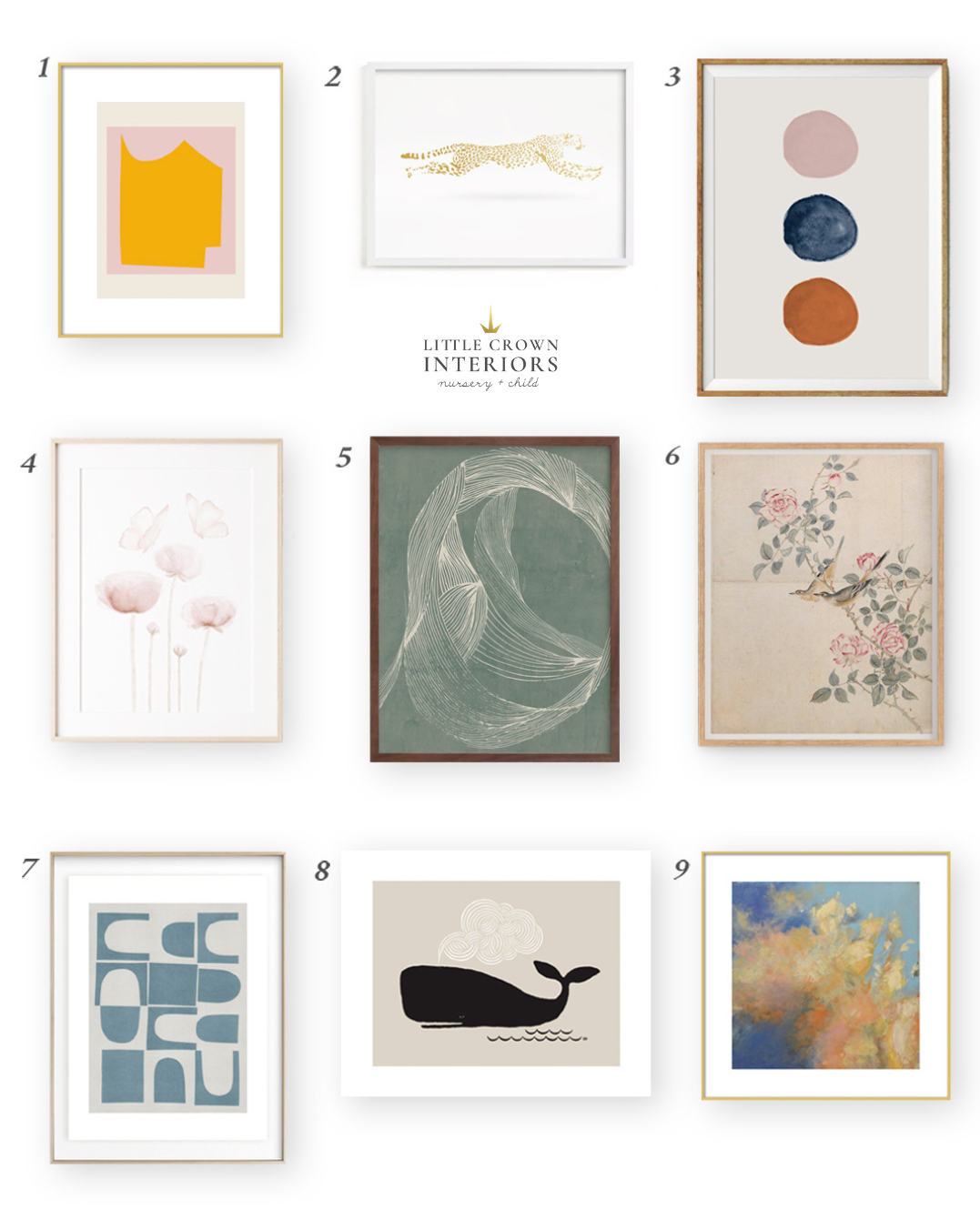 1. Modern Yellow Art Print: This playful art print adds a fun pop of color while being pretty versatile. We love this for a playroom, bedroom and nursery alike! You can order this piece with a frame as well (with acrylic plexiglass), so you don't even need to worry about framing it.
2. Gold Cheetah Art: This is such a fun print of a large cat in faux gold leaf! It's modern, bold and elegant at the same time. The cheetah trend was big a few years ago, but in our opinion, animals never go out of style for nurseries.
3. Color Dot Art: These playful minimalist dots are an easy way to add personality and a little life to a room while keeping it simple. This piece is perfect for the playroom and works well for a gender neutral space! We used this piece in our Mid-Century Modern Playroom E-Design.
4. Blush Butterflies Watercolor Art Print: This piece is a sweet and subtle watercolor art print in blush pink. It's perfect for a feminine girl's nursery or bedroom. This shop has some amazing prints—we're also pretty smitten with this Large Blush Watercolor Butterfly.
5. Organic Lines Green: This contemporary piece has thin white lines on a gorgeous muted green background. This print comes in a handful of earthy tones and would be a perfect gender neutral option.
6. Japanese Vintage Floral Art Prints: This Chinoiserie inspired art print has just the right amount of elegant, antique feel. The mix of botanicals, florals and birds are sweet and feminine but by no means juvenile. These look stunning grouped together on a gallery wall. We used three of these gorgeous prints in our Sophisticated Neutral and Gold Nursery.
7. Geometric Art Print: We fell for this geometric statement art print in a muted blue. You can customize this piece with different frame styles and there are several color options as well, like the black and white one for a high contrast look.
8. Black and Neutral Whale Print: Sometimes you just want something cute! This adorable whale print would work well in a nursery with nautical or coastal vibes. Since we are located in Southern California, we often design nurseries with a coastal feel.
9. Abstract Colorful Clouds: This is a semi-surreal art print with colorful tones of copper, gold and pinks against blue. It feels both dreamy and whimsical. This ones comes in three different sizes so there are options depending on the size you need.
As with anything of weight in a nursery or kid's room, please be sure to install very securely. A great safety tip is to opt for plexiglass instead of real glass for your frames, especially if they are going near the crib! You can find loads of safety tips, tools and shopping guides in my book, Your Perfect Nursery!
*This post may contain affiliate links, but don't worry, I only link items that I 100% recommend! You can view our Disclaimer here.