Even if the weather report still says it's summer, on this first day of fall, a post about books feels right! I love books and I absolutely love using pretty picture books that double as decor when I design nurseries and kid's rooms. Selecting a few books with covers that compliment the colors of your nursery design and adding them to wall shelves or a bookcase can really make the books feel like a piece of wall art.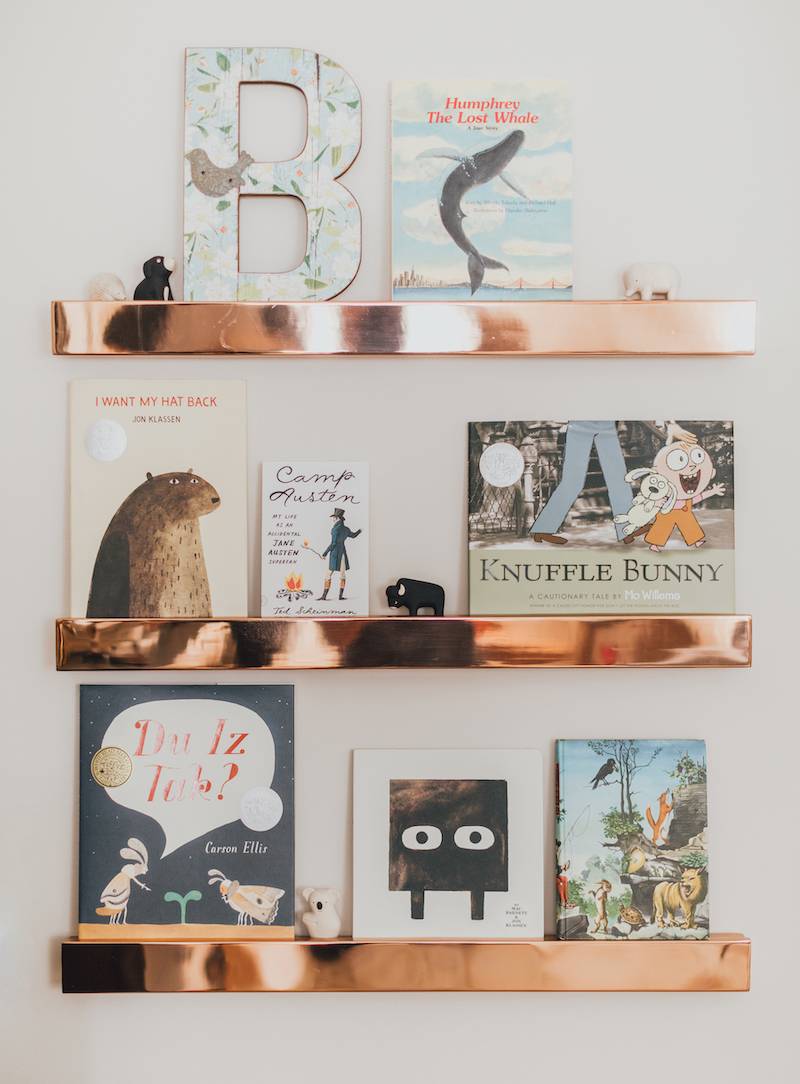 Rose Gold Wall Ledges
In the nursery design above, we used both books and other decor in the same color palette as the room to give everything a cohesive feel. The rose gold wall ledges really highlight the books!
Installing wall ledges by a reading nook is an inexpensive way to create a personalized feel that's functional too. Whether you are reaching for a book to read for your growing belly, baby, or kids, there are so many benefits of reading with your child. (Seriously, look it up, it's pretty mind blowing!). Displaying books invitingly makes it easier to notice them and grab one to read.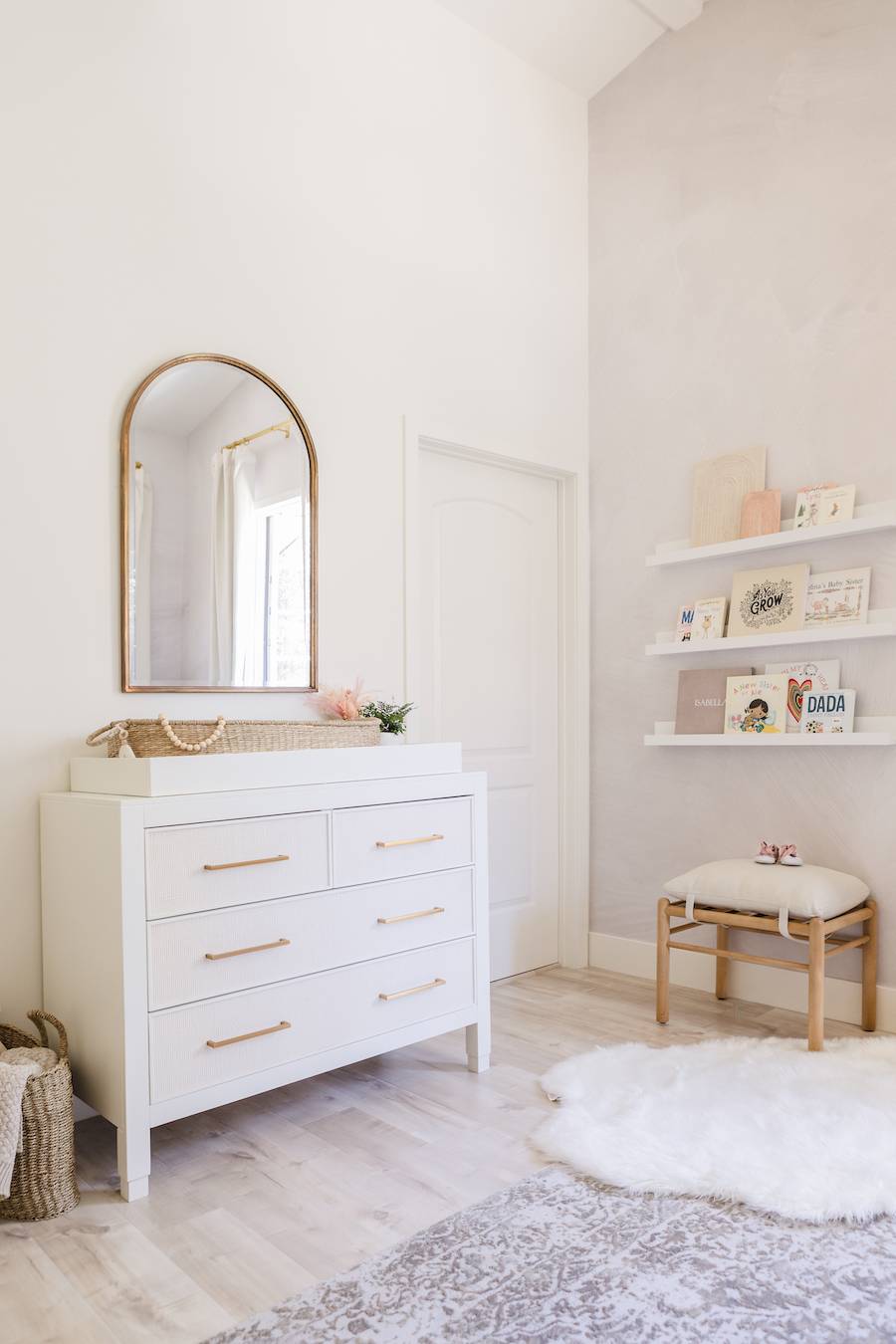 Natural and Neutral Nursery
In this natural and neutral nursery nursery above, we added just the tiniest bit of color to the wall with a few books. Just that little change can really help make the space come alive. If you don't have the wall space, a pretty basket or bin is a great spot to hold a few books too. I like to recommend small book baskets that sit right next to the glider so you can grab a book without getting up from the chair—which is especially helpful if you have a baby on your lap!
There are so many children's books that easily double as decor. Here are some of my favorite beautiful books for nurseries that have gorgeous covers along with great stories.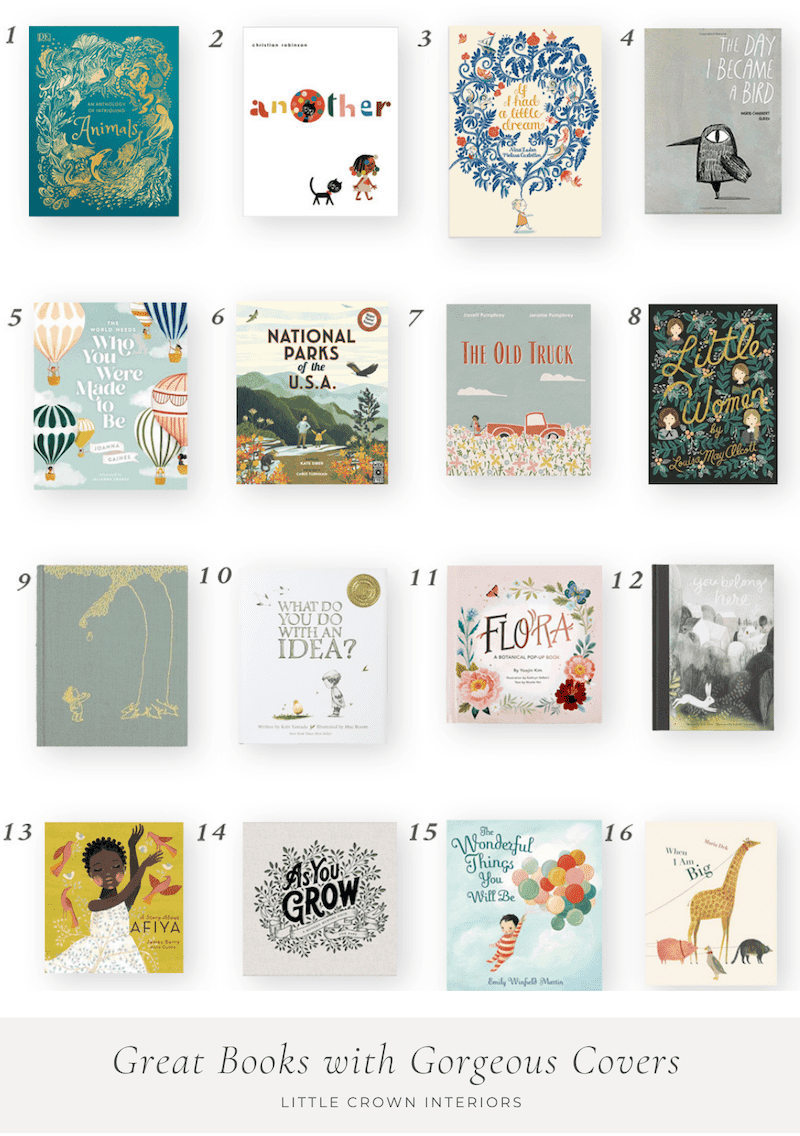 1. An Anthology of Intriguing Animals: This book cover is stunning with all the gold details! Inside, it is packed full of photography, illustrations, and facts that would capture any animal lover.
2. Another: A stunning wordless picture book with gorgeous colorful illustrations that's perfect for child-led story time.
3. If i Had a Little Dream: This book has a stunning cover and wonderful illustrations throughout. The lyrical tale is by Nina Laden and includes illustrations with plenty to point to and discover by Melissa Castrillon.
4. The Day I Became a Bird: This one has striking pencil illustrations in a monochromatic palette and it features a sweet and tender story about feelings.
5. The World Needs Who You Were Made to Be: I love this playful and whimsical hot air balloon pastel cover by Julianna Swaney. This story by Joanna Gaines is so sweet and a major bestseller, for good reason!
6. National Parks: This one is perfect for a nursery and for the playroom. It has stunning illustrations throughout and lots of facts about our national parks. A great book for nature lovers!
7. The Old Truck: The muted colors and retro-like illustrations are easy to mix with other pretty books and the story line is engaging and imaginative. If you are looking for more nautical vibes for your shelves, The Old Boat by the same author equally stunning.
8. Little Women: This classic tale is aimed at the tween and teen audience, but it would still be the cutest addition to a nursery with that Rifle & Co cover art!
9. The Giving Tree: A classic and well-loved book for over 50 years. This Shel Silverstein gem is a special edition and looks stunning with the gold print of the muted blue green cover.
10. What Do You Do With an Idea?: Crisp black and white cover illustrations and the sweet story line will resonate with both young and old. This stunning book is written by Kobi Yamada and illustrated by Mae Besom.
11. Flora: A super pretty pop up book with intricate designs and lots of details to look at. And that soft pink floral cover makes me want this for my own shelves!
12. You Belong Here: A sweet and soothing story of belonging. The illustrations for this book are truly works of art.
13. A Story About Afiya: Colorful and full of wonder with a dash of culture told by James Berry. Pretty illustrations and earthy colors sing in this story by Anna Cunha.
14. As You Grow: A modern take on a baby book full of keepsakes and memories with a really pretty cover page. I love the idea of keeping this within reach to add the memories as they happen.
15. The Wonderful Things You Will Be: This bestseller by Emily Winfield Martin has the sweetest story about parents' love for their child. It would be a great gift for special occasions and the nostalgic cover art is darling.
16. When I am Big: This book has a playful animal book cover and a completely adorable and unconventional counting story!
Baby shower tip: Gift a book with a little note or gift card for baby showers and birthdays! It makes for the sweetest keepsake as the child grows.
*This post may contain affiliate links, but don't worry, I only link items that I 100% recommend! You can view our Disclaimer here.