Blush pink is one of the most frequently requested colors for a nursery design (when we're not doing neutral). It's so soft and pretty, and pairs with so many styles. Recently, a lot of clients have been opting for other colors instead of blush pink, like sage green or lavender. But we still have plenty of clients who love the soft and classic look of this sweet color. This Nursery E-Design client wanted a nursery for her daughter that was modern and flowed with her home.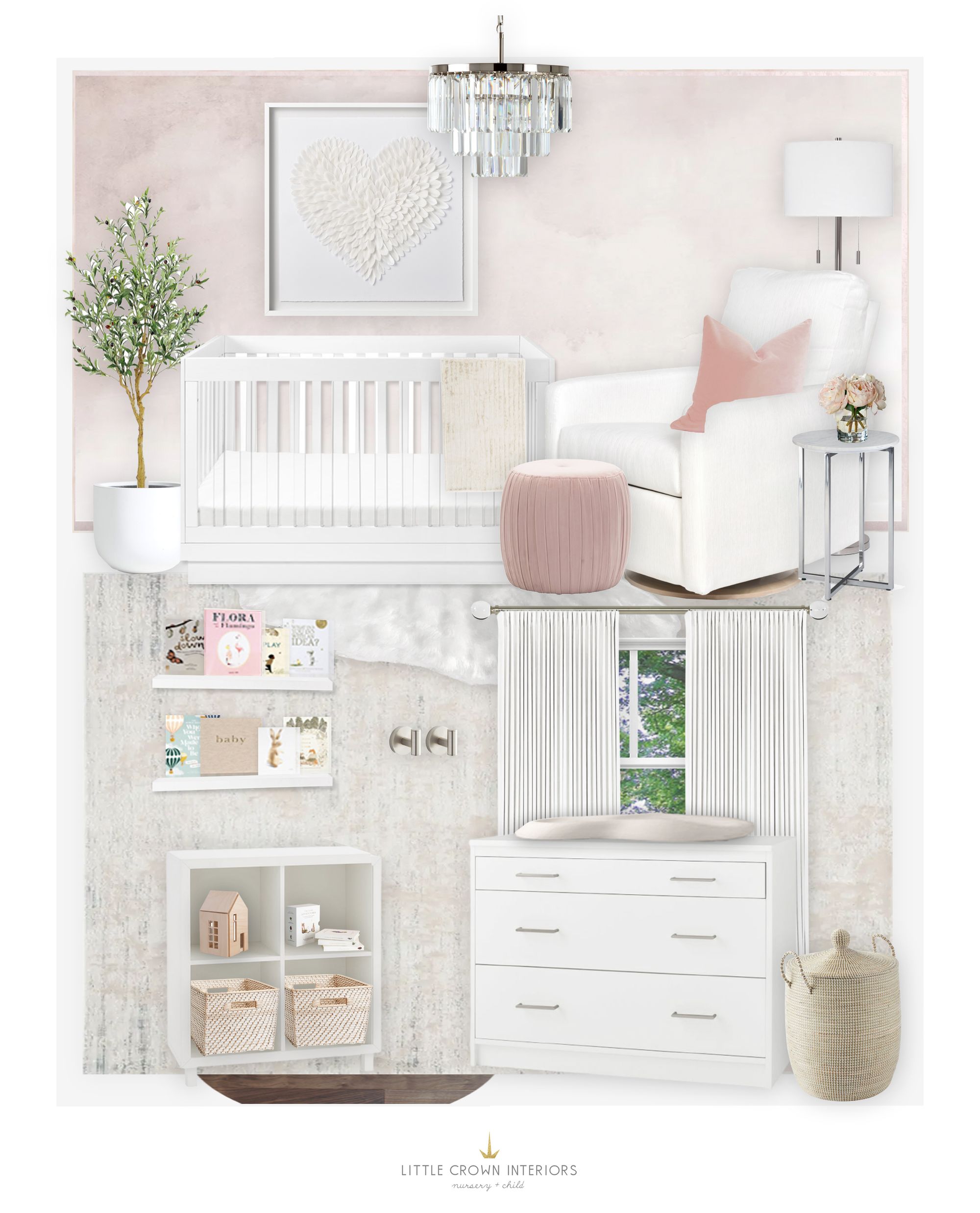 Blush Watercolor Wallpaper | Modern White Acrylic Crib | Classic White Dresser | Neutral Modern Rug | White Glider | Blush Ottoman | White Bookcase Cubby | Modern Side Table | Modern Crystal Chandelier | White Heart Wall Art | Neutral Storage Bin | Velvet Blush Throw Pillow | Throw Pillow Insert | Neutral Throw Blanket | Modern White & Silver Floor Lamp | Faux Olive Tree | Large White Planter Pot | Wall Ledges | Faux Sheep Skin Accent Rug | Small Wood Doll House | Cubby Storage Basket | Faux Peony Flowers | Modern Wall Hooks
As you can see below, this nursery floor plan was a little tricky. We always start by placing the crib in the safest spot, and then work around that. There really wasn't much wall space even though the nursery is a good size, and we had a funny little angled wall to figure out. But we made it work so it will be a functional and safe nursery!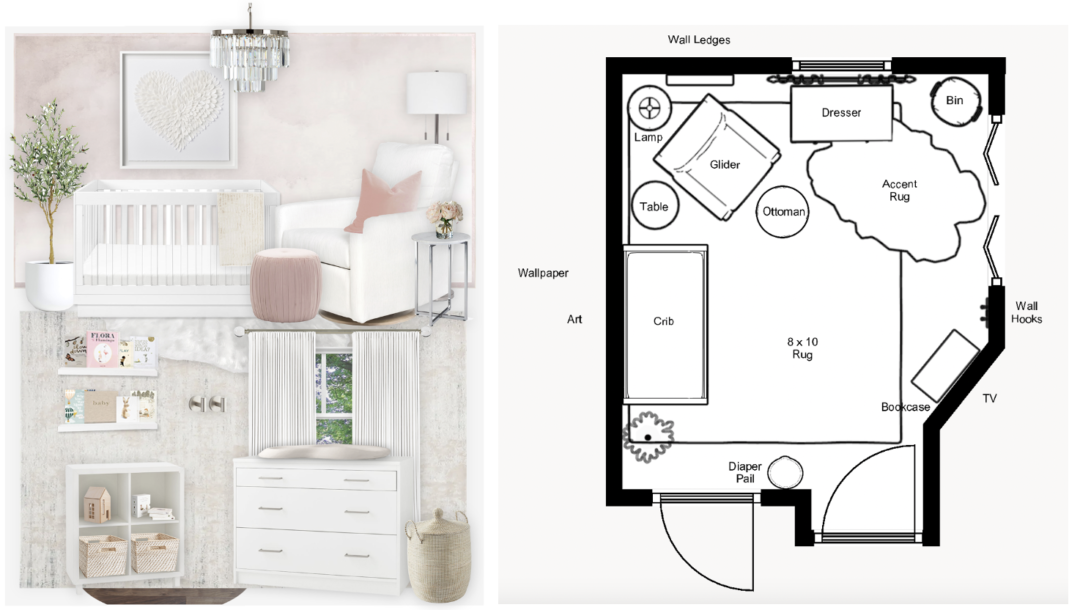 The rest of our client's home was modern with textured wallpaper and silver accents, so we carried that into the nursery. We chose a blush wallpaper that's subtle, but that has a soft texture. The neutral rug also has a textured look as well. We wanted the room to feel modern and clean, so we used a white acrylic crib and white changing table, along with the white nursery glider.
The window treatments in this nursery design needed to be blackout, as we usually recommend. This client wanted to have custom drapery made to match the other drapes in her home, so we helped her decide those specifics. Custom drapery is always great since it allows for so much design flexibility, but can be very pricey. Luckily there are a ton of great readymade options out there—check out our post on Blackout Curtains for the Nursery.
We balanced the silver accents with some more natural touches like the storage bin and artwork, and added blush decor throughout. We also added some greenery with the faux olive tree and the faux peonies. These little touches really make the room come together.
Want your own nursery E-Design? Take a look at our design services page—we do book up quickly!
*This post may contain affiliate links, but don't worry, I only link items that I 100% recommend! You can view our Disclaimer here.