Nurseries are often small rooms that don't have a lot of storage. We've done a lot of nursery designs that either didn't have a closet at all, or the closet was already being used for another purpose. In these situations, we have to get creative! One thing that's always a good option if you're short on clothing storage it so get a clothing rack.
Good storage plays such an important role in creating a functional nursery that's easy to keep neat. Clothing racks can be practical and decorative, and serve as a fantastic way to create storage. You may have noticed clothing racks in our Black and White Scandinavian nursery and also our Natural Neutral Nursery. Always double check that your clothing rack is assembled correctly and securely installed, and secure it to the wall so it won't tip over.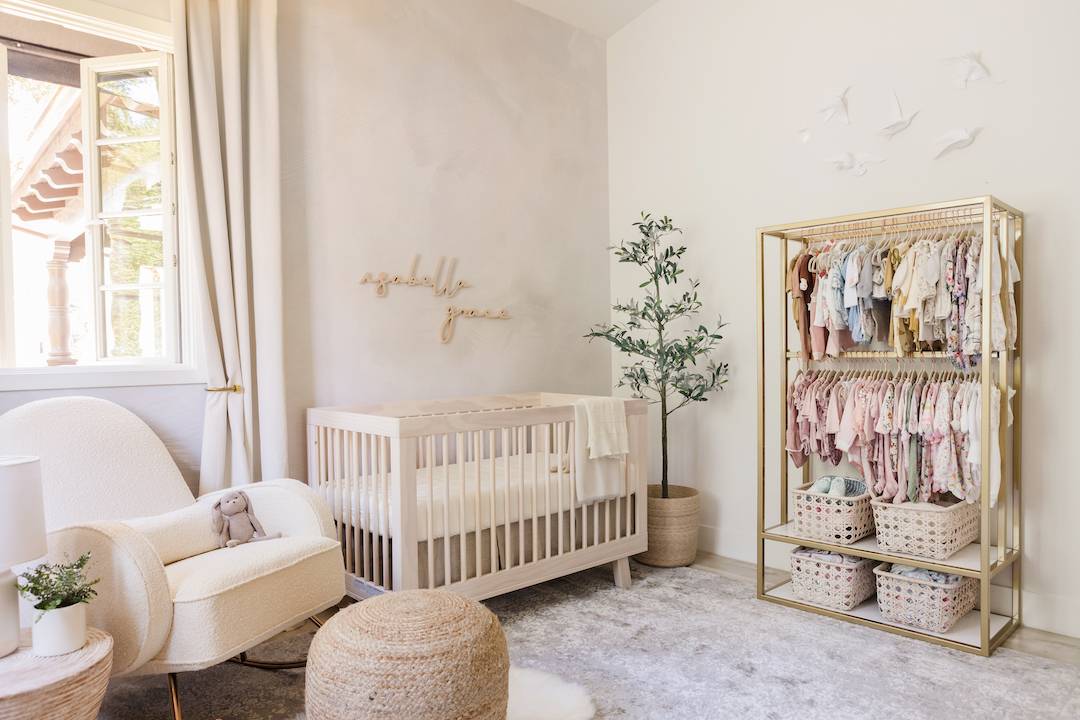 Natural Neutral Nursery by Little Crown Interiors
In this neutral nursery above, the closet was completely full and we needed another option for baby's clothing. The brass clothing rack we chose is also customizable, so we were able to create two bars to hang clothes along with a couple of shelves and size it just right. Below are some more great options!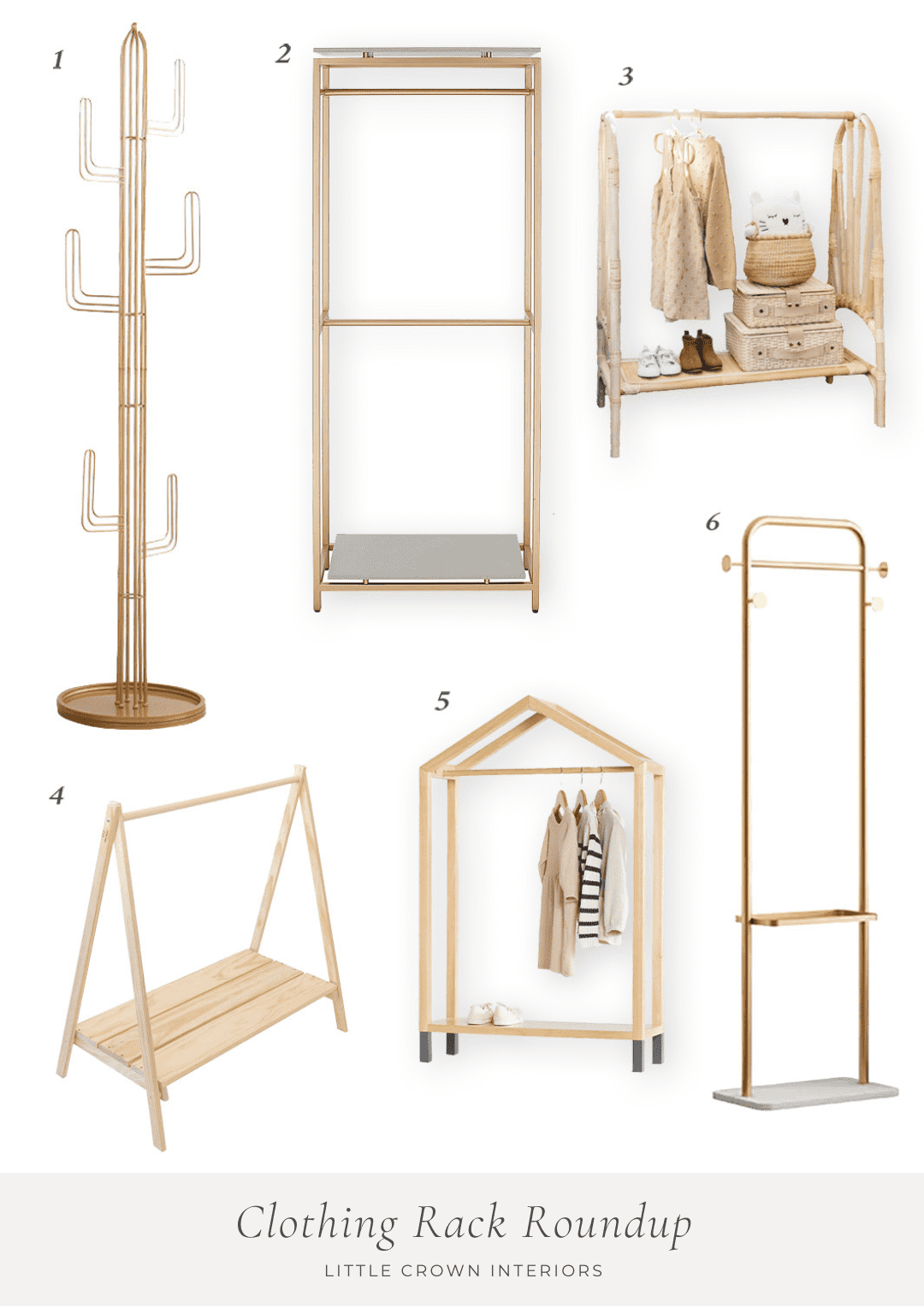 1. Cactus Clothing Rack: This playful freestanding clothing rack is perfect if you have minimal wall space. The design is fun and has a vintage vibe. It's made of study wrought iron and would be super fun to add to a teen room. It doesn't have a ton of storage, but it's better than nothing!
2. Open Wardrobe: This is an elegant open wardrobe rack which features double hanging bars, and it has a satin champagne finish with light gray wood shelf. The two tiered hanging bars will provide plenty of space for hanging clothes. This is a great option for a nursery that needs a lot of clothing storage.
3. Rattan Clothing Rack: Rattan is a very popular material, and I love how this smaller clothing rack has a such a sweet look. The lower shelf on this one is perfect for shoes or some baskets and bins. This piece is mindfully crafted and each piece is unique, so there may be some variation.
4. A Frame Clothing Rack: We used a very similar rack in the Black and White Scandinavian Nursery. The neutral wood is versatile and helps soften high contrasts in a room. It's a smaller piece as well so it won't take a ton of space if you just need a little extra storage.
5. House Clothing Rack: This playful house shaped garment rack would be so adorable in a playroom—I'm thinking dress-up! It has that same Scandinavian look with a touch of black on the feet for a modern touch.
6. Contemporary Clothing Rail: I love the contemporary look of this clothing rack, and it's super versatile. The Marble detail for the stand helps make this sturdy, and it's tall so it won't take up much floor space. This one comes in a two-tone gold and black or an all black option.
*This post may contain affiliate links, but don't worry, I only link items that I 100% recommend! You can view our Disclaimer here.