These days, there are so many online shops to choose from that it can become overwhelming to design any space, let alone a nursery. Some stores have such a fantastic selection that you can design almost an entire space just from that single site. In this post, we wanted to focus entirely on one of our favorite stores that we regularly source from nurseries—Lulu & Georgia! Although they are not nursery-focused, they have a fantastic array of items that can add texture, excitement, and that wow factor to any room (and no, they are not sponsoring this post). We pulled some of our favorite items below that can used for a nursery or kid's room design.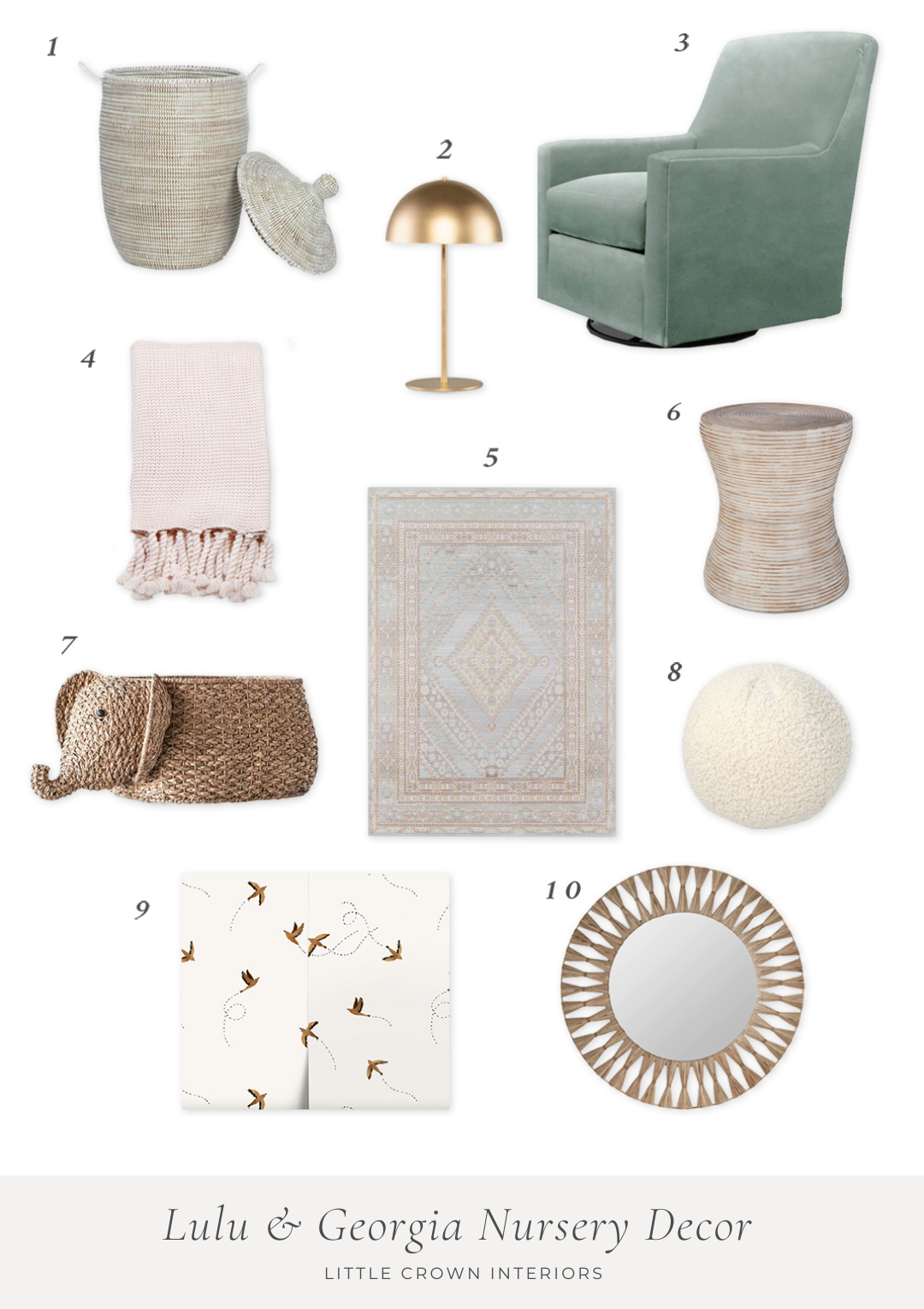 1. Storage Bin with Lid: Every nursery needs storage, and choosing a piece with a lid is a quick and easy way to keep things out of sight. It can be used as a hamper, toy bin, or just a catch-all. The woven neutral texture is so beautiful, and works with practically any design.
2. Brass Table Lamp: Having a small and low-light table lamp can be super helpful in a nursery design for those middle-of-the-night feedings. This little brass lamp has a diffuser to soften the glow, and the design of it is simple and sleek.
3. Ellia Nursery Glider: Did you know Lulu & Georgia has gliders? The Ellia is a modern and clean looking glider with a soft velvety fabric. It comes in some gorgeous subtle colors!
4. Tassel Throw Blanket: We love adding a little texture to a room with the throw blanket. Also, it's important to get a throw blanket for the parents and not just the baby. The caretaker will be in that glider in the middle of the night and having a full-size blanket is great!
5. Medallion Rug: We're always looking for a neutral rug with a pop of color, and this pastel rug is just that! The beautiful medallion design really shows the true craftsmanship of this piece. Its power-loomed construction makes it perfect for high traffic areas and it will stay durable for years to come.
6. Side Table: This table's ribbed texture and distressed look add so much texture. Round side tables are always an excellent option for nursery safety since there are no sharp edges. See this table in action in our Natural & Neutral Nursery Design.
7. Elephant Basket: Lulu & Georgia isn't usually known for their nursery items, but they actually have a lot of adorable items that can be used as nursery decor, like this sweet Elephant Basket. It's large enough to fit toys, blankets, pillows, or anything that needs to get off the floor.
8. Bouclé Ball Pillow: Bouclé is a soft, on-trend fabric to add texture to the room. You may have seen bouclé gliders, ottomans, etc., but if just want a little touch of bouclé, this pillow could be a great option. This pillow is an exclusive from Sarah Sherman Samuel—see our post on the SSS collection here.
9. Sparrow Wallpaper: This wallpaper is a beautiful, whimsical print that will stand out in a room. The cream and bronze colors are just perfect, and the pattern is sweet and subtle. We actually used this wallpaper in a recent E-Design—Unique Traditional Nursery E-Design in Neutral & Blue.
10.Woven Round Mirror: We tend to gravitate towards round wall mirrors when we place them over dressers or changing tables to soften the space. This mirror has so much detail and would stand out as a feature piece!
What do you think? Are there any other online shops you could buy a whole room from? We've got some ideas on who's next…
*This post may contain affiliate links, but don't worry, I only link items that we 100% recommend! You can view our Disclaimer here.