After all these years, wallpaper is still one of the most asked-about items for nursery designs. Almost all of our clients ask for wallpaper, and we get so many inquiries from social media as well. Natural wallpaper seems to be one of the most popular trends, from florals to landscapes to trees, and this week we're focusing on tree patterns! Tree wallpaper is one of our favorite styles because it's completely gender neutral and the options are just endless. Below you can see some of our favorite tree pattern wallpapers, along with a few you may recognize from our nursery designs.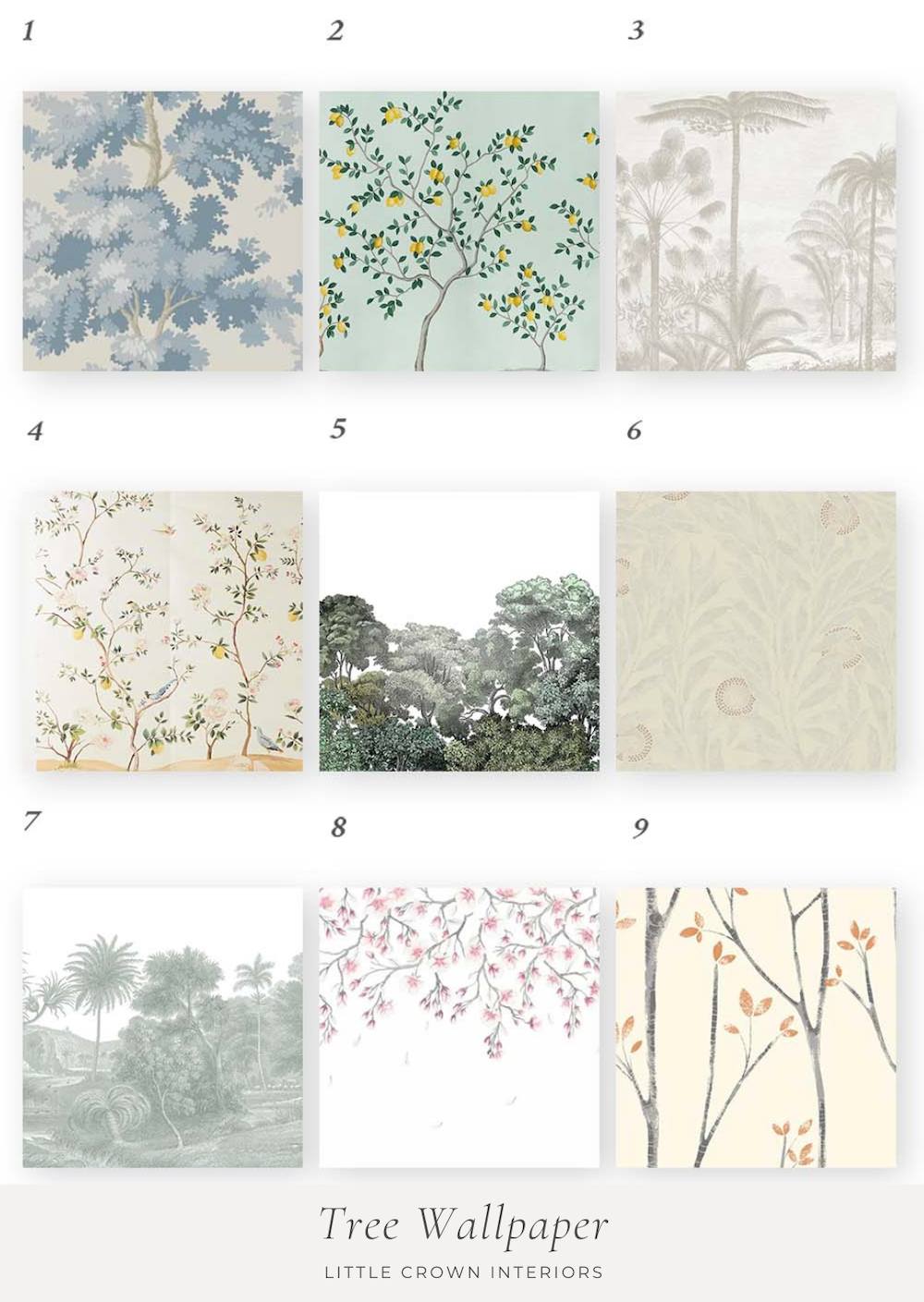 1. Raphael Tree Wallpaper: This wallpaper was inspired by Central Park with its luscious leaves and soft tree canopies. This pattern is so stunning, and it comes in a lot of other colors as well.
2. Lemon Grove Wallpaper: You may have heard of the wallpaper powerhouse, DeGournay. This is one of their patterns that we used in a nursery E-Design recently, and it's insanely gorgeous. The background is hand-dyed silk, and they can even add beading and other embellishments!
3. Tropical Oasis Wallpaper: You may have seen this tree wallpaper in our Jungle Shared Nursery design. If you like the tropical vibe, but don't want anything too colorful or bold, this is the perfect option. This pattern is also removable, so it's great for renters!
4. Blossom Chinoiserie Wallpaper: This wallpaper is more tree-adjacent, but it still counts in our book! Chinoiserie patterns have been making a comeback recently, and this is the way to go if you want a little floral touch with your trees.
5. Bellewood Tree Wall Mural: This is another tree wallpaper we have used before—twice actually! It has various color options and looks great in rooms with the contrast between the dense trees and the open white sky. You can see this wallpaper in our Pink Nature Nursery in the pink color, and in our Lavender Girl's Room in the rainbow color.
6. Orange Tree Wallpaper: The subtle tree pattern and muted colors of this wallpaper would be so beautiful in a historical or traditional home. This pick is simple yet full of texture, and also comes in other colors. More traditional and sophisticated wallpaper patterns have been gaining popularity, so this would be perfect for a sophisticated nursery!
7. Jungle Land Wall Mural: This is another great higher contrast option with a dense sketched jungle and bright sky. We recently used this wallpaper in a gender neutral nursery that tied everything together. This pattern is actually a wall mural instead of a standard wallpaper, and the size is fully customizable.
8. Sakura Tree Wallpaper: If you're looking for a little whimsical detail but don't want a large pattern covering your walls, this cherry blossom pattern is perfect. It has the sweetest design just at the top with a large white background.
9. Scandi Tree Wallpaper: Rounding out our list is this Scandinavian-inspired simple tree wallpaper. We love the simplicity and the soft colors throughout. This wallpaper is a more whimsical design if you're looking for something a bit more juvenile.
*This post may contain affiliate links, but don't worry, I only link items that I 100% recommend! You can view our Disclaimer here.