Stuffed animals are always a great addition to a nursery, and if you've been following LCI, you'll know we love using larger stuffed animals. They bring a fun and playful element to the room that will grow with the baby, and the larger size makes them perfect to fill an empty corner. You've probably seen a ton of tall giraffes and stuffed llamas in nurseries, but lately we've been loving the sheep. The sheep isn't as tall, but it's soft and neutral which makes it great for so many types of styles.
We pulled some of the cutest stuffed sheep pieces below—which one is your favorite? There is everything from wooly life-like sheep to practical pieces of furniture with a sheep vibe. So take your pick of these cute animal accents!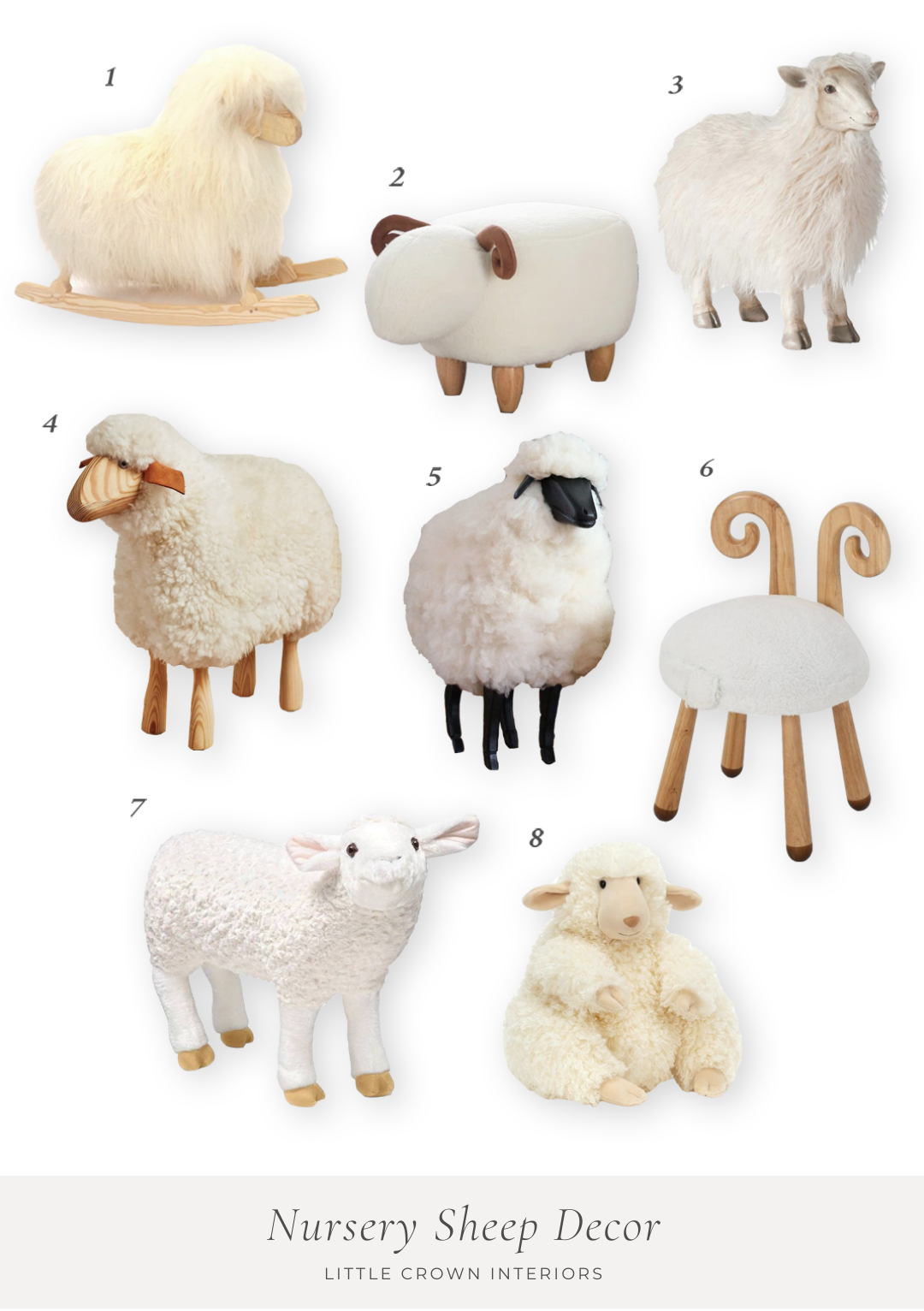 1. Wool Sheep Rocker: A wooden rocker is a classic nursery item, but usually we see a horse. Why not a sheep instead? This sheep rocker is beautifully hand carved with long soft wool and light wood accents.
2. Velvet Sheep Ottoman: This adorable sheep ottoman is cute and functional. It's also a slightly more modern design if you don't like the longer hair versions.
3. Wooly Sheep: This one is the most life-like option of the group with a beautiful soft painted face and fluffy faux fleece. This is definitely a show-stopper and an investment piece!
4. Fluffy Sheep Stool: We love this handmade neutral sheep stool ready for any room. The fluffy woolen fleece is a beautiful and life-like, and the wood details are perfect.
5. Black Sheep: We design a fair amount of black and white nurseries, and we love how this sheep has the black accents for a little extra pop of contrast.
6. Sheep Stool: This is such a fun take on a stool. This piece has curved horns at the back and is definitely more sheep-inspired than an actual sheep. A few of these chairs would be super adorable in a playroom.
7. Plush Sheep: This sheep can go from nursery item to cuddle buddy! You can see a nursery we did recently with this sheep here. It's the perfect size to fit next to the crib or glider, and soft enough to function as a toy in addition to decor.
8. Sheep Stuffed Animal: If you only have a little space or don't want to commit to a larger sheep, this little stuffed sheep is the perfect size! It's small enough not to be overwhelming, and super cute as well.
So what's the verdict? Are you on the sheep bandwagon or fo you prefer the more traditional tall stuffed giraffe?
*This post may contain affiliate links, but don't worry, I only link items that I 100% recommend! You can view our Disclaimer here.