Nursery lighting is one of the most important elements of the space, because after all, you need to be able to see! It is especially important to have flexible lighting options for your nursery design that can fit your individual needs. I love to suggest to my clients that they have a small table lamp in the nursery for when they need to sneak in there in the middle of the night without waking the baby. That way, you can just turn on the little lamp instead of all the overhead lights.
It's also really helpful to have a small lamp by the glider for reading, rocking or feeding. Nursery lamps usually go on the side table by the glider or on the dresser (which has to be shared with the changing pad). For this reason, I usually suggest lamps on the smaller side. A piece under 20″ is ideal for those little spots. Here are some of my favorite small scale lamps, perfect any spot in your nursery!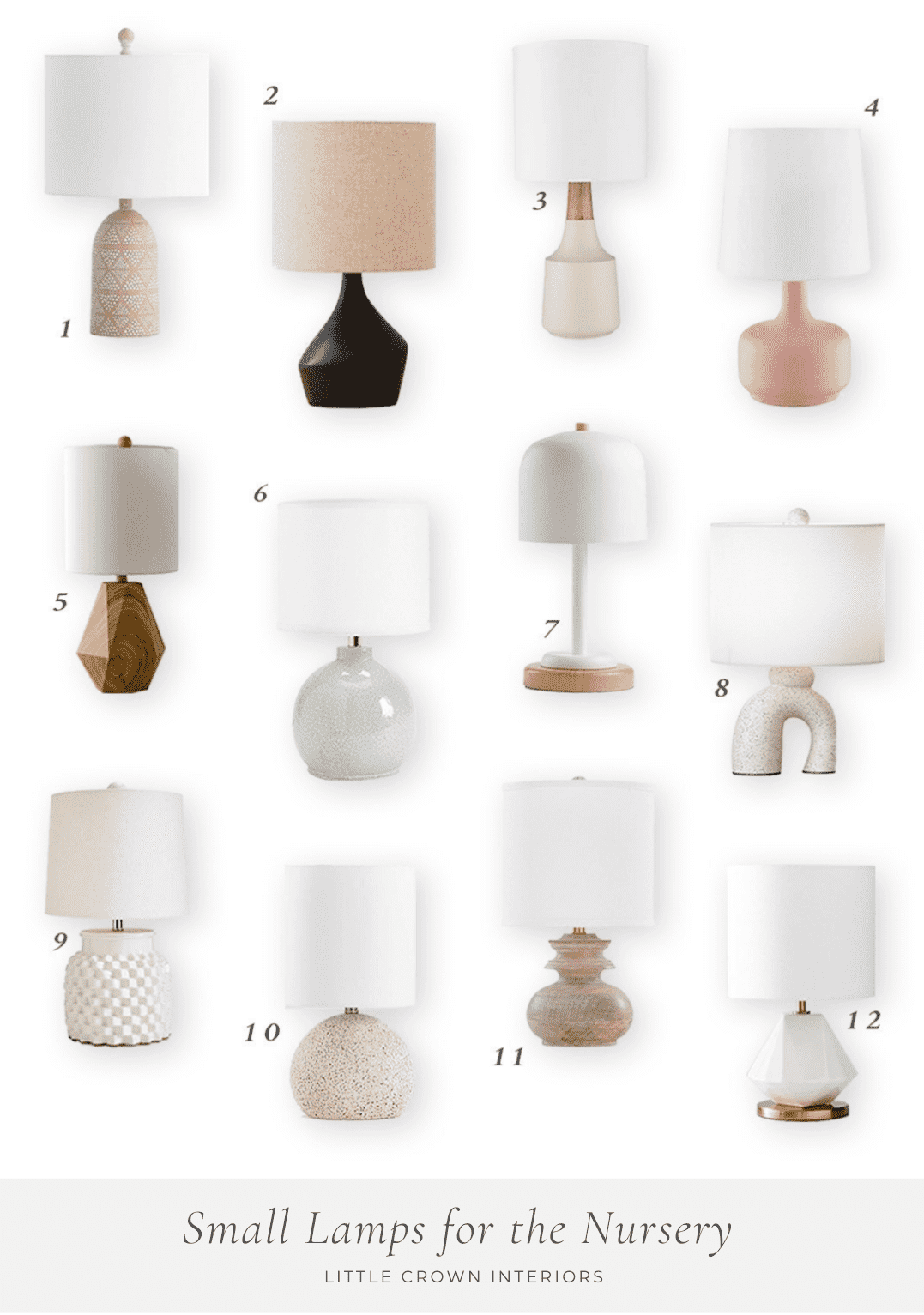 Whetzel Lamp: Global geometric prints are definitely popular at the moment. This lamp has the best of both worlds. The soft color and curved lines make this small lamp perfect for a nursery tabletop!
Asymmetrical Mini Lamp: The organic asymmetrical shape combined with the pottery finish make this lamp feel like a one-of-a-kind piece. It is also available in an olive green color which is gaining popularity in nursery designs! This style also works really well in a pair on a wider dresser, or on two nightstands (for a kid's room).
Margaret Lamp: This lamp style is one that works in so many different nursery designs. It is so versatile! The light wood finish gives it a Scandinavian feel but you can easily pair this lamp with darker wood finishes.
Astros Lamp: Soft blush pink is a color I am constantly getting requests for from my clients. I like to have a selection of pink lamps in my database to recommend, and the size and simplicity of this one is perfect for so many designs!
Tullia Lamp: This style combines the warmth of a wood finish with a fun geometric style. I actually just used this one in a boy's room design, but it would work great for nursery too.
Ridge Accent Lamp: Something about the crackled light green finish reminds me a bit of an easter egg. It feels so delicate and light. Pastels are always a classic pick for a nursery color palette. This lamp is so sophisticated too, so it could be repurposed in another room of the home.
White Modern Dome Lamp: This lamp not only has a really cool modern feel, but the touch switch feature makes it technologically modern as well. The touch feature is really great in a space like a nursery because you often have your hands full! A simple touch to turn on the light is super helpful.
Mesa Lamp: The speckled finish of this lamp gives it a terrazzo feel which is very popular at the moment (check out my post on using terrazzo in the nursery). I also love how unique the shape of this one is while still being small enough for a side table.
Rati White Lamp (no longer available): For a simple white lamp, this piece has a ton of texture. I also like how sturdy this lamp feels. The heavy base ensures you won't accidentally tip this one over. I used this one recently in a client's nursery design too.
Pink Terrazzo Lamp: This is another stunning terrazzo lamp. The simple round form works really well if you have a lot of hard lines in your furniture selection. This one also comes in some other really pretty colors.
Tatum Wood Lamp: For a wooden lamp that feels a little more traditional, I love this find! The wood finish of this one is a lot lighter and pairs really nicely with white or cream furniture pieces.
Faceted Porcelain Lamp: I like using table lamps that have just a bit of metallic to tie the finishes together. The touch of brass on this piece would help to pull together a nursery design with other touches of gold.
There is a lot that goes into nursery lighting, from small accent lighting like these lamps, to figuring out which window treatments to use to control the natural light in the room. If you need help with that, check out my post on nursery blackout curtains.
Happy shopping!
*This post may contain affiliate links, but don't worry, I only link items that I 100% recommend!*
[et_bloom_inline optin_id=optin_10]