Choosing artwork is arguably one of the hardest parts of designing a nursery. Every client has his or her own style, and artwork is often a very personal choice. With so many options available, it is easy to get overwhelmed by all the choices. In my experience, it's best to narrow down the search by looking for a specific type of artwork, like a painting or photography. I love working with photography because it's both sophisticated and versatile. There are also plenty of options that are fun and whimsical as well! I've pulled together a roundup of some of my favorite photograph prints for the nursery or kid's room below: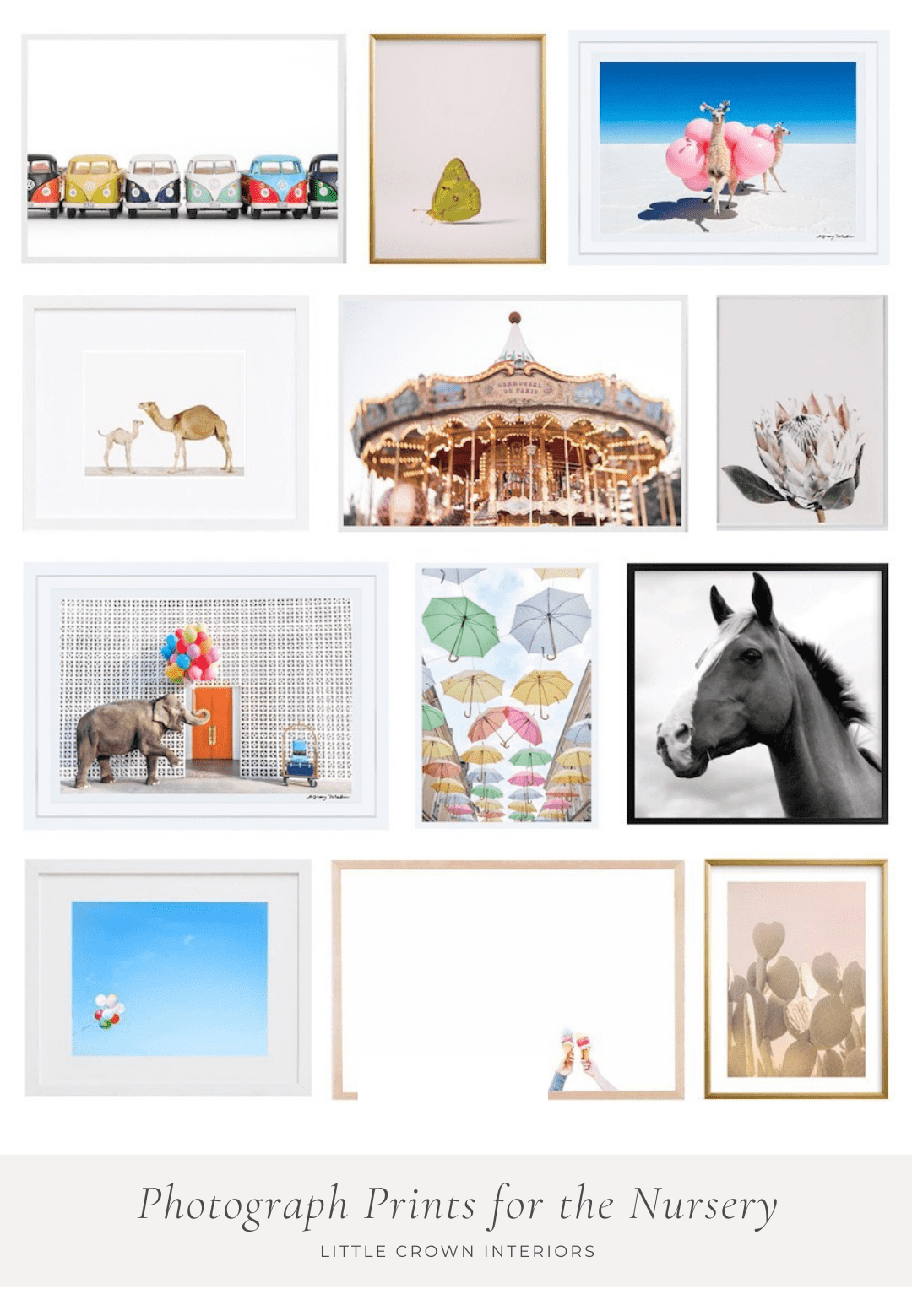 From the top left – Row 1: Multi Colored Trucks by Leslee Mitchell, Tiny Wings by Andrew McClintock, Two Llamas with Pink Balloons III by Gray Malin Row 2: Kindred Camels by Sharon Montrose, Carousel Magique by Georgianna Lane, Pink Protea by Donna Delaney Row 3: You're Always Welcome at the Parker by Gray Malin, Rainbow Umbrellas by Georgianna Lane, Daze by Angela Thompson Row 4: Up by Max Wanger, Ice Cream by Max Wanger, Pink and Yellow Cactus by Wilder California
I have chosen these each of these prints from artists and shops that I love and head to frequently when I'm working on designs. Each one has its own feel and offers a variety of options suitable for a kid's room or nursery. Many offer custom framing as well, which is a huge bonus. I do always recommend using plexiglass when framing anything in a nursery or kid's room so there's no risk of shattering glass.
1. Gray Malin. There is a pretty good chance that you have seen a Gray Malin print in a nursery or kid's space before. His photography is extremely popular and has inspired so many designers. His most popular style is aerial beach photography, but more recently he has gained attention for his adorable series that features animals at The Parker Hotel in Palm Springs. For an example of a nursery inspired by one of these pieces, check out my Gray Malin inspired e-design.
2. Leslee Mitchell. Leslee Mitchell is a great resource because she has a huge selection of car and airplane themed photographic prints that are perfect for a nursery. The color selection is endless so you are sure to find an option for your particular color scheme. She has recently released a line of hot pink cars as well! Her prints are modern and clean with bright colors.
3. Minted. Minted is a fantastic source to try because it includes many great artists and photographers. You can sort by style, color or subject matter to find the piece that is right for your space. Minted started out in the paper printing business (you've probably received a baby announcement or holiday card made by them.) Now they have added art printing to their repertoire, as well as custom framing.
4. Sharon Montrose. You have surely seen a design that includes Sharon Montrose's work. She was the first to make baby animal photographs hugely popular, and her work is signature. So many of my clients have asked for these, so you'll see them in a fair amount of my work, like my Pink Nature Nursery, Neutral Safari Nursery, and Neutral Pastel Nursery.
5. Georgianna Lane. Her work is absolutely stunning! I find simply taking a scroll through her work to be inspiring. She travels Europe to get stunning photographs of florals, architecture, sweet pastries and perfectly imperfect doorways. She works mostly with soft pastel palettes perfect for a feminine or glam style space.
6. Max Wanger. Max Wanger is another very well known photographer. He is most famous for his understated nature photography. His portfolio also includes whimsical and even humorous pieces perfect for a nursery or kid's room. If you like a more minimalist vibe, Wanger is for you!
[This post originally appeared on Project Nursery]
*This post may contain affiliate links, but don't worry, I only link items that I 100% recommend!*
[et_bloom_inline optin_id=optin_10]