Let's talk tables! A side table is one piece in the nursery that is so often overlooked. It's such an important piece! The side table is usually paired with a glider for setting a bottle, stacking a few books, a phone or perhaps a small lamp for reading time. If you have the space for one, a side table is a great addition to your nursery seating area.
If you do have enough space for a side table, there are several key features to look for and a few to avoid. Depending on what the table is made of, it can be lightweight. While this may seen like a good thing, it can actually cause an issue if the table is easy to topple over. Pay attention to both the weight of the table and the type of legs it has. Pedestal bases are usually not a great idea since those can tip over easily as well, especially if it will sit on top of carpet.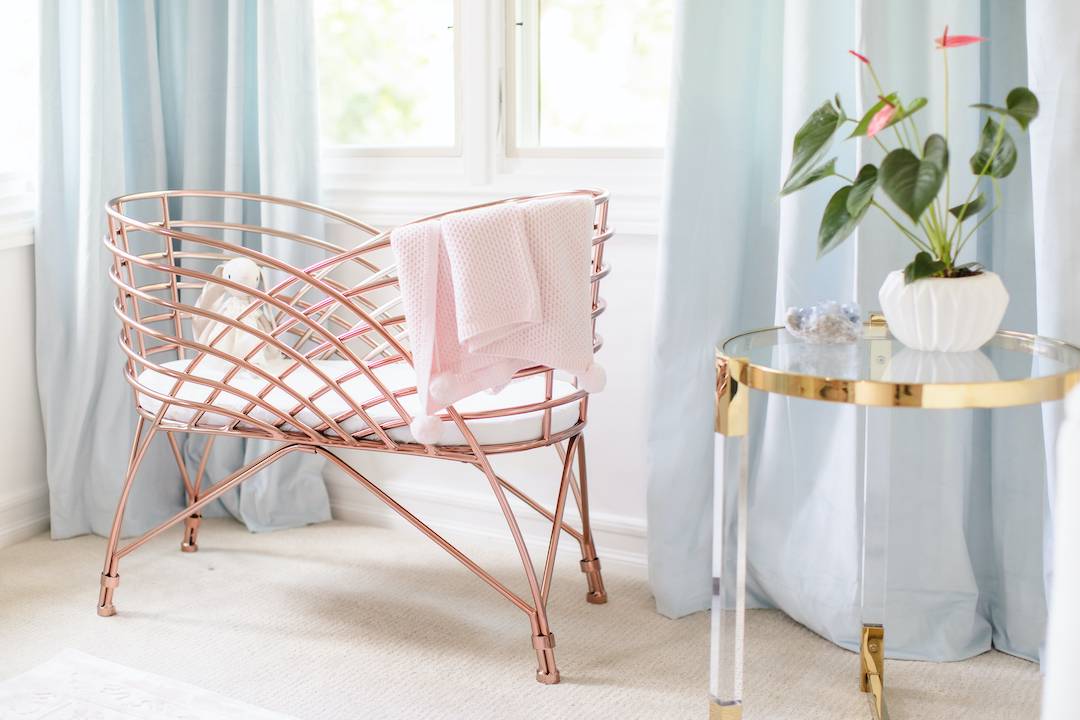 Rose Gold Bassinet with Acrylic and Gold Side Table
From a design standpoint, avoid any decorative elements that can be unsafe such as sharp edges. I almost always suggest a round side table for the nursery for this reason! Round side tables will also fit better in most nurseries because the glider is often situated in a corner. Whatever style you choose, make sure your side table is sturdy and does not wobble.
Here are a few of my favorite nursery-friendly side tables, perfect to pair with your glider! You won't believe how useful this small extra surface will be!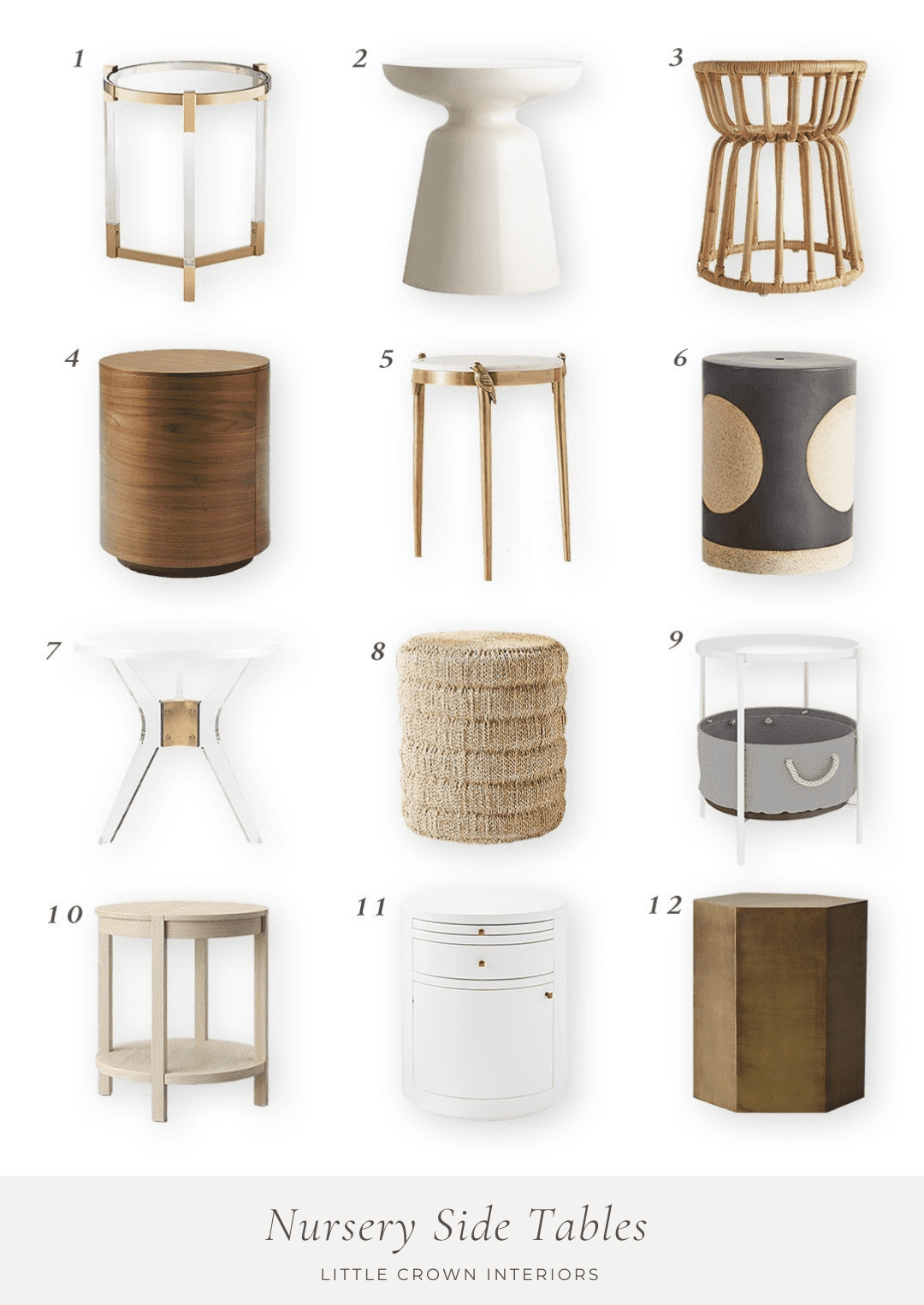 Acrylic and Gold Round Table: The combination of acrylic and gold are still so popular for nursery designs. I love that this piece is structurally stable but feels visually much lighter. This is great for smaller nurseries since it doesn't take up much "visual space".
Martini Side Table: This is a style that has been around for a while now but is still a favorite of mine. The white and gold color options can work into just about any nursery and the base style make these extremely stable, even on carpet.
Kids Rattan Nightstand: Rattan may be a bit trendy, but a side table is the perfect spot to work in a more stylized piece. The rattan material is great for nurseries with a bohemian or beachy feel!
Volume Side Table: Warm wood tones are really great for a modern nursery design. This piece is one that you can easily carry through to a more mature space as your child grows.
Perched Side Table: I love working in touches of whimsy into my nursery designs. This side table feautures the cutest bird detailing. Like acrylic, marble pairs really well with gold accents for an elegant touch!
Ceramic Drum Side Table: Lately, black and white palettes have become really popular in nursery designs (Check out my black and white nursery reveal). So I am always on the lookout for fun black pieces to use for clients who are asking for them.
Werner Acrylic End Table: This is another stunning take on the acrylic and gold trend. I love how the lines of this one feel very mid-century sleek but the acrylic has a lighter feel than the typical wood finish of this style. Acrylic is great for nurseries since it's practically indestructible. But beware of fingerprints!
Pandan Rope Drum Side: This drum-shaped side table is woven from rope crafted out of Pandan, a tropical plant native to Southeast Asia. Working in organic textures is great for warming up a nursery design.
Bluxome End Table: Anytime you can work in a bit of extra storage into your nursery is a major plus. I love that this table feels open but still includes a storage element. Plus the round and soft storage basket is a great safe alternative to a square chest or bin. This is definitely one of my most affordable favorites, and it comes in a few other color combos too.
Porto Round Wood Side Table: I love the classic simplicity of this double tiered wooden side table. The lower shelf allows for the option to place a basket with plenty of surface area for books, bottles, and decor. It's super transitional too, so it will work in a variety of spaces.
Pinecrest Storage Side Table: This table is definitely the priciest on my list, but it is absolutely stunning! This one checks all of the marks that I look for in a nursery side table. The round sturdy shape is super safe. Plus there is a pull-out shelf above the drawer and a lower cabinet with a shelf for books.
Prism Side Table: If you are worried about coordinating your wood tones, a brass side is a great choice! It adds such a sophisticated touch, and the faceted style gives some structural interest.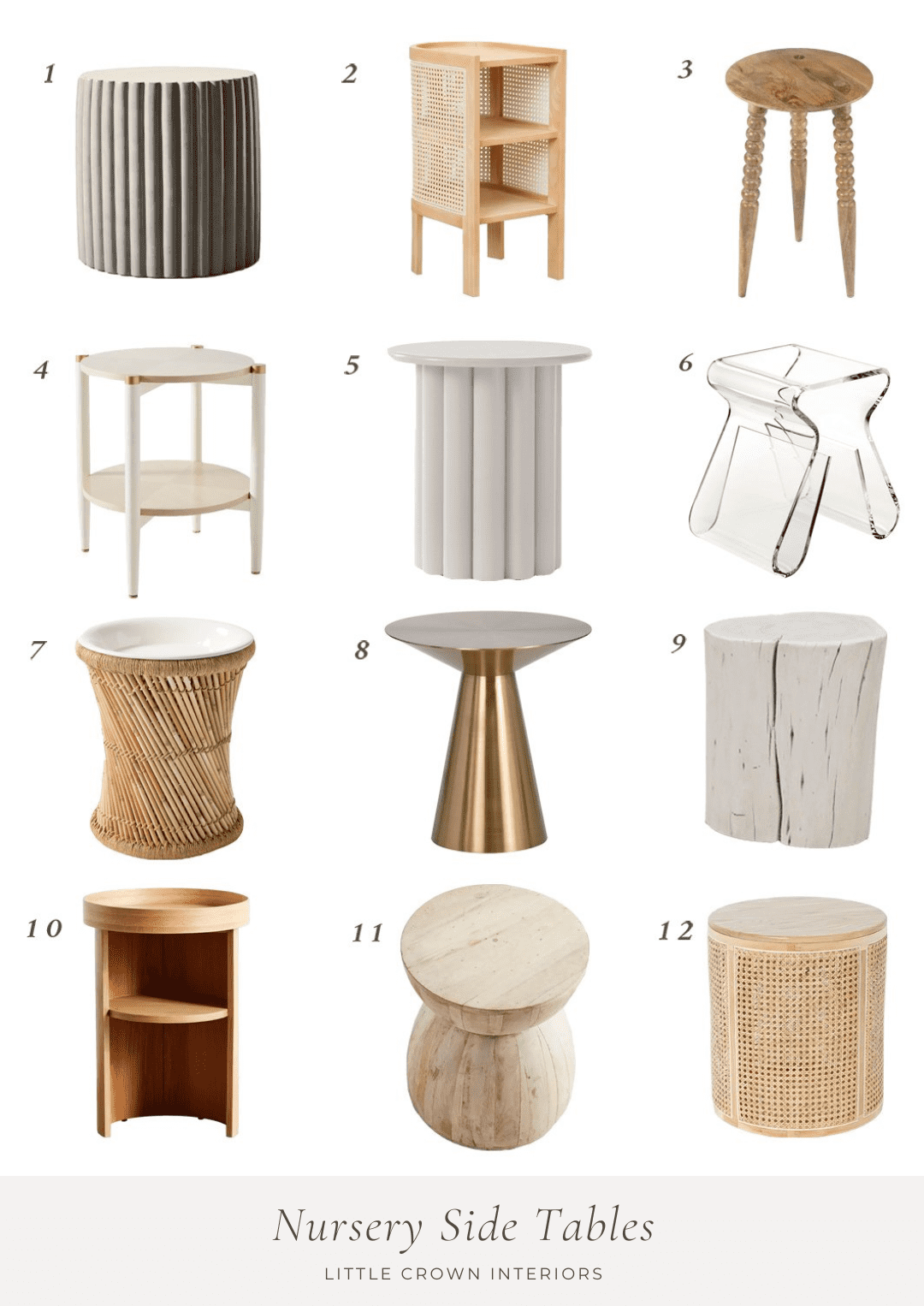 Tropea Fluted Side Table: Fluted decor is showing up everywhere now! I love that this side table has that fluted look, and has a solid base so it won't tip over.
Light Wood Caning Table: Are you as into caning detail as I am? It's such a pretty touch, especially for a nursery or child's room. This table also has some storage in it, and it feels "light" because of the open caning.
Wood Spindle Side Table: If you like a little traditional touch, this spindle-style side table is a great choice. Because the legs bow out at the bottom, it gives the table more structure so it's harder to knock over.
Geo-Marquetry Side Table: This piece is so stunning! Not only is it white, light wood and gold, but if you look closely, you'll see that the light wood surfaces have a quadrant geometric shape.
Hera Side Table: We use a lot of white side tables in nurseries, and this one has a really fun, modern design. This piece has no sharp edges, a solid base, and great style!
Acrylic Storage Side Table: I still use a lot of acrylic decor in nursery designs (especially for cribs!). It's always nice to balance an acrylic crib with another, smaller acrylic piece, like a side table.
Market Side Table: The natural texture of this side table is gorgeous, and I love how the top dips in so nothing will slide off.
Carmel Gold Side Table: Are you a metallic fan? Me too. This bronze-gold side table is gorgeous, modern and has a nice round shape.
Rustic Lodge Side Table: I've used these more rustic types of tables in a few nursery designs now, and I love them! They give the space a natural feel and because they also don't have sharp edges, they are super safe.
Wood Storage Table (no longer available): This wood table is a great option if you need a smaller table with just a little storage.
Betania Side Table: This is one of my all-time favorite side tables. The variety of the light wood tone is so pretty, and the shape is beautiful. It's quite a bit lighter in person, FYI.
Round Cane Side Table: This table is similar to #2, but it's fully round and has caning on all sides. This one is a small side table, so it can fit into a smaller nursery corner.
What type of side table do you want for your nursery?
*This post may contain affiliate links, but don't worry, I only link items that I 100% recommend! You can view our Disclaimer here.
[et_bloom_inline optin_id=optin_10]