2019 is over folks—can you believe it? I was just looking back at Top Nursery Trends of 2018 post and I feel like I wrote that just a few months ago. A very bizarre feeling indeed. 2019 was a great for us at Little Crown, and 2020 has some very fun surprises too.
I looked through all of my 2019 Instagram posts to see what you all loved the most, and put them together for you below. Neutral color palettes, acrylic, blush, floral wallpaper and accent walls were all getting a lot of attention in 2018, and it looks like they are still holding strong for 2019! So here they are, my top 10 posts and the nursery trends from last year.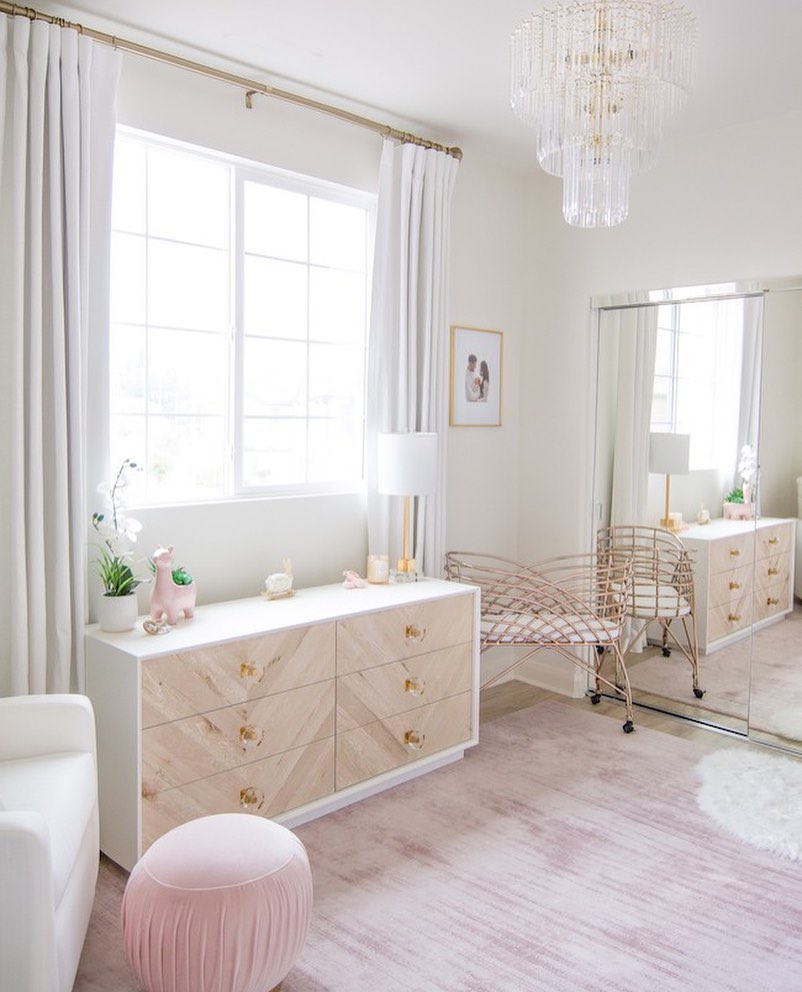 Melissa Molinaro's Nursery by Little Crown Interiors
When I was working on the nursery design above, my client told me right away that she wanted white, blush and gold. This is probably the most popular color scheme of the past 2 years, and I still get requests for it all the time. It's easy to see why—it's such a soft and refreshing color palette that's delicate yet glamorous. I expect to see even more of this in 2020.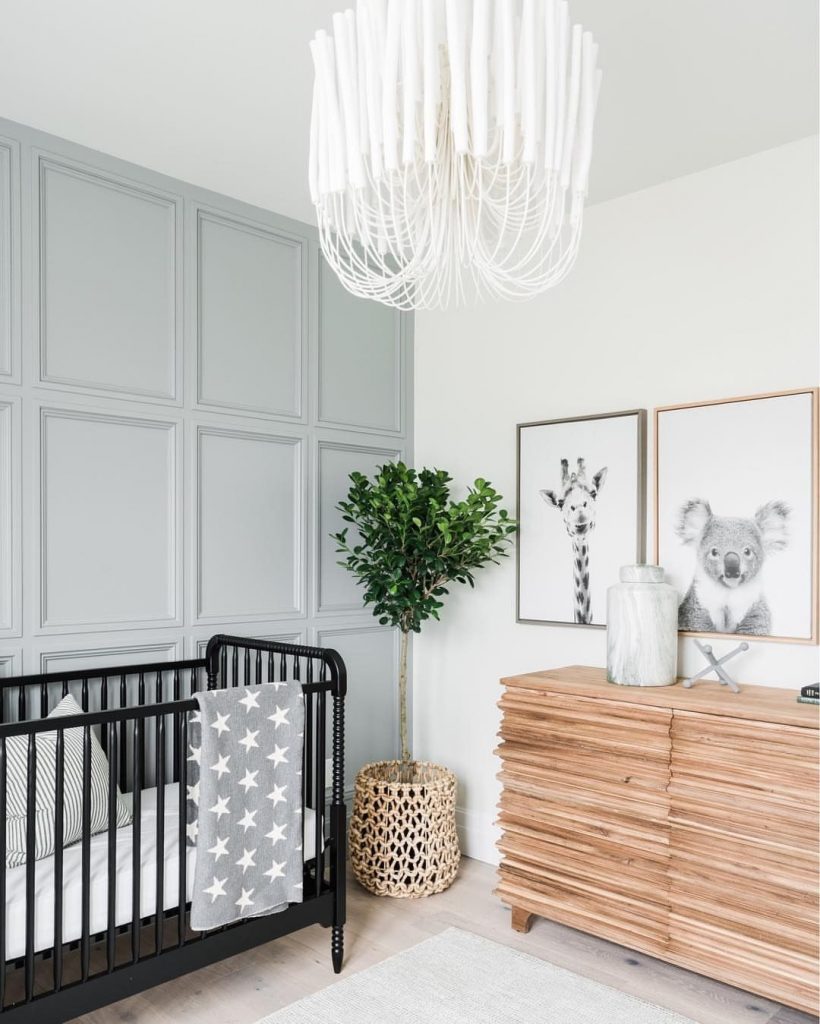 Nursery Design by Design Loves Detail
Subtle colors really made a splash this year, like this very soft blue accent wall. If you look closely, you'll notice that the blue is not your typical baby blue, but more of a pale, desaturated robin's egg blue. This trend of slightly desaturated accent colors was popping up everywhere this year. When you desaturate a color, it adds richness and depth and can appear higher end. Advertising firms know this, and will purposely desaturate a color just a little bit to give the product a luxury feel. It works the same way on your walls!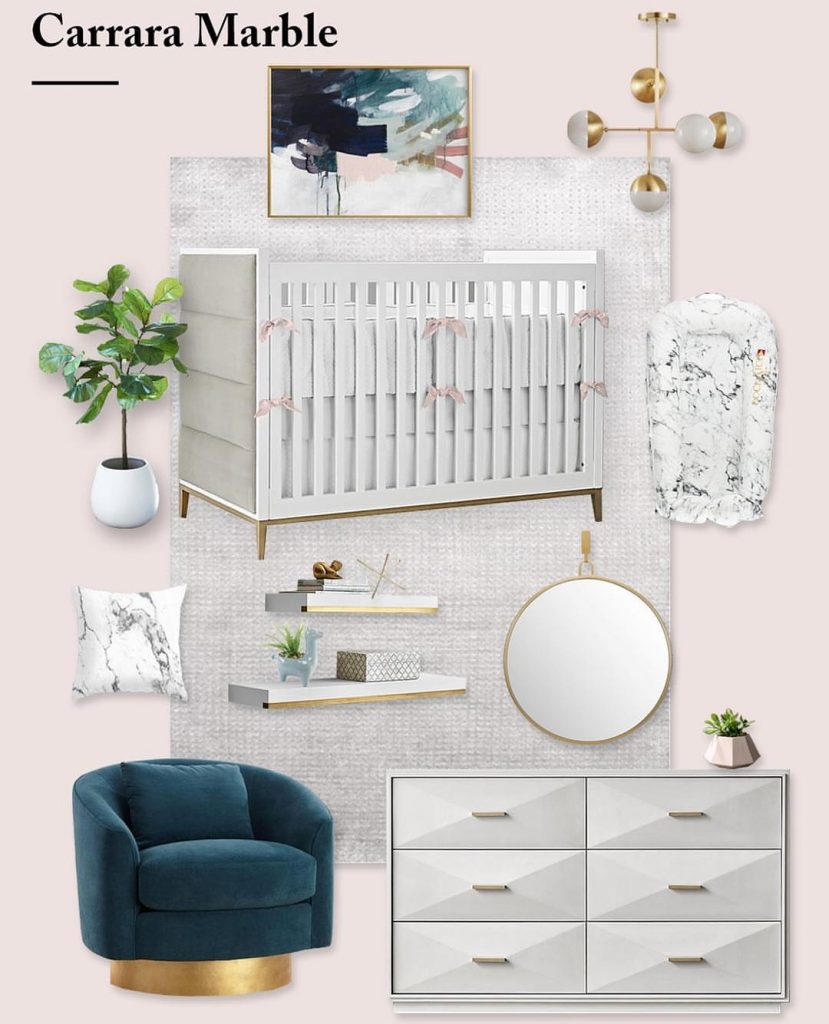 Cararra Marble Inspired Nursery Design by Little Crown Interiors
I created the above nursery design board around DockATot's Cararra Marble pattern. I used the same blush pink that's all the rage, but accented it with teal blue to give the space some depth. The crib and changing table in this space are also just a tad off-white rather than a true bright white which gives the space a more luxurious feel (as we learned above).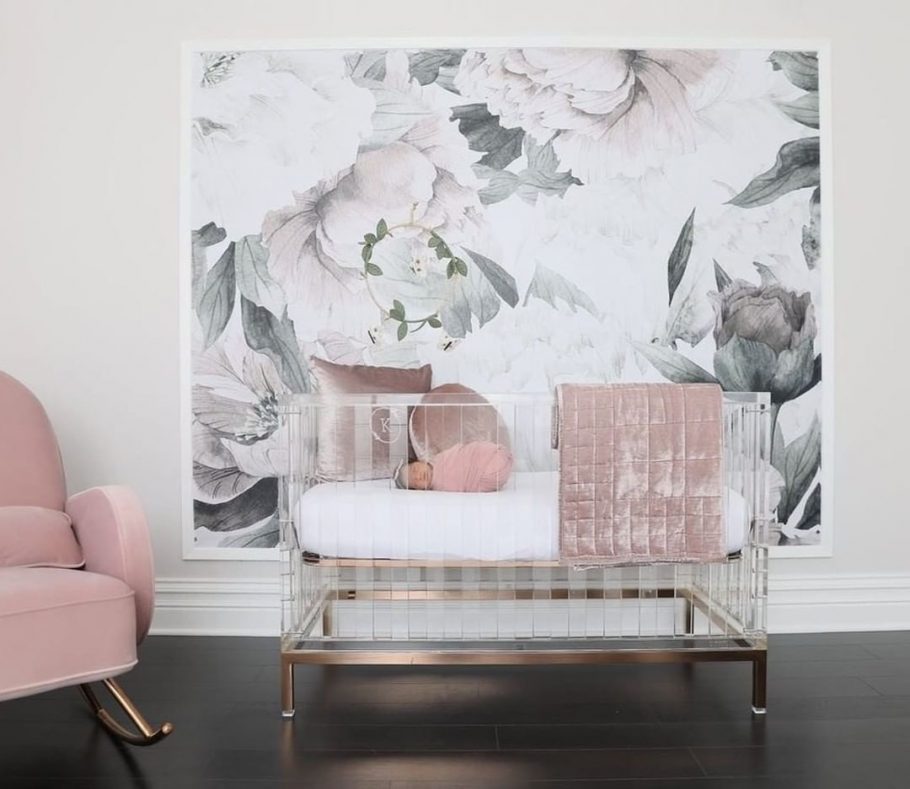 Large Blush Floral Wall Mural
This nursery photo was sent to me by a client who had purchased the Blush Floral Wall Mural. That wall mural is still one of my best-sellers because the design of it really is just stunning. The second thing people went crazy for in this photo is of course that gorgeous acrylic and rose gold crib. It's a newer design that came out last year and has been wildly popular.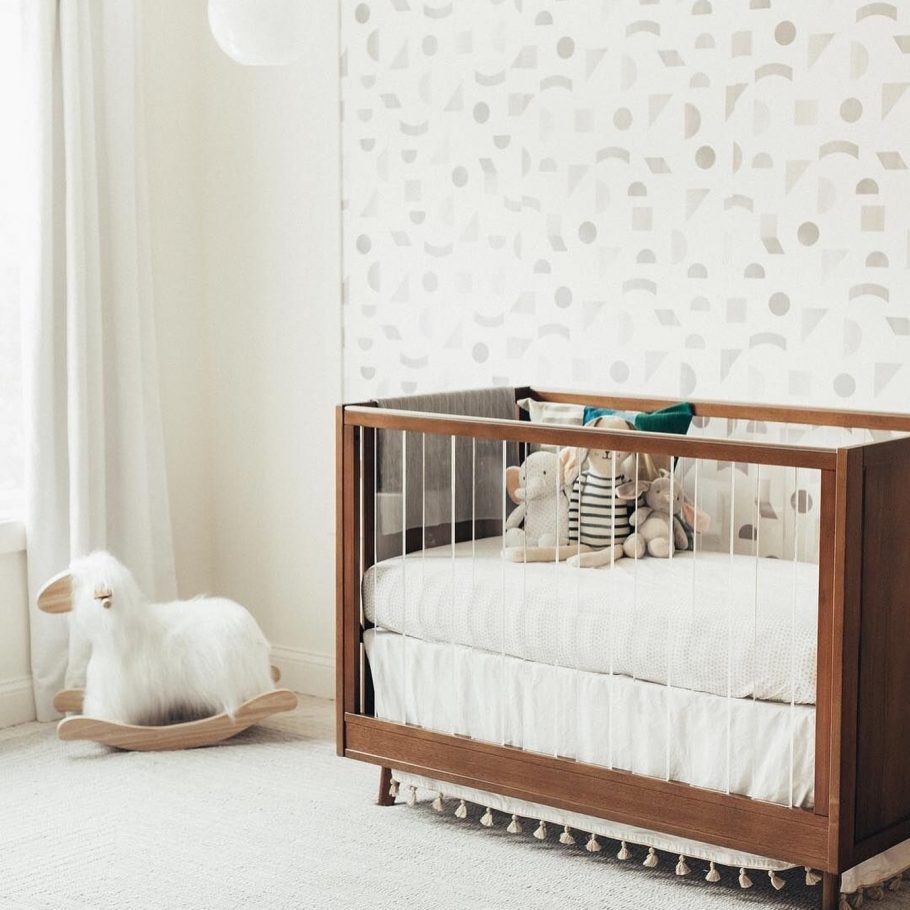 Jenna Kutcher's Gender Neutral Nursery by Little Crown Interiors
I had the amazing opportunity to work with one of my idols, Jenna Kutcher. She needed to design a nursery for her miracle baby (after multiple pregnancy attempts), so this nursery was very near and dear to her heart. It's a simple design, but the warm and cozy feel of the neutral colors and rich wood furniture was really a hit on Instagram.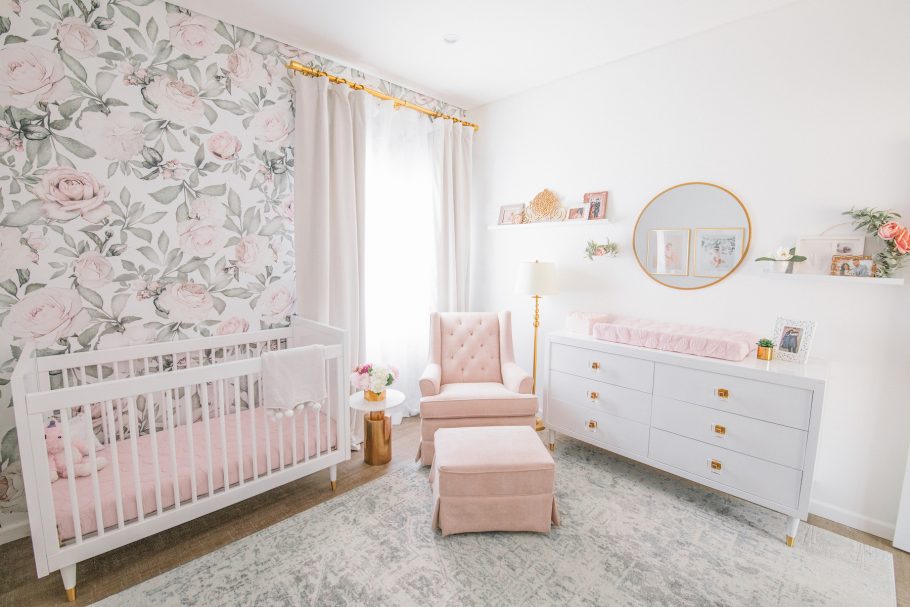 Irene Khan's Nursery by Little Crown Interiors
Another white, blush and gold nursery design that was super popular on Instagram this year. I loved working on this project because we got to use stunning nursery furniture from Newport Cottages. I had been eyeing that collection for months and was hoping a client would love it to so I could use it in a project. This was the one! The floral wallpaper makes a statement too, and because we had high ceilings in this space, it gives the room a grand feel.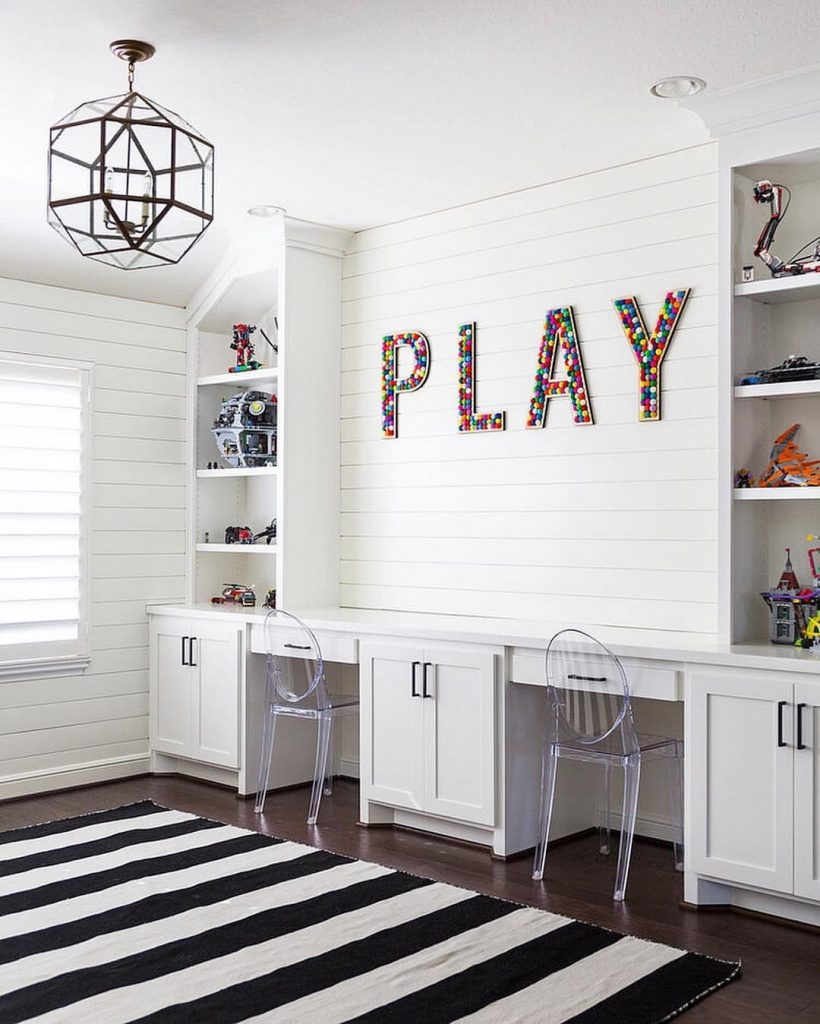 Playroom Design by Oyster Creek Studios
I was honestly surprised at how much attention this post got. Most of the time higher contrast photos don't do as well with my audience, but this one really did. I'm betting it's because of those crazy cool PLAY letters, and the modern acrylic paired with the shiplap walls.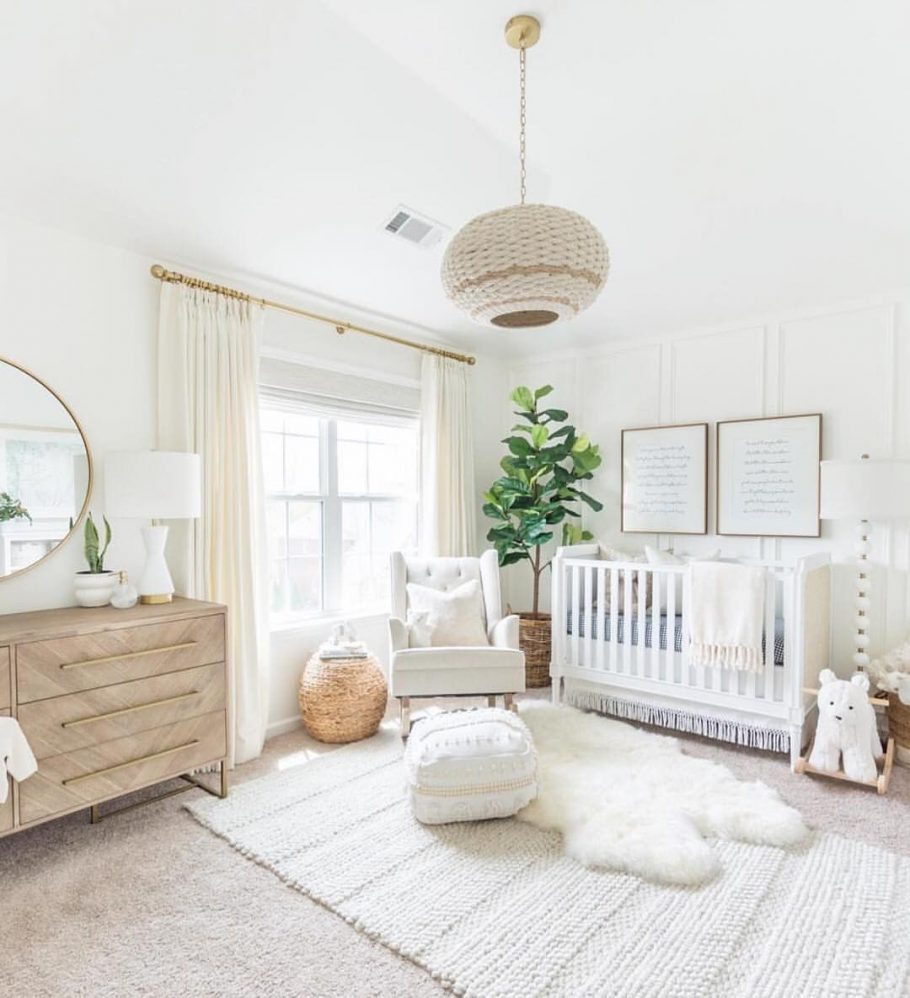 Neutral Nursery Design by Kelly Nan
Lastly is this bohemian neutral nursery which I absolutely love. There are so many textures at play, even though the room is mostly white tones. When working with an all-neutral palette, tones and textures are your friend! The woven pendant light really highlights the whole room and the little touches of gold bring it all together.
The Top Nursery Trends of 2019
Neutral color palettes with lots of texture
Slightly desaturated colors
Floral wallpaper (and large florals in general)
Blush pink (millennial pink)
Acrylic decor
Gold accents
What do you think of the 2019 nursery trends? Is there anything you think is missing? Anything you are just sick of seeing already?
*This post contains affiliate links, but don't worry, I only link products that I would 100% recommend!*