One of the best parts of nursery and kid's design (or any design really) is adding those final little touches. This is something I do for every design—down to the small plants, decorative toys and picture frames. Adding in these details can really pull a room together and give it a cohesive, designer look. A good recipe for styling success is to keep it simple, don't overwhelm the space and stick to pieces you really love. You may have already seen my post on small live plants, and now we're moving on to picture frames. Picture frames are a super approachable way to quickly add personality to a space and make a room feel like home.
The great thing about picture frames is that you don't have to break the bank for style. There is such a variety of styles, materials, and sizes to choose from, and finding frames that compliment your nursery or child's room should be a breeze (you can always go neutral or use metallics). I've gathered up some of my favorite options below. These are smaller in size and great to add on a dresser or a side table paired with a small table lamp, side table or bookcase.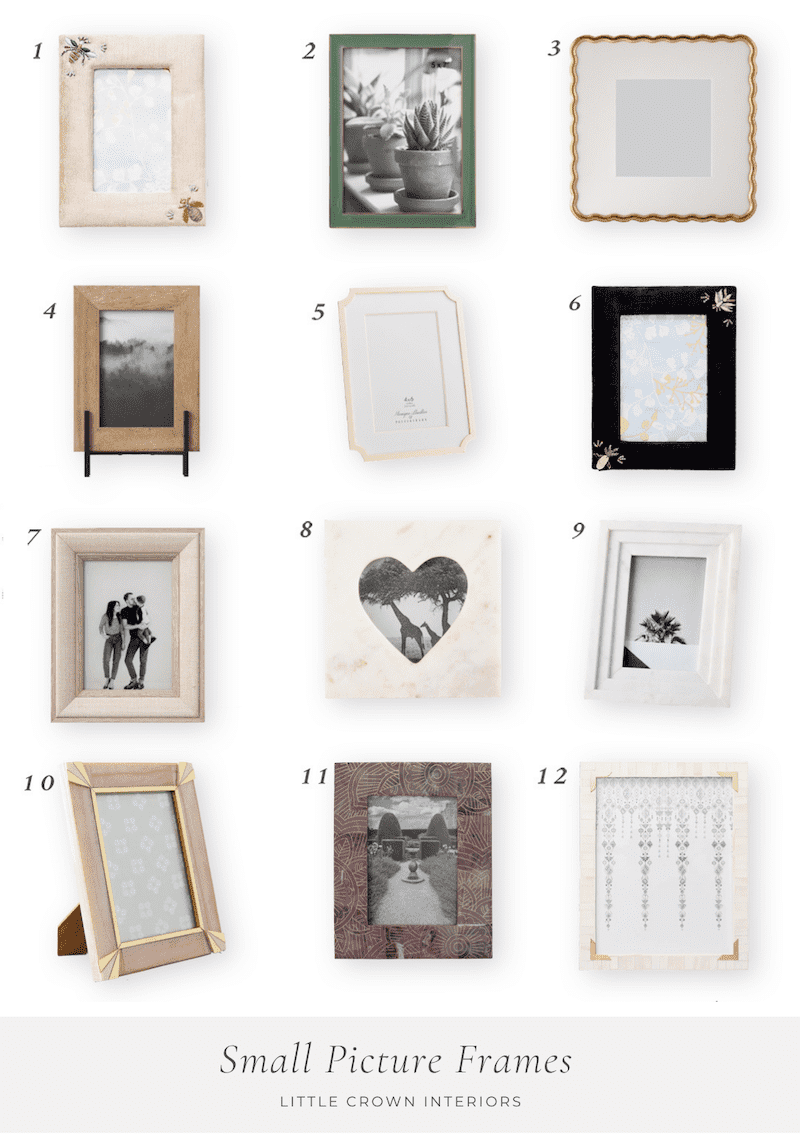 1. Blush Wyeth Frame: Small in size, big in charm and style! This little velvet frame with embroidered bees has a ton of whimsy and personality. I love the soft vintage vibe it has, and the fact that it has a little texture.
2. Green Frame: The gold edge detail with the subtle green gives this frame a casual elegant feel. It has a subtle appearance while it still adds little color and dimension. This would be great for styling a shelf in a gender neutral nursery!
3. Wave Gallery Frame: This frame is so elegant—the wavy organic feel of the edge of the frame makes this effortless and the mat gold give this frame a bit of glam too. I love the square photo space against and the touch oh whimsy.
4. Wood Frame: The mix of wood and the contrasting black metal makes this feel modern, but it could also totally work in a farmhouse or bohemian nursery too. Pop a black and white photo in or a subtle art print and place it next to a table lamp—done and done!
5. Rose Gold Frame: Out of the Monique Lhuillier x Pottery Barn collab came this stunning picture frame in rose gold. It has a scalloped corner details, it comes in three different sizes, and it has a velvet easel back so you can easily prop it up anywhere. I know it feels like rose gold may have has its moment already, but for a small decor item like this, I think it's still gorgeous.
6. Black Wyeth Frame: From the same collection as #1, this black velvet frame also has an embroidered bee detail. It's elegant and bold and I love everything about it! This frame is a bit bigger than the blush pink as it holds a 5×7 print.
7. Neutral Fabric Frame: This one feels a bit coastal and the line-like detail gives this frame nice texture that will add depth to your display. It's a great gender neutral option and can be displayed horizontally or vertically.
8. Marble Heart Frame: I love this little square, white marble frame. It holds a 4×4 photo and is both elegant and playful with the heart shape. It feels like a little piece of art!
9. Textured White Marble Frame: Sometimes a simple white frame will do nicely. I like this one because it has dimension and just a touch of interest since it's marble.
10. Zelda Frame: This stunning picture frame has an Art Deco flair. This one is giving me major Gatsby vibes! The brass corner details and marble-like blush color give it such a elegant feel.
11. Mandala Frame: I was instantly taken by the muted plum color of this frame. It's so unique and interesting, and the pattern is so bohemian. This would look so great in a room with some other lavender or mauve touches.
12. Zoe Frame: Ivory + brass is a color combo I pretty much always love. This is an elegant and versatile picture frame that will elevate a wide ranges of spaces. This one comes in a variety of sizes to choose from as well.
*This post may contain affiliate links, but don't worry, I only link items that I 100% recommend! You can view our Disclaimer here.