It's the most wonderful time of year! It's the season where the line between busy and slow moments blends – not unlike what life is like as new parents. If you're feeling the holiday gift overwhelm or you just need extra gift inspiration, then this post is for you. Most babies and young toddlers are happy with just the wrapping and twinkling lights. That means it's the perfect time to build a curated toy and picture book collection. Choose a couple heirloom quality toys that will grow with your child, and some of those that work as decor as well!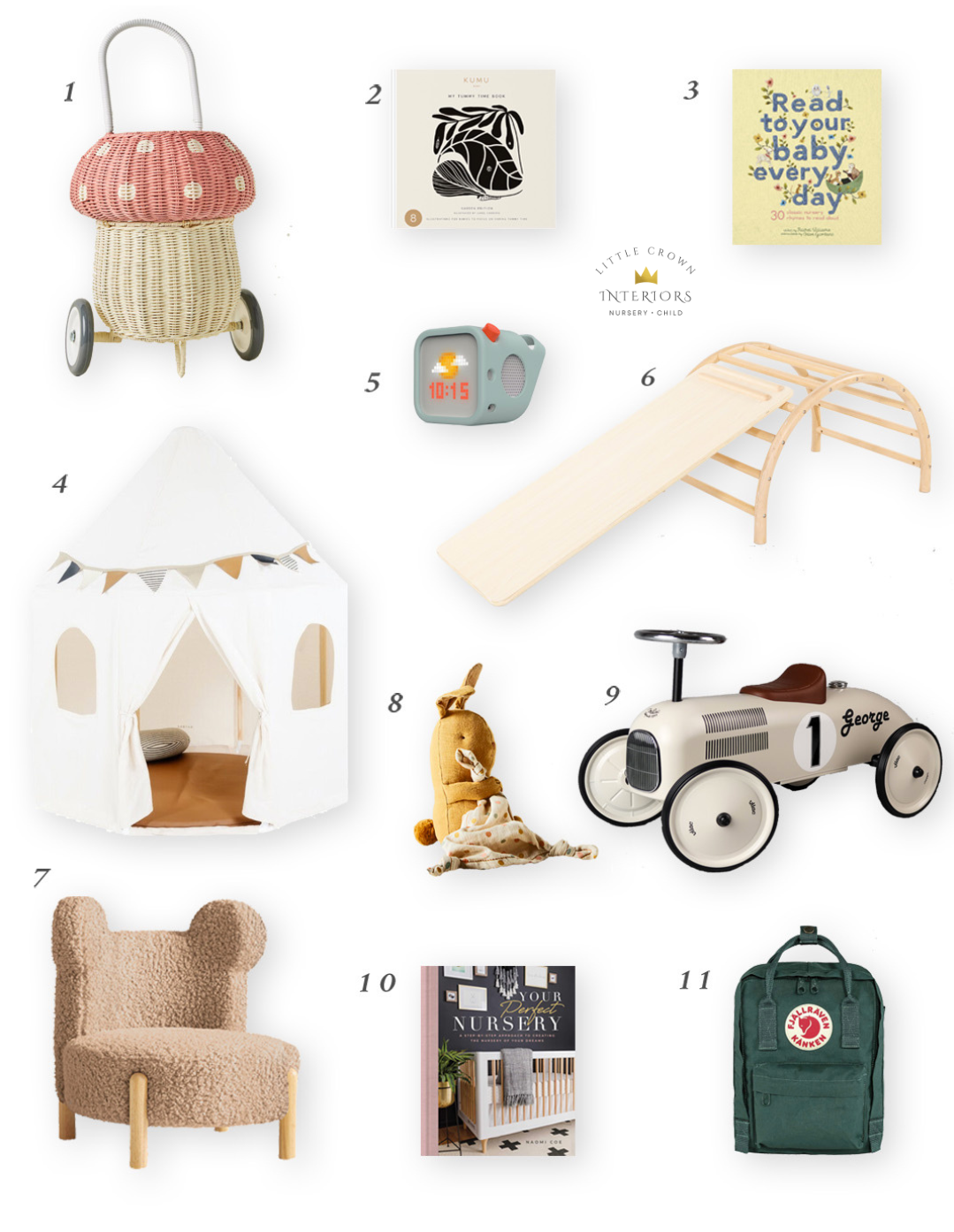 1. Mushroom Luggy Basket: If you have been following LCI on social media this fall, you know how we feel about the whimsical botanical trends. We actually just wrote a blog about Botanical Morris & Co Inspired Nursery Decor. This little storage mushroom basket is super cute and a fun way to keep your toddler engaged in tidying and organizing toys.
2. Tummy Time Book: We're smitten with this gorgeous tummy time book with high contrast garden inspired designs. The accordion style book makes it easy to use during floor play, and the black and white is perfect for brand new babies. It's from a small mama owned business, which we love to support!
3. Nursery Rhymes Book: This book has a gorgeous cover and is perfect to display on wall ledges in the nursery. There is a bedtime book and a toddler book in this series as well.
4. White Play Tent: Play tents are a great invitation to open-ended and imaginative play. Your little one will love crawling in and out of this adorable tent. This company offers many playful, cushy climbing blocks that you can add to the play tent corner for hours of fun. You can find the bunting here.
5. Yoto Player: We included the Yoto mini in last year's gift guide. This Yoto is the original one. It's designed to be stationary and would be a fun addition to a nursery. It has several white noise options, a lullaby feature, and plays audiobooks and kid friendly podcasts as well.
6. Wooden Play Gym: We love this wooden play gym that can grow with your child. Hang a few toys to make a baby activity gym and add the slide attachment when your little one is ready to climb.
7. Toddler Chair: Kids love mini chairs that are their own size! How cute it this sherpa bear chair? It comes in white as well.
8. Music Bunny: This is an adorable yellow bunny in the cutest heirloom quality gift box. It's made in linen and cotton, comes with a lovey blanket, and plays a calming lullaby. The music box is waterproof!
9. Retro Ride-on Car: These retro cars are adorable and we have used versions of this one in several of our nursery designs. This company lets you personalize the car with your little one's name for that extra personalized touch.
10. Your Perfect Nursery Book: This is such a great gift for anyone expecting a new baby and starting to plan a nursery. I did not hold back and absolutely packed this book full of inspiration and tips for nurseries, planning tools and guides, and many design lessons I have learned over the years.
11. Green Mini Back Pack: We love this mini back pack in a gorgeous shade of green. It's perfect as a mini diaper bag, and later as a little day bag for your toddler. We love to add wall hooks in the nursery, and this would look adorable displayed on them.
Wishing you happy shopping and peaceful holidays!
*This post may contain affiliate links, but don't worry, I only link items that I 100% recommend! You can view our Disclaimer here.