June means summer, sun, lawn games and Father's Day! And we have some solid gift ideas ready for you to help show the dads in your life some love. Whether you are shopping for your dad, partner, grandpa, or someone who has been a father figure in your life, we've got you covered! Spotlighting a few products that are mindfully crafted and brands that strive for sustainable solutions. Here are some of our favorite gifts for dads.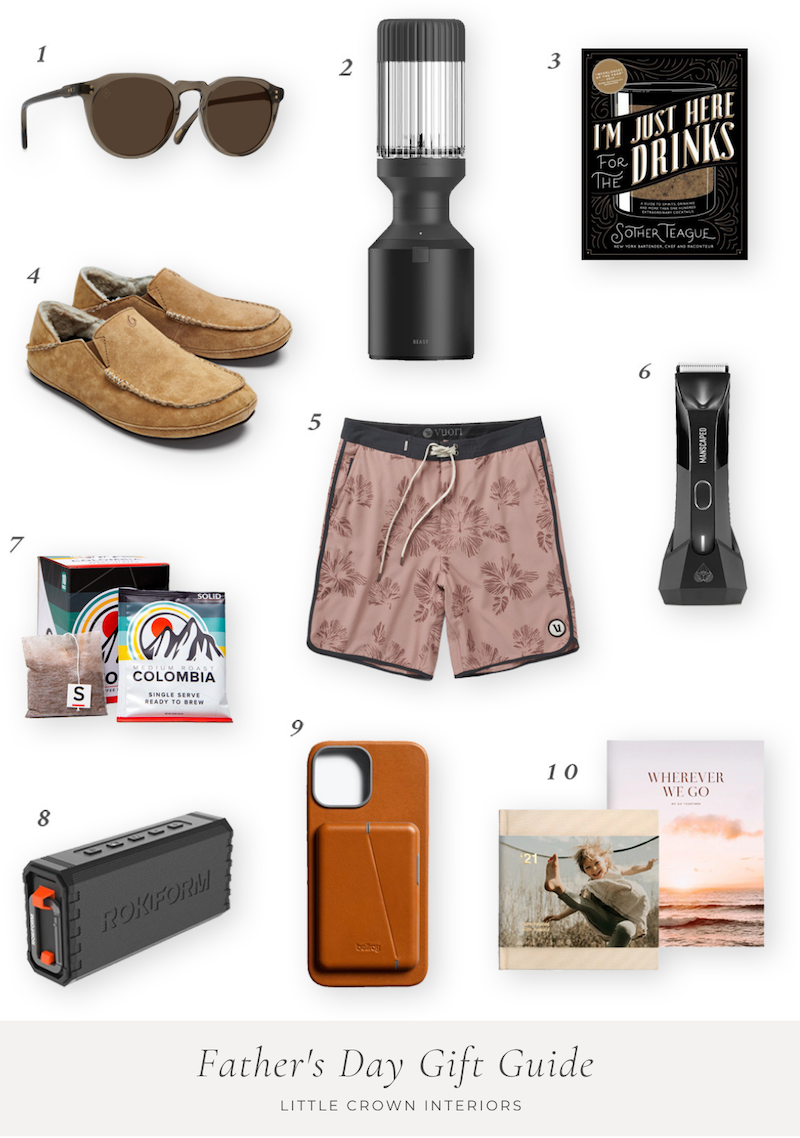 1. Polarized Sunglasses: Loving these quality sunglasses made by a local company here in Southern California. They are handcrafted and thoughtfully made and the frames come in two different sizes to get the perfect fit. This company also has fast shipping, which is a big deal these days!
2. Compact Blender: I have been eyeing this blender for MONTHS for my own counter top! The Beast blender can handle grinding coffee beans and can make a fantastic frozen margarita (healthy smoothies too, of course). The biggest reason I want this (regardless of Father's Day) is that the container is wide enough to clean with your hands. I have a serious gripe about narrow blenders you have to clean with a bottle brush!
3. Cocktail Book: Cocktail books are a fun gift for someone who is into hosting and crafting delicious drinks. You can easily elevate your backyard BBQ hangs with this recipe book in hand. And it looks great, so it can sit on a bookshelf with pride.
4. Suede Slippers: The reviews do not lie, these suede slippers are legit. They might not scream summer and sun, but if your man/dad/grandpa enjoys warm feet on cool mornings or when rocking your baby to sleep, then you cannot go wrong with these! They're super comfortable, have a laid back look and are breathable and warm.
5. Vuori Swim Trunks: I don't know about you, but I'm still super into mauve. Board shorts are the perfect gift for this time of year, and the fact that these are mauve just won me over. The quality material holds up really well Hawaiian print is subtle but still fun.
6. Men's Grooming Kit: This luxury kit from Manscaped is a super straightforward way to get him a bundle of grooming supplies. This company offers paraben-free products, vegan gels and scrubs too.
7. Coffee Tea Bags: If your loved one thrives on outdoor adventure, camping and a hot cup of coffee, then this is a great gift idea. It's a single serve coffee tea-like bag that allows you to make a good cup of joe with just some hot water. They source the coffee from farms with organic farming methods and the packaging is recyclable and compostable. We taste tested it for you and it is GOOD!
8. Portable Speaker: Got a golf enthusiast in your life? This portable speaker sticks to the side of a golf cart. It's super sturdy and the battery lasts a long time. I've used this as a gift before and it was a massive hit.
9. Leather Phone Case: This leather phone case feels luxurious and functions well. It has a magnetic wallet attachment with a space for credit cards. The material is thoughtfully sourced and handled. This case is perfect for any age as well.
10. Photo Book: Create an extra personal gift and design your own photo book filled with memories. You can make an elaborate coffee table style photo book or keep it simple with a soft cover mini book. This is such a sweet gift, a grandparent fave, and there is something for every budget! Just keep in mind that the process of deciding on which photos to use can take a long time if you're anything like me.
Happy Father's Day to all!
Need a last-minute gift? Snag an idea from our Mother's Day Gift Guide and send an audio book or audiobook subscription and you are set without even leaving your home.
*This post may contain affiliate links, but don't worry, I only link items that I 100% recommend! You can view our Disclaimer here.