We created this year's Mother's Day gift guide with simplicity in mind. Through different seasons of motherhood, the time you have to yourself is limited. Making those little daily moments better and brighter definitely counts! Hang up art that makes you smile, use a water bottle that makes you feel good, and make space to read or do a small thing that brings you joy. This is not unlike what we aim to do in nursery design. We carefully add decor and furniture to make those daily passing moments with baby a little easier, more special and memorable.
Like last year's Mother's Day gift guide, we think this a perfect opportunity to feature a few women and mom owned companies! What is on your list this year? Look below to see our favorite products for moms of all ages that make everyday moments just a little more enjoyable!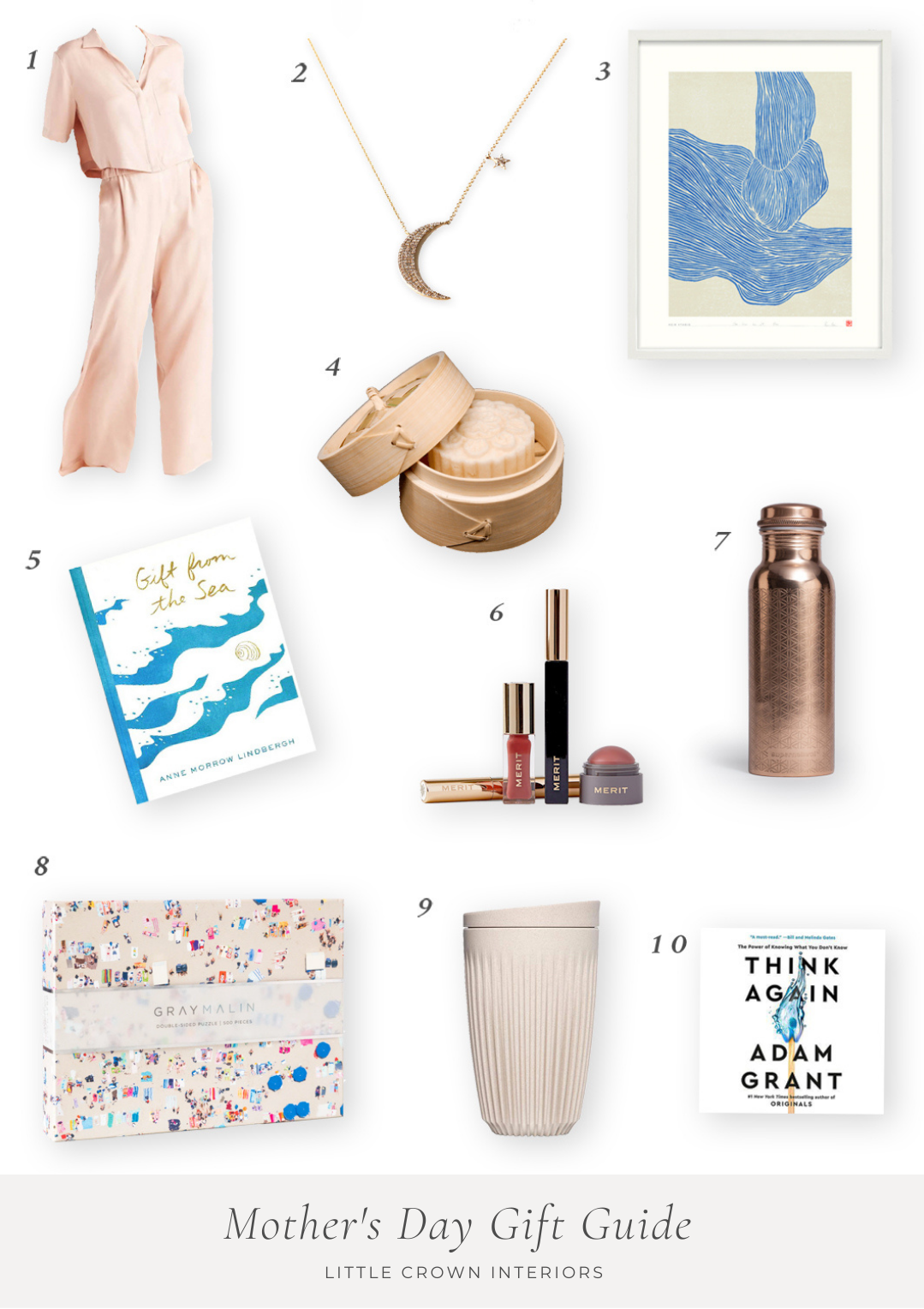 1. Washable Silk Pajamas: It's like they made this set with moms in mind, because these 100% mulberry silk pajamas are washable! The cute pajama top has buttons which makes it nursing friendly. The set is mindfully made and the hypo-allergenic silk help regulate body temperature. If you need an effortless way to fancy up your lounge wear, this is it!
2. Crescent Moon Necklace (no longer available): Knock her socks off with this heirloom quality necklace! It's a stunning piece with tiny diamonds set in the moon and star. This piece is from a fine jewelry collection and definitely a little pricier, but totally worth it if you're looking for something really special.
3. HEIN Studio Art Print: Wall art is a simple and effective way to refresh a space, and because art is so personal, it can make a wonderful gift. HEIN makes minimalist Danish designed art prints in both neutral and colorful timeless designs. These would be stunning in a nursery or a living room alike!
4. Viori Shampoo and Conditioner Bar: These soap bars have become a favorite over the last year and they make a perfect gift. The bamboo containers look gorgeously zen on the shelf and it feels good that it's sustainable. A personal favorite is the Hidden Waterfall scent, it makes washing your hair feel like a mini spa day! Shampoo bars are gaining popularity because they don't use plastic packaging, and that's something we can definitely get behind.
5. Gifts from the Sea: One for a book lover! Not only will this book look stunning on any bookcase, but this is a captivating collection of meditations on womanhood, aging and living for all women. It was written more than half a decade ago and is still relevant today. The author is Anne Morris Lindbergh and worth a google search, too!
6. MERIT: In need of some clean beauty products made to be simple and effective to use? The great thing about MERIT is that they also support Baby2Baby, a non-profit organization that provides children in poverty across the United States with essentials. Clean beauty with a cause!
7. Supernatural Copper Water Bottle: If you give us this gorgeous copper reusable water bottle and download the All Trails app, we'd be all heart eyes! Almost everyone can use a water bottle nowadays, and this one is a simple but thoughtful gift for someone who loves hiking, yoga, and other outdoor adventures. Copper is a natural antibacterial and just plain pretty.
8. Gray Malin Puzzle: You've probably seen Gray Malin's artwork in a bunch of our nursery designs, but did you know they also make puzzles? We actually designed a whole nursery around a Gray Malin piece; you can see it right here. There is also a new nursery E-Design featuring Malin that will be released soon, so keep an eye out for that!
9. Huskee Cup: This company repurposes waste material (coffee husk) to create a super cool looking to-go cup. How clever! It's non-toxic, durable and comes in a few different sizes and colors. It's also dishwasher safe which is great for busy moms.
10. Libro.fm Audiobooks: We love to support small businesses and this site supports small bookstores when you purchase audiobooks! Audiobooks are a perfect way to balance busy days with a hands free (and eyes free) reading. An audiobook or audiobook subscription is a great option for a last minute gift since you can get it without even leaving your home.
Happy Mother's Day to all of you amazing moms who love and care for the people around you in so many unique ways.
*This post may contain affiliate links, but don't worry, I only link items that I 100% recommend! You can view our Disclaimer here.