It feels like this year is flying by and I can't believe that Mother's Day is just around the corner! Commercial holiday or not, moms deserve a day dedicated to shower them with appreciation and love. A day full of uninterrupted naps and meals, no laundry, no sibling fights, or terrible toddler attitudes! If that is out of reach, I've got the next best thing for you: a gift guide with some of my current favorite products for moms!
I created this roundup with moms-to-be, new moms, and seasoned moms in mind. I love when I come across shops that offer quality products that are ethically and sustainably sourced, and what better day to highlight a few female owned companies. Hope you enjoy these and happy almost Mother's Day to all of you amazing women who mentor, sacrifice, teach, love, and cheer on in all the many ways mothering can look!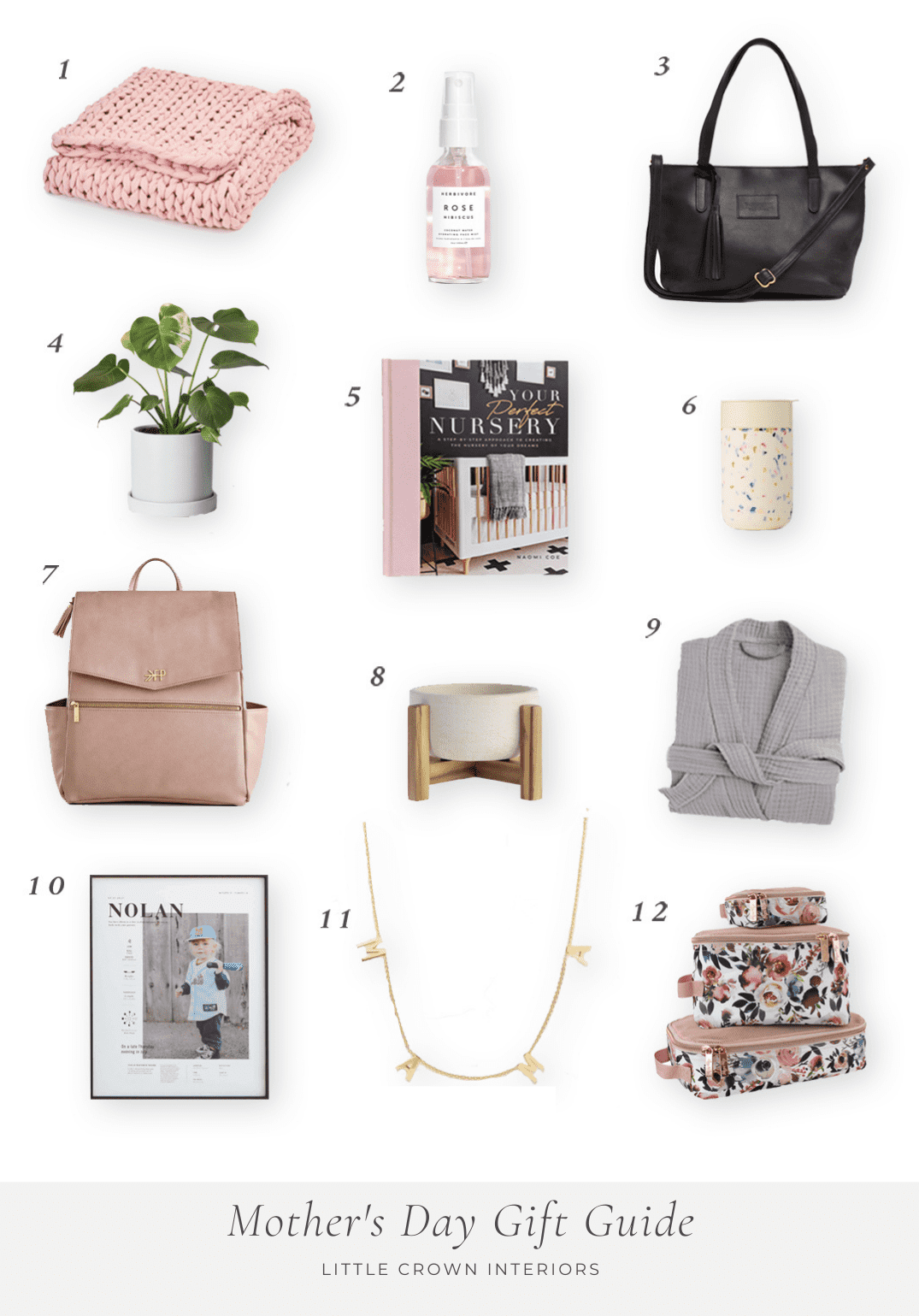 1. Bearaby Blanket: A weighted blanket is basically like gifting a nap, and how can you possibly go wrong with that? These blankets are gorgeous and made of organic cotton, tencel, or eco friendly velvet, and they have some seriously stellar color options. The chunky knit design will look cozy in a basket or over a chair in between uses and they even offer a kid sized blanket for a matching mommy and me set. Weighted blankets are comforting, but they can also help ease anxiety, which I think every single human has nowadays!
2. Rose Face Mist: This Rose Hibiscus Hydrating Face Mist is a favorite of mine! The mist is ultra fine, and it feels glorious and refreshing when you wake up in the morning or on a tired face in the evening. It targets dullness and dryness and keeps you looking dewy. It has a subtle rose smell, and the bottle is just so pretty. As a designer, that matters! This one would pair well with some fresh flowers or in a bundle with a necklace.
3. Black Carryall: This black leather carryall is from Parker Clay, and it is both gorgeous and practical. It's a great option when you are transitioning out of the diaper bag stage but still need to bring most of the house with you when you walk out the door. It's sustainably and ethically made and comes in black, rust brown, or dark brown.
4. Potted Plant: Have you heard of The Sill? Founded on the premise that "Plants make people happy", The Sill offers a great selection of curated plant related gifts like garden necessities, plants journals, candles, and even a plant subscription! This quirky leaf pattern and pretty ceramic mint colored pot certainly makes me happy (I'm a serious plant lady). You can customize style and color of the planter to create your perfect gift. Browse their shop to see their limited edition bouquets for something extra special for Mother's Day!
5. Your Perfect Nursery: I had to include my brand new book here! It is full of information on EVERYTHING nursery design related. Checklists, floor plan layouts and design, budgets, safety tips, and lots of pretty pictures of course—so much good stuff in there! It makes a fantastic gift for a mom-to-be or anyone designing a nursery.
6. Porter Terrazzo Cup: This terrazzo cup almost looks like confetti. Doesn't it just feel like happiness on a cup? It's not the first time terrazzo has had a moment on this blog, and I even used terrazzo wallpaper in this nursery. It's safe to say the terrazzo trend is here to stay! This ceramic cup is wrapped in a silicone sleeve and comes with a press-fit lid. Gift this with some coffee or a favorite tea, and maybe a book!
7. Diaper Bag: A diaper bag that doesn't scream diaper bag! This Freshly Picked diaper bag is not only super cute but the backpack design makes it practical too. Having a hands-free diaper bag to keep with a baby and toddler is a game changer. It's made of vegan leather with lots of zipper pockets, and wipes clean easily. The color is subtle and feels neutral enough to wear with anything!
8. Planter with Wood Base: Maybe unexpected as a Mother's Day gift, but I think this wide little terracotta planter is adorable. Staying home more ever have has made many of us want to make our house feel like a home. It doesn't take much to spruce up a room. This white glazed planter is a great place to start. It is neutral, very versatile and will perfect in a bedroom, livingroom or even a nursery!
9. Waffle Robe: Sign me up for one of these! A robe feels so luxurious, like a gateway to self care. This one is soft, light, and made from Turkish cotton. Perfect for any age!
10. Personalized Art: Still Novel lets you create a personalized piece of art with one of your own photos. Using their templates, they will let you add a snippet of text like birth stats or details from a family adventure and end up with a sweet, personal, and sentimental piece of art. Customize your gift by choosing the style of the print and frame. The site has an option to create an entire gallery wall as well.
11. Mama Necklace: I adore the simplicity of this dainty Mama necklace! A cute everyday day piece of jewelry that can be worn alone or layered. This one comes in gold plated silver, rose gold or silver.
12. Packing Cubes: Packing cubes are such a great way to organize a a bag, especially diaper bags! It makes it easy to change bags or quickly grab the essentials before running out the door. I love the bold floral print on these. They are also available in a handful of more neutral designs.
What is your favorite Mother's Day gift you have ever received or gifted?
*This post may contain affiliate links, but don't worry, I only link items that I 100% recommend! You can view our Disclaimer here.