This year has been the year of butterflies! I have had so many clients asking for a butterfly theme nursery, or wanting to add butterfly decor into their room. A butterfly nursery theme is a fun way to add playfulness without necessarily having to commit to bold colors and a juvenile design. Butterflies can read very sophisticated as well (as you'll see by some of the decor below). I love finding those decor pieces that land in that sweet spot between whimsy and sophisticated.
When you hear the word "theme", don't fret! To design a themed nursery, all you need is a few well-selected pieces to work into the overall design of the room. I am NOT talking about a head-to-toe theme here. I talk a lot about this in my book if you need help figuring out how to create a nursery theme without going overboard! But either way, here is a little roundup of some of my favorite butterfly nursery decor: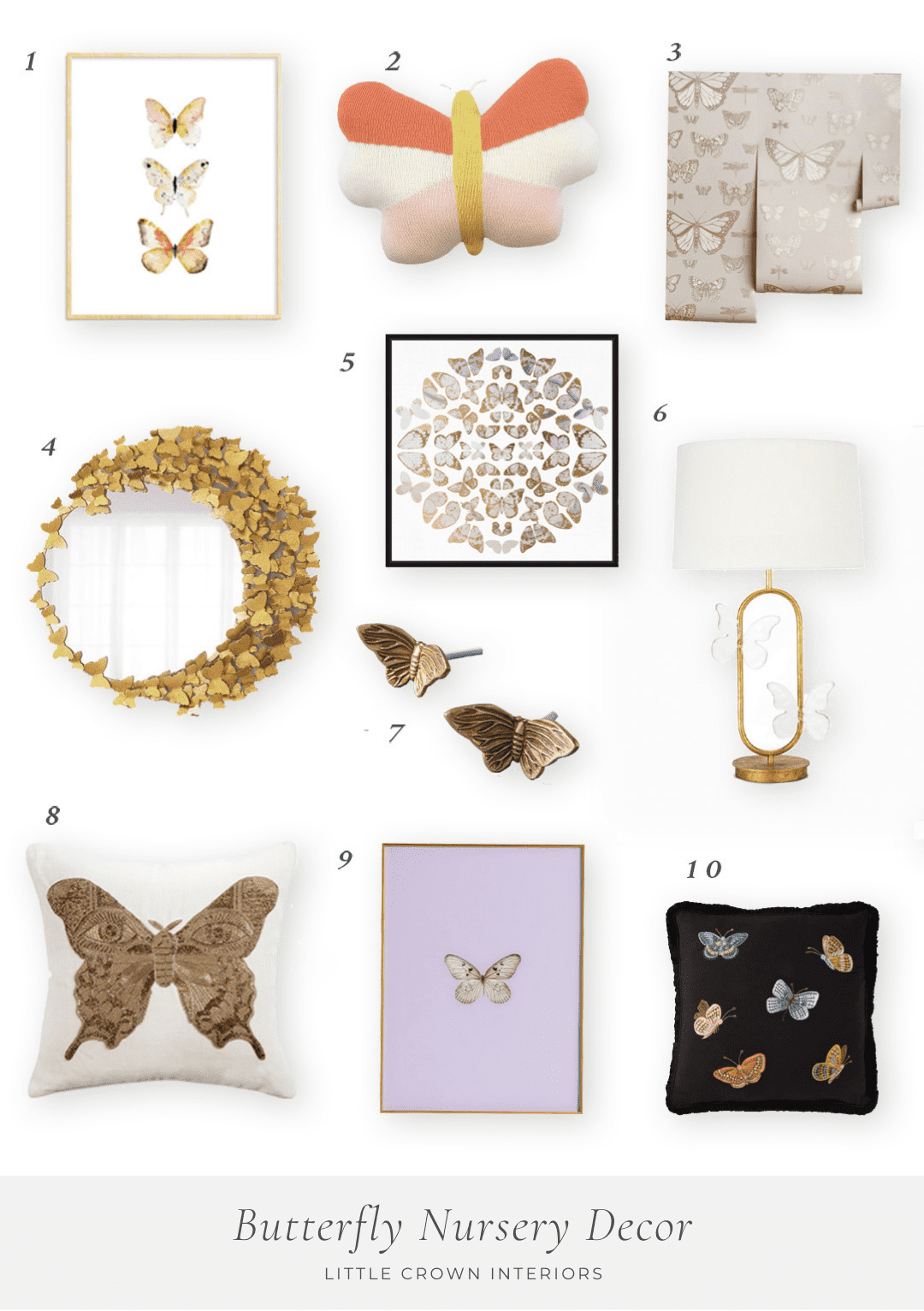 1. Watercolor Butterfly Print: The softness of this pastel watercolor art immediately makes me want to put this in a nursery. I love the soft orange, blue-greens, yellow and pink. This could easily hang on its own or as a part of a gallery wall, and it's super affordable too.
2. Butterfly Pillow: This sherbet colored, playful butterfly pillow will add pop of color to a butterfly themed design without it feeling tacky. This one is handmade, 100% cotton and would be completely adorable in a nursery or in a reading nook. I've also felt these in person, and they are super squishy and soft!
3. Gray Metallic Butterfly Wallpaper: You may recognize this wallpaper from the sophisticated butterfly nursery I've been working on recently. Let me tell you, it is SO gorgeous in person. It has subtle gold metallic butterflies on a gray taupe background and the metallic details reflect the light stunningly. It's elegant and works well as an accent wall.
4. Butterfly Mirror: An elegant mirror with a twist. This handcrafted metallic gold mirror is like a piece of art. Because this piece is so sophisticated, it can definitely grow with your child and space.
5. Butterfly Art Canvas: Modern and elegant, this gold abstract butterfly art paired with the black frame will make a statement in your room. It's printed on museum-quality canvas and there are lots of other frame options too.
6. Butterfly Lamp: This table lamp is right between whimsical and elegant and a great option for a sophisticated little girl's room. The base has a gold leaf finish and the offset glass butterflies cast a pretty sparkle when the light hits it. This lamp is definitely on my short list.
7: Butterfly Knobs: These little bronze butterflies make it easy to customize a dresser or any item that has knobs. Small changes like switching out knobs can help pull a design together and really add a personal touch.
8. Embellished Butterfly Pillow: Neutral in color, big in statement! This is a luxury pillow and a bit of an investment. Though it makes a big statement, the metallic bead work and neutral linen make it very versatile. I used this pillow for a client recently, and it's one of my favorites. The beadwork is really well-done!
9. Lavender Butterfly Art: This lavender butterfly wall art is sweet and modern, and it comes with a black and gold frame. This would be perfect by itself, though you could make a serious statement gallery wall with these as the collection offers 16 different colors.
10. Embroidered Butterfly Pillow: This pillow is part of a Riffle & Co x Loloi collab and it's a good one! The colorful embroidered butterflies look classy and fun against the black background. Add this and a couple of other butterfly pieces and you can really change a space with a few statement items.
If you are still gathering butterfly inspiration I have another blog post about butterfly decor and you can find it here!
*This post may contain affiliate links, but don't worry, I only link items that I 100% recommend! You can view our Disclaimer here.