Whether you choose a nursery rug as the first piece of the puzzle or the last element to tie the space together, there is no doubt that this selection will be crucial to your nursery design. Although there are tons of bold and fun rug styles out there, sometimes finding a more reserved and neutral style can be more challenging.
After such a positive response to my Favorite Nursery Area Rugs Roundup, I wanted to highlight some of my favorite styles for a more understated feel. Neutral nurseries are becoming more and more popular with my clients, so I've been choosing a lot of neutral rugs lately! I find that my clients love the versatility that a neutral nursery has, and the calming color palette definitely makes sense for everyone right now. Below are a few of my favorites to inspire your neutral nursery!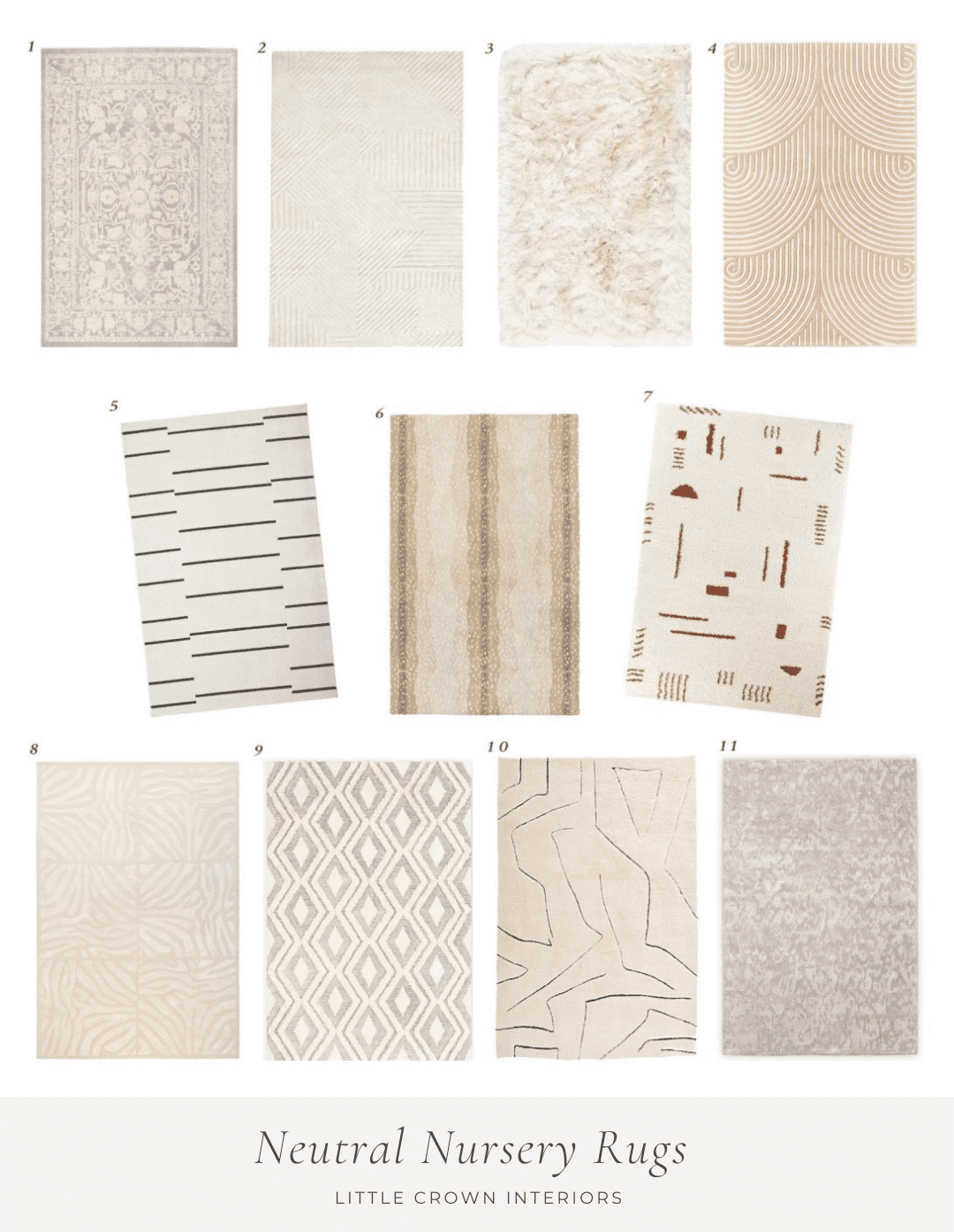 Reflections Rug: You may have seen this rug in the neutral nursery I revealed last month. We used it in a lighter color in that nursery, but I also love this one since it has a touch of contrast.
Faye Rug: This is a rug I find myself coming back to again and again. The solid ivory works in just about any design and the raised pattern adds just enough interest without overpowering. For a bit of color, the blush option of this rug is also really pretty. Check out my Nursery with a Floral Wall Mural to see how the blush version looks!
Oakdene Shag Rug: Shags will always be a great choice for the nursery because they are so soft and cozy. Texture is super important when designing for your little one, and I like to try to work in as many delicate materials as possible. The creamy color of the Oakdene is the perfect base for a soft and calming nursery design (and super soft).
Andie Rug: For a more modern and whimsical feel, the pattern of the Andie rug is so much fun. It almost looks like a half-rainbow pattern and has a Scandinavian appeal.
Aletta Linen Rug: As you know, black and white nurseries have been so popular this past year. I am always on the lookout for great monochromatic pieces that I can use in these designs. I love the simplicity of this one. It brings in the black, but in a small amount so it doesn't feel too dark.
Antelope Hand-Tufted Rug: Animal print has definitely come a long way! I love incorporating more sophisticated versions of this pattern. In an animal themed nursery, you can use a rug like this as a subtle nod to the theme without going overboard.
Geometric Shag: This is another great option for a shag rug. The desert palette became very popular this year, so it is always fun to find pieces that incorporate the warm rust tones that work so well into this bohemian style.
Modern Zebra Rug: This is a more subtle take on animal print. Just like the Faye rug, I love the minimal raised style of the pattern. And again, this can be used as an accent in an animal themed nursery while still being sophisticated.
Era Rug: I get a lot of requests for bohemian style nurseries, but I find that locating the right rug to balance the design can be tricky. Often, global style rugs are of a rough flatweave construction or feature scratchy wools or wovens. The Era rug is a gem because it gives all the bohemian flair but with a super soft weave!
Myriad Handknotted Rug: The pile of this rug is fairly high which makes it a wonderfully soft choice. It has a minimal Moroccan vibe that I love—it almost feels like it's moving.
Sasha Ikat Rug: When used properly, ikat is such a timeless and sophisticated style. The subtle shimmer of the Sasha rug gives it a worn in appearance that adds a vintage feel.
How do you feel about neutral nurseries? Do you prefer a bold and colorful nursery design, or are you inspired by a calming subtle feel?
*This post may contain affiliate links, but don't worry, I only link items that I 100% recommend!*