Lighting is one of the most important elements to consider when building a nursery design. It is no wonder why my Neutral Nursery Chandelier Post was one of my most popular! There are a ton of great options out there which is why making this decision can be super overwhelming. I have pulled together a second round of neutral lighting options to help to get you even more inspired. This list encompasses options for every budget and every ceiling height, so there is surely a piece for your space!
Neutral nurseries are really gaining popularity. The key to a good neutral design is texture. You'll want to add in plenty of chunky knits, wovens, and fun beaded accents to ensure that your nursery has plenty of layers and personality.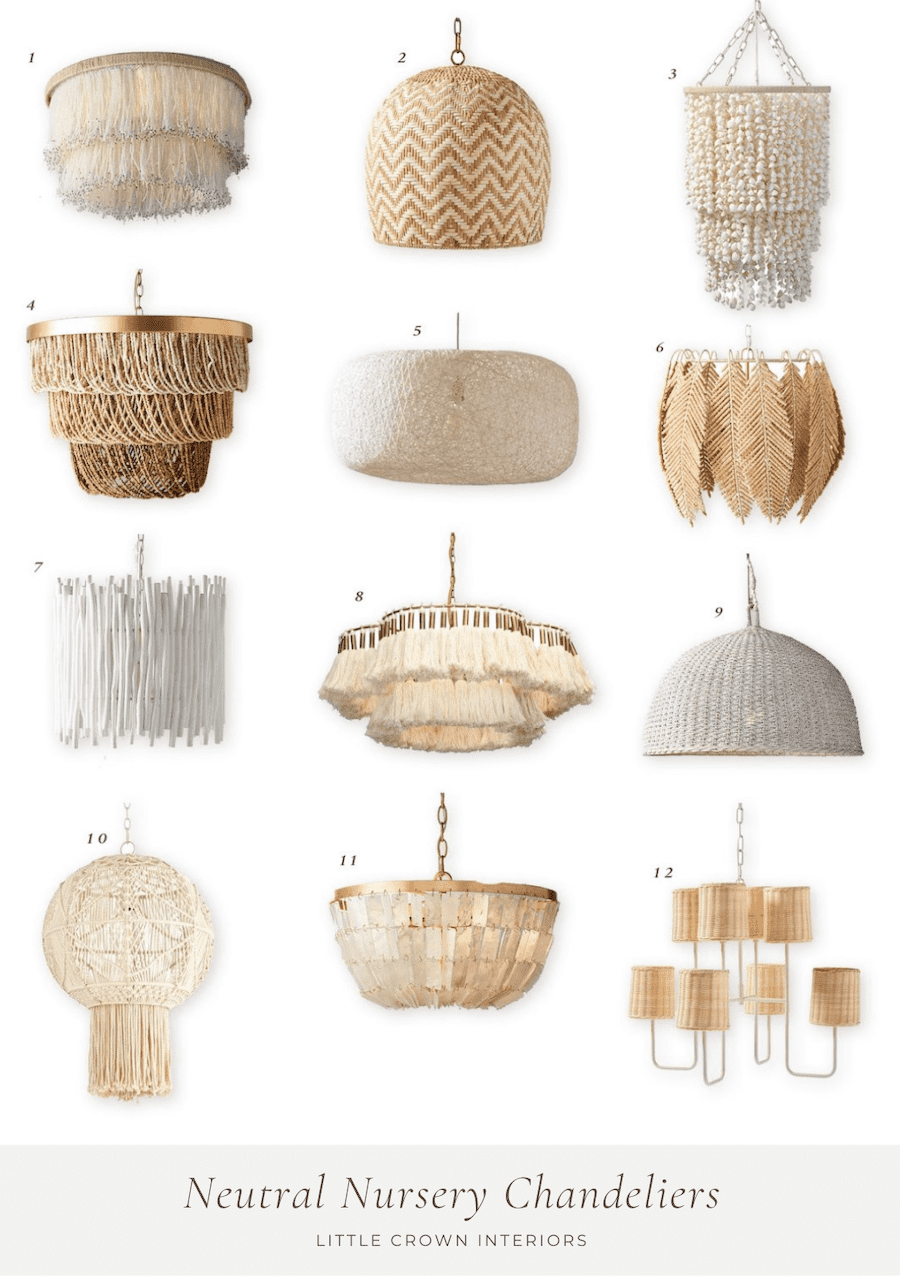 Misha Flushmount: This is definitely one of my favorite neutral lighting pieces. The boho fringe has tiny glass beads on the ends. Another great part of this piece is that it comes in a bunch of different styles including a flush mount and a chandelier. I actually used the chandelier version of this light in my Neutral Southern Jungle E-Design.
Avila Pendant: I'm typically not a huge chevron fan, but the tonal pattern of this piece is just stunning. I really love how this feels like a woven basket simply flipped upside down.
Aptos Shell Chandelier: This one is on the pricier side, but the intricate shell detailing is so unique. It really feels like a one of a kind piece.
Anya Chandelier: The ombre layering of beads on this chandelier is gorgeous! The change in color is subtle but so intricate and unique.
Open Weave Pendant: The style of this pendant is actually inspired by paper lanterns and the simplicity of the form definitely reflects that. One great feature of this piece is that it is height adjustable, so you can customize it to your ceiling height.
Sanremo Pendant: I love the organic feel of this palm leaf pendant. This piece would add such a whimsical touch to a nursery or kid's space.
Freya Chandelier: This is another one of my favorites! It is actually constructed from found wooden sticks, taking the "organic feel" to another level.
Edith Chandelier: The quatrefoil style of this chandelier reads a bit more feminine, but I just love the brass detailing combined with the tassel fringe. I could see this one working beautifully in a little girl's room.
Seagrass Market Wide Pendant: This pendant is more simple than many of the other styles that you see here, but sometimes just a classic woven texture is enough to keep the balance of the space.
Terraluz Chandelier: I definitely get dreamcatcher vibes from this piece. I really like the combination of the orb shape with the tassels. You would need slightly taller ceilings for this one, but it would add the perfect bohemian edge to your nursery design.
Skye Pendant: I really like this take on a capiz style pendant. The rectangular shaped shells make this one feel more sophisticated. Plus, this piece is available in both silver and gold.
Fairmont Chandelier: If you are looking to work some more texture into your neutral nursery design, this is the piece for you! I love the wicker play on a more classic chandelier form.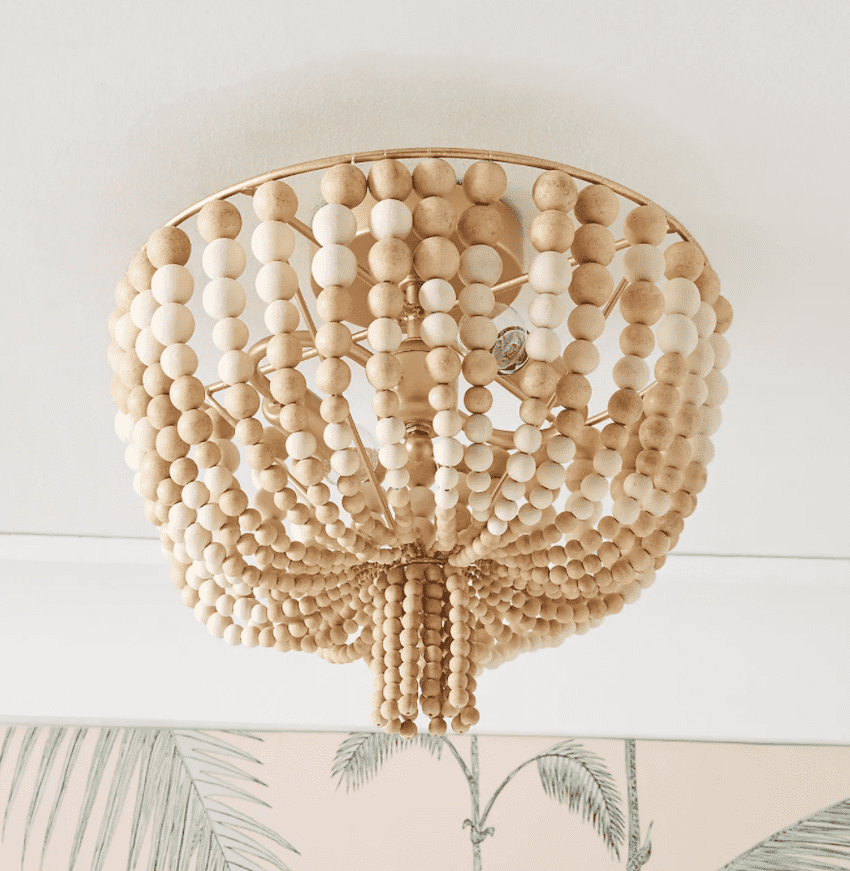 For many nurseries, a flush or semi-flush mount is the best option due to the height of the ceilings. I love when vendors provide one of these options for their popular styles, but this can sometimes be a challenge to find. One great option is the Kali Beaded Flushmount. At just 12″, it tucks close enough to the ceiling to work perfectly for lower ceiling heights.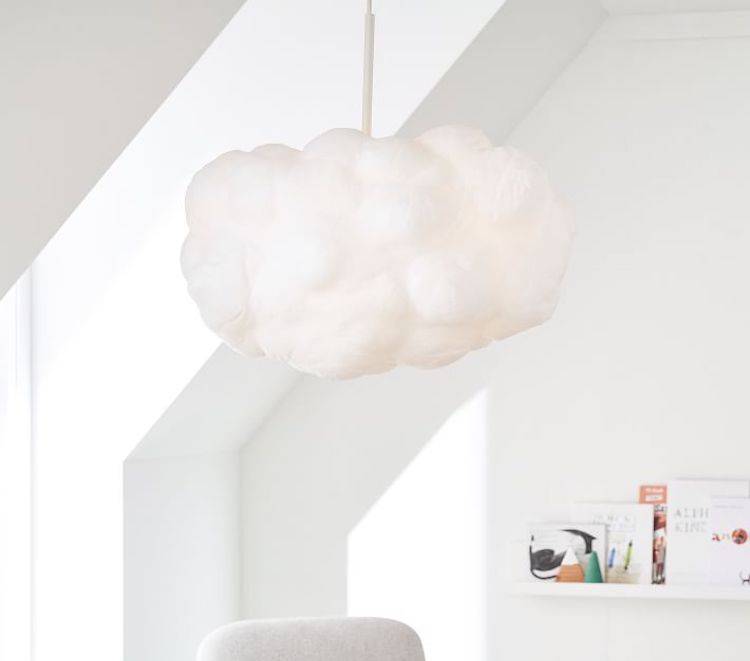 I stumbled across this Fluffy Cloud Pendant the other day, and I could not love it more. Just the name alone makes me so happy! I really like adding in soft elements to my nursery designs. This can be done with sheepskin rugs, cozy throws and snuggly blankets, but a fluffy cloud light pendant takes this to another level!
I always like to consider longevity when choosing key pieces for the nursery. This Rattan Double Tiered Pendant is a really great choice for a lighting fixture that can evolve with your design as your little one grows. There are no overly themed or trendy elements that would limit you with this one.
Need even more options? Check out Part 1 of this post: Neutral Nursery Chandeliers that Really Stand Out.
*This post may contain affiliate links, but don't worry, I only link items that I 100% recommend! You can view our Disclaimer here.