In recent years, acrylic furniture has definitely been making a comeback. I still remember when I saw the very first acrylic crib debut at a trade show probably 12 years ago! At the time, it was so new and modern that it didn't catch on immediately, but now it's a major trend and I expect it to stick around for quick some time.
Not only does it look cool, acrylic can be a fairly sustainable product. It is 100% recyclable, super durable, and nontoxic. The fact that it doesn't break or require any paint or lacquer means it's also a safe choice for a nursery. Because acrylic is clear, it takes up less visual space, which is great since most nurseries are on the smaller side.
Acrylic is light and airy, but also modern and versatile. There's a reason we use it all the time here at Little Crown Interiors! You've probably seen lots of acrylic cribs in our nursery designs. Below are some of the best acrylic crib options for your nursery.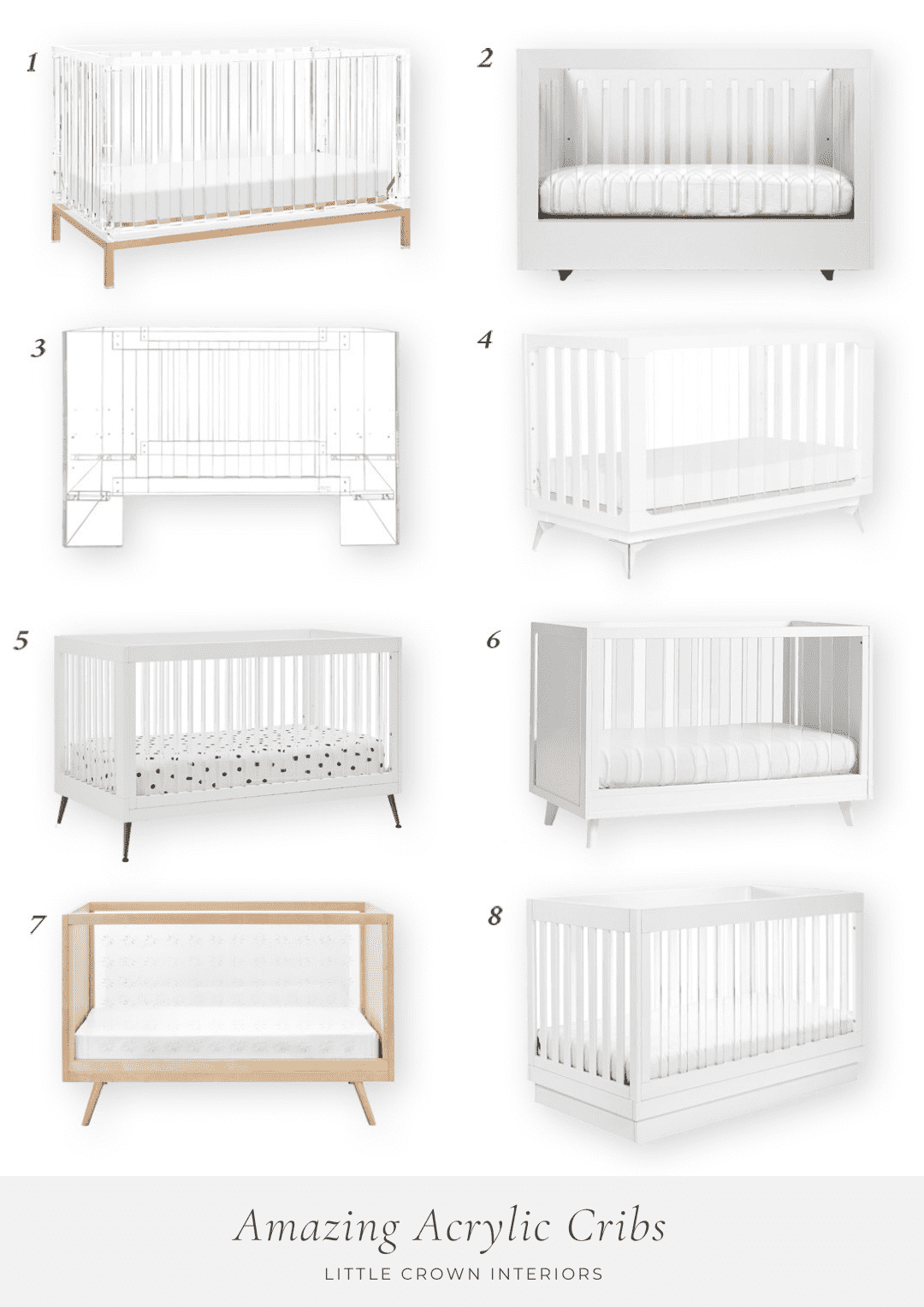 1 Luma Acrylic Crib: This crib is so stunning in person. The modern look with the rose gold base makes it feel elegant and sleek. We used this gorgeous crib in this modern terrazzo nursery—you can see how it completely opens up the space! We also just finished up another nursery using this crib which will be released soon.
2 Roh Acrylic Crib: The Roh is BPA free, phthalate free, and 100% recyclable clear acrylic. This one has a more modern design and is definitely on the higher end of the price spectrum, but it's a seriously high quality piece. You can see this one in action in our colorful safari nursery.
3 Vetro Acrylic Crib: This showstopper of a crib is the first 100% recyclable, non toxic acrylic crib on the market! I still remember seeing this one way back when it first came out. This one is available in a mini crib as well if you are looking for a bassinet-like option for those first few months. The Vetro is a splurge! We're working on a few nurseries right now using this crib.
4 Evolur Acrylic Crib: This acrylic crib is a simple, modern design at a great price point. If you like the modern look of acrylic, but don't want to go nuts with the price, this is a great option.
5 Sloane Acrylic Crib: This crib is another very affordable option. It can convert to toddler bed, daybed and a full bed. With the mid-century legs and modern look, this one is a great choice. This one also comes in a stunning black frame if you want to go bold!
6 Sloan Acrylic Crib: Not to be confused with the "Sloane" above, this acrylic crib is one of the most popular—you've probably seen it before! This one is Greenguard Gold certified to ensure good indoor air quality. You can see the acorn finish in this gender neutral nursery.
7. Nifty Acrylic Crib: This one is a bit unique since it has a light wood finish instead of the typical white or black that most acrylic cribs have. Instead of slats, this crib has acrylic panels with laser cut star shapes. Pretty cute if you ask me!
8. Harlow Acrylic Crib: This is another convertible crib that we use frequently for clients. It features a mix of wood and acrylic slats with a wood frame and a modern flat base. You can see it in action in this black and white nursery and also this floral nursery design. The wood is sustainably sourced and also Greenguard Gold certified. This one also comes in black.
A final tip before you go crib shopping—if you already know you want a toddler bed conversion kit for down the road, double check if the kit is included. If not, I recommend purchasing those at the same time as the crib in case it gets discontinued or goes out of stock.
*This post may contain affiliate links, but don't worry, I only link items that I 100% recommend! You can view our Disclaimer here.