Chandeliers can be the perfect way to make a statement in a space, but sometimes your ceiling height just isn't high enough for a large pendant or chandelier. Luckily, there are many gorgeous options in the flush or even semi-flush mount category that are perfect if you have a room with lower ceiling. These styles can also help draw your eye up, so your room appears larger. Here are some of our favorites.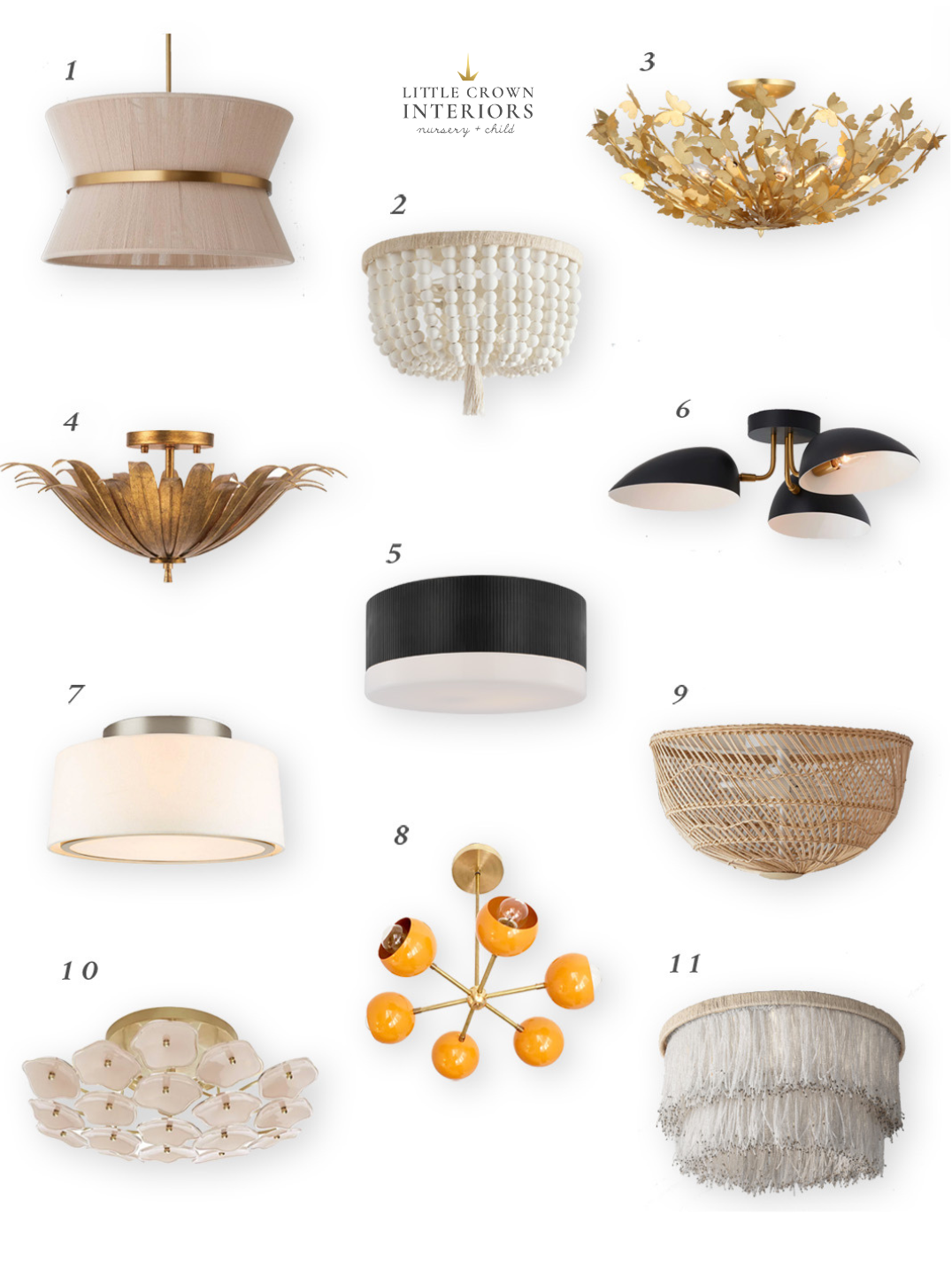 1. Neutral Rope & Gold Chandelier: This chandelier feels like the perfect transitional piece—understated, elegant and versatile. This is the lowest hanging one of this selection, so check the measurements. It's not technically a semi-flush, but it comes with a downrod that's removable, so it can be installed with just the canopy to be closer to the ceiling. We used it in our Coastal Neutral Nursery!
2. Wood Bead Flush Mount Chandelier: This light, natural chandelier gives a laid-back boho look in a more petite form than some of the pendant chandeliers in this style. It's small enough for a lower ceiling height and will give such a sweet little detail to a smaller nursery.
3. Gold Butterfly Flush Mount Chandelier: This whimsical, elegant and feminine gold chandelier is absolutely stunning in person. You can see more photos of it in our Traditional Floral Nursery. This is a wider semi-flush mount chandelier, so if you're working with a spacious room but not a lot of extra ceiling height, this is a good option.
4. Leaf Antiqued Gold Flush Mount Chandelier: With vintage glam and elegance, this one adds a touch of drama to your space. This is a statement chandelier that will work in a smaller space, especially for a more traditional nursery design.
5. Black Modern Flush Mount: This is a subtle fluted drum ceiling light in black and it's a no fuss option. It comes in brushed nickel or antiqued brass as well, and the fluting detail is small but impactful (you might have to zoom in to see it).
6. Mid-Century Modern Black Chandelier: This one feels like a modern light fixture inspired by Mid-Century design. It's versatile, high contrast and affordable. We're actually using this one in white for a nursery we're working on right now!
7. Modern Canvas Drum Shade Chandelier: With a timeless look, this sleek and subtle cone shape is a super versatile light fixture. It comes in three different metallic finishes—brushed nickel, gold satin, or dark metal. We used this in our Slate Board and Batten Nursery.
8. Mustard Yellow Mid-Century Chandelier: This playful globe chandelier comes with a pendant rod, but by customizing the length it can be installed flush or semi-flush. We are seeing an increase in requests for color in nurseries and there are SO many adorable colors to choose from here. We used this in a soft aqua color in our Playful Pink Nursery E-Design.
9. Natural Cane Woven Chandelier: With a warm glow and natural look, this flush mount chandelier gives a bit of a coastal vibe. We love this for a gender neutral option and the natural aesthetic will work in almost any nursery design.
10.  Blush and Gold Flower Flush Mount Chandelier: This one is stunning and we recently used it in our Natural and Pink Nursery design. It's playful and sweet with an elevated look. The soft pink flowers are a milky translucent and it gives off a charming light.
11.  White Glass Bead Chandelier: A unique yet subtle chandelier made up of many tiny strands of glass beads with pewter beads at ends. It give off a soft diffused light, and it is a so stunning in person! This comes in a pendant version as well. You can see this one in our Southern Inspired Nursery design.
We recommend having a couple of options of light sources other than your ceiling light in your nursery. It's very helpful to have a small table lamp next to a glider, a floor lamp or smaller light source by your changing station. You can see some of our favorite small lamps here. As always, double check your measurements to be sure your favorite chandelier fits your space.
*This post may contain affiliate links, but don't worry, I only link items that I 100% recommend! You can view our Disclaimer here.