If you've been following our work, you'll probably know that we use a wall mirror over the changing table in almost every nursery design. It's not safe to hang a mirror (or anything glass) over a crib, so that option is out. Over the changing table, however, is a perfectly natural spot to hang a mirror as mirrors are often used over dressers, consoles and other similar types of furniture. Wall mirrors help reflect light and also to make a room feel brighter and more open.
There are a few main tips to keep in mind when hanging a mirror over a dresser or changing table in a nursery, which you can see below, as well as some favorites!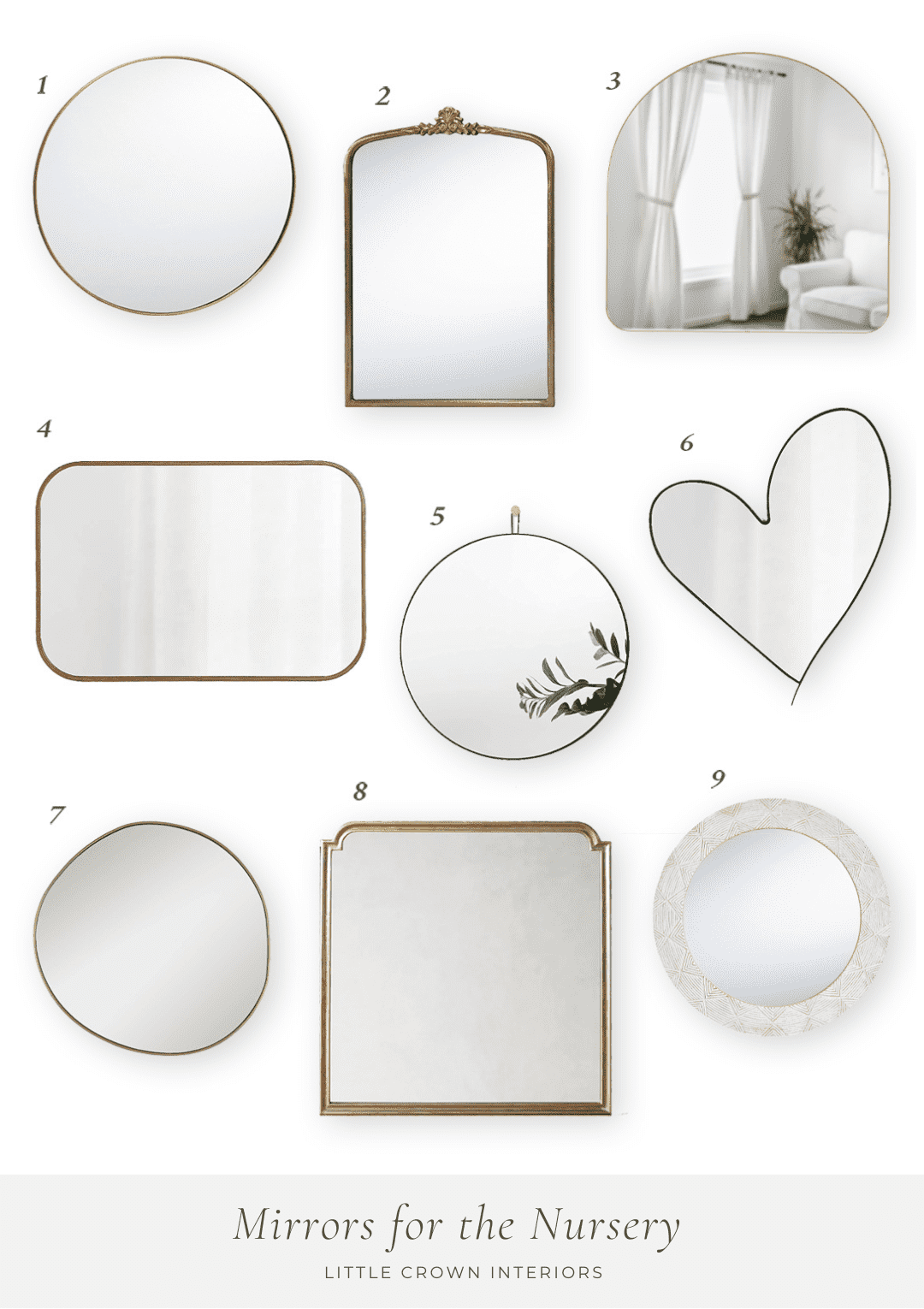 Get the right size mirror. A little dinky mirror over a dresser just doesn't look right. You'll want a mirror that's close to about 2/3 the size of the furniture underneath it. For example, if the changing table is 50″ wide, a 32″ mirror will look great. You can always go a little larger for a grander look!
Install it safely. Anything that's hung on the wall in a nursery needs to be exceedingly secure. Wall mirrors are often heavy, so we always recommend using high security hardware, heavyweight wall anchors, or a French cleat if the mirror design will work with one. When in doubt, add more security!
Watch out for sharp edges. Sometimes decorative wall mirrors will have sharp pieces or other decorative accents that can be a safety issue, so make sure the mirror is either rounded, or has a smooth rectangular edge.
1. Round Gold Mirror: This is a great round mirror that has many options for the finish and size that suits your space and design best. We used this mirror in gold to add a bit of warmth in our Floral Vines Nursery.
2. Vintage Gold Mirror: This vintage inspired mirror is an affordable option to get an antique look. It's available in a brass and bronze finish.
3. Arched Gold Mirror: I love the arch shape of this mirror, and the edges are nice and smooth. The size is also nice, so it will reflect a lot of light into the space.
4. Rounded Rectangular Mirror: This is another great option if you're after a more rectangular shaped mirror, but want those rounded edges for safety.
5. Black Round Mirror: If you want to incorporate a little black, this mirror will do that in a subtle way. It also comes in three sizes!
6. Heart Wall Mirror: I just love the playfulness of this heart mirror! It would be a super fun accent over a smaller dresser, or of course in a kid's room or playroom.
7. Uneven Round Mirror: Full disclosure: I'm a symmetry gal. This mirror doesn't appeal to me personally, but occasionally we work with clients who like a little asymmetry. If you're like that too, this could be a fun option!
8. Scalloped Edge Mirror: This mirror has a very elegant shape, and the scalloped detail at the top gives it a touch of whimsy. This would work beautifully in a more traditional nursery.
9. Carved Wood Mirror: Not into gold or metal mirrors? This hand carved wooden mirror has subtle geometric detailing and can help add texture and warmth to your space. It's a neutral piece, but the whitewash finish gives it depth.
*This post may contain affiliate links, but don't worry, I only link items that I 100% recommend! You can view our Disclaimer here.