We've got another round of popular baby and kid's products for you today! A few of times a year, we gather up products from our designs and blog posts that we shared online and on Instagram that caught your attention. This is always fun because we love to see what our audience favors and it helps us be better designers! It also helps us to continue to share nursery furniture and decor that fits your style and preferences. This time, removable wallpaper stole the show! Below are the nursery and kid's room products that created the most buzz in the last couple of months.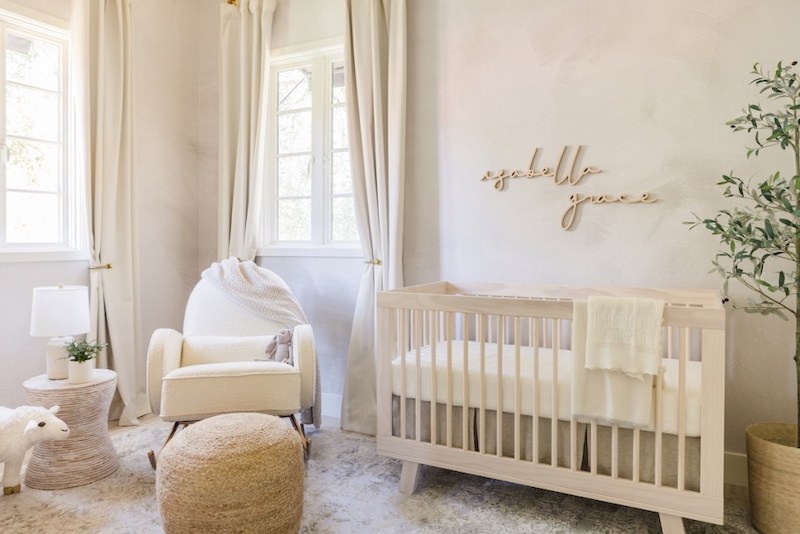 Neutral Sand Removable Wallpaper: This neutral sand toned removable wallpaper might seem really subtle at first glance, however it makes such a difference in the room. It has a printed texture and movement that adds interest and makes this nursery stand out. It's also peel and stick, so it will peel right down off the walls. See more of the details on this neutral nursery on the blog.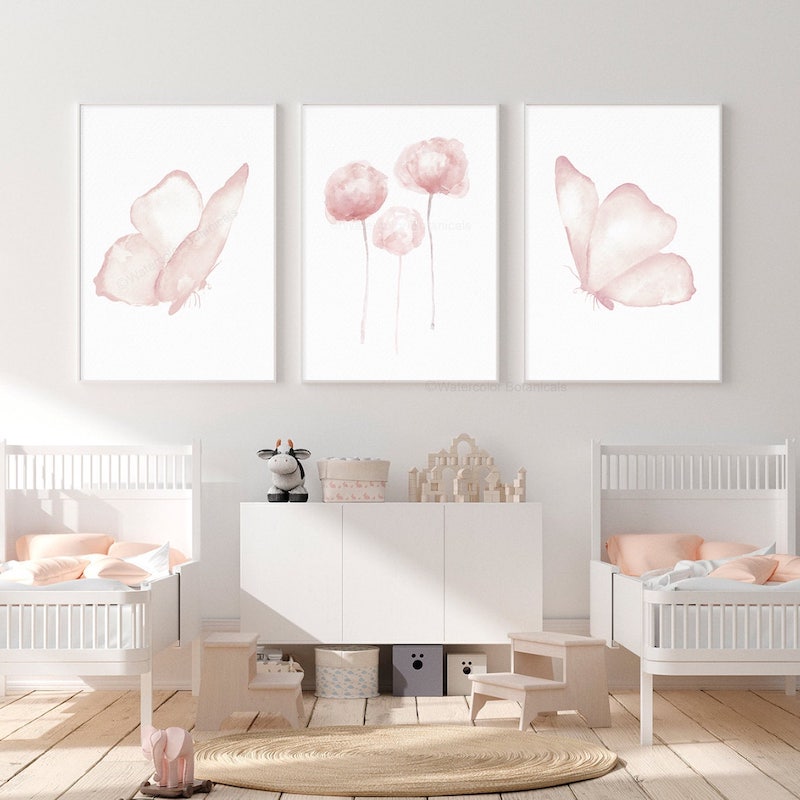 Butterfly and Peonies Wall Art: We used this set of art prints in this blush and gold girls bedroom E-Design and they are just gorgeous! The watercolor look is soft and subtle and the simplistic shapes feel sophisticated. Wall art can be a great way of incorporating a theme or an accent color in a subtle or minimalistic way. Using decor to add to the theme also makes it easy to update as your child grows. Buying art prints online for a nursery is great too because you can frame them up to match your aesthetic— gold, white, light wood, whatever other wood tones or metallics you are using.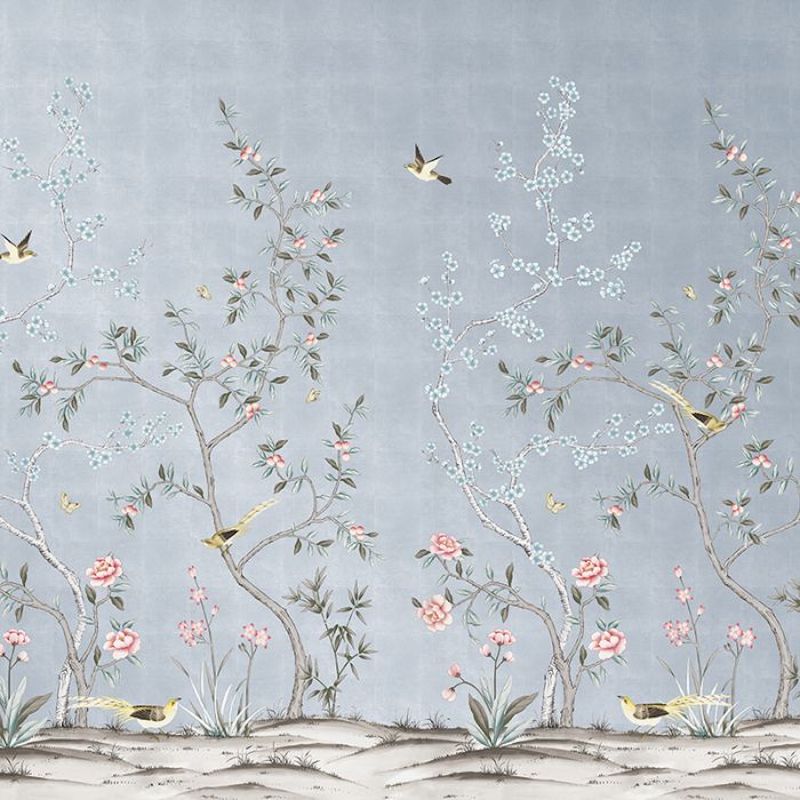 Chinoiserie Removable Wallpaper: Another removable wallpaper got lots of attention! This pattern has a soothing shade of light blue and slivery metallic sheen. In person, it leans more toward silver. This is another peel and stick wallpaper so it's not permanent. Chinoiserie in general seems to be coming back recently and we've been doing a lot of wallpapers in this style. This particular one is also custom printed to fit your space, so you don't have to worry about sizing.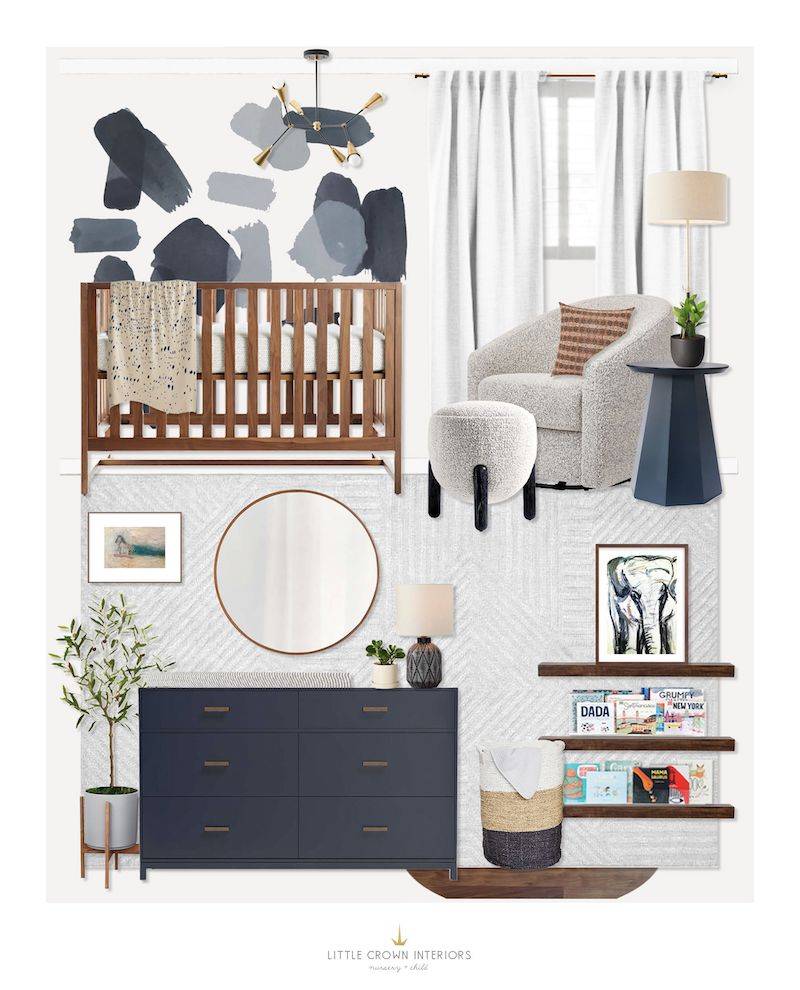 Navy Brush Stroke Decals: Yet another removable wall decor options, these muted blue abstract wall decals were viewed a ton on the blog. The blue tones feel sophisticated and create a bold look. We absolutely love the way the decals look with the rich walnut wood crib and gray tones in this nursery. These decals allowed us to work with a deeper shade of blue without overwhelming the space (it was also a small room). The decals have a matte finish which helps give the finish result an elevated look. You can find the rest of the details of this gray and navy nursery E-Design on the blog.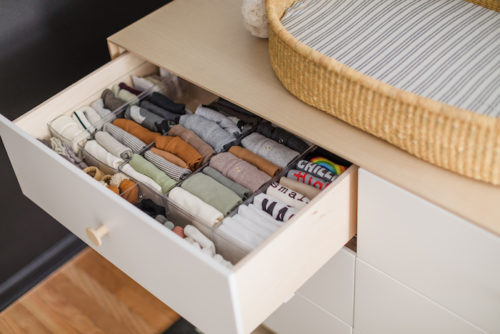 Drawer Organizers: Have you been Marie Kondo-ing your life or binging The Home Edit recently? Then this one is for you! Organizing a drawer full of teeny baby clothes is no joke! These drawer spacers will make the task much easier for your changing table or nursery dresser. You can change the spacing of these as your little one grows and they are expandable as well. We use these all the time in nursery designs, like the ones above from our Black and White Scandinavian Nursery.
If this post got you interested in refreshing your walls in a low commitment way, you can check out this blog post for some of our favorite removable wallpaper options!
*This post may contain affiliate links, but don't worry, I only link items that I 100% recommend! You can view our Disclaimer here.