I think it's about time we talk your favorite products! If you have been following Little Crown Interiors for a while, you know we share my favorite nursery furniture and decor both here and on Instagram. I share my favorite sources for cribs, dressers, artwork, and gliders—anything nursery or kid's room related. Below is a list of things you all have loved the most this past year, and can I just say you have great taste! It is honestly such a treat for me to interact with my audience and see what products you love. Take a peek below and see if you can guess what item is at the very top of the list!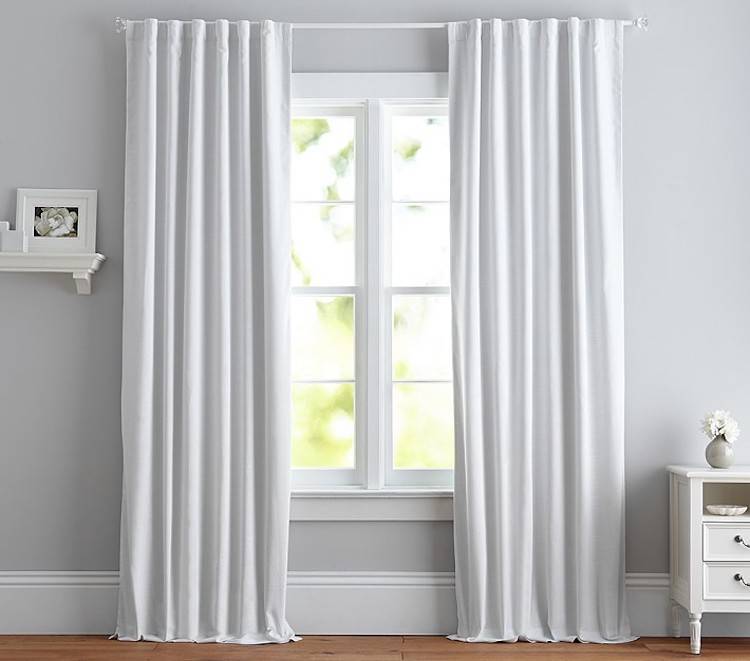 Evelyn Backout Curtains
These cotton-linen blend blackout curtains have soft, light and airy feel and will work well in a range of nurseries. Nursery blackout curtains are something you have all been searching for and asking about, so it's no surprise that our Ultimate Guide to Nursery Blackout Curtains blog post did so well. In our Black and White Scandinavian Nursery, we used these curtains in the light gray color.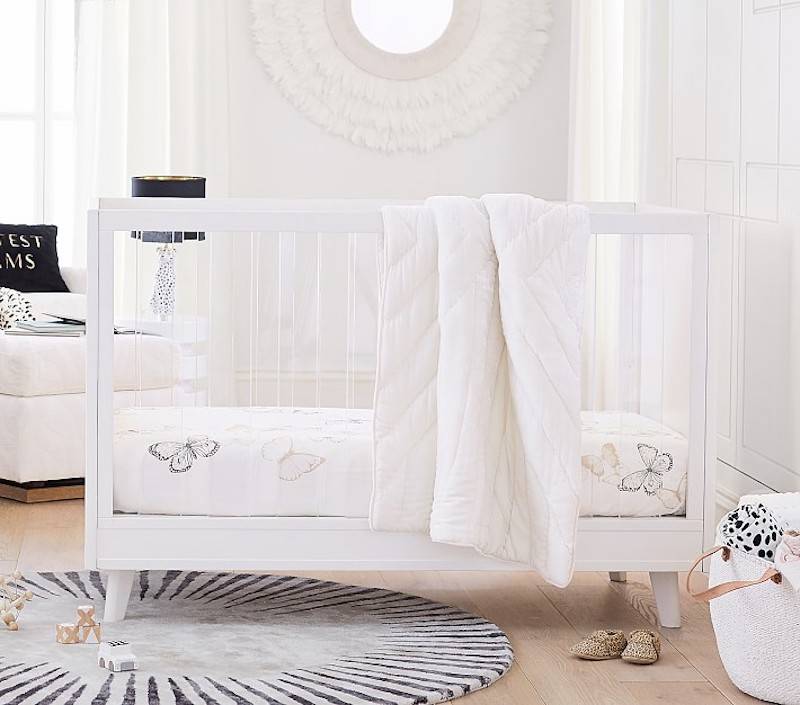 Sloan Acrylic Crib
Acrylic cribs have been wildly popular, and this acrylic crib has been a hit with our readers. Many of the rooms we work with to transform into nurseries are on the smaller side, and the see-through acrylic makes this crib feel less visually heavy in the space. The clean lines of the crib work with lots of different styles too, and I love that you can easily pass this on to a sibling since it's completely gender neutral.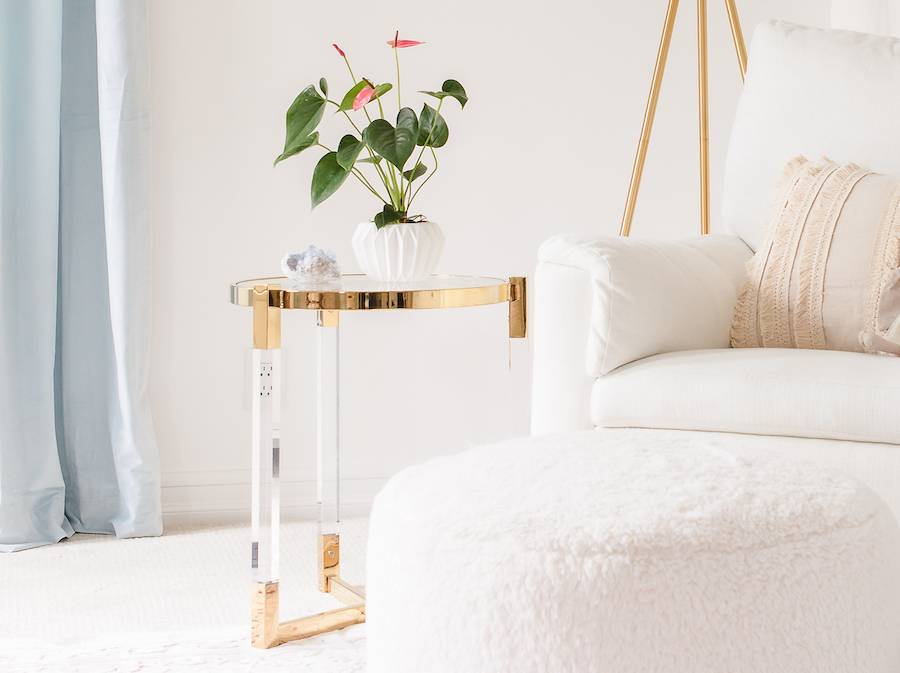 Darla Acrylic Side Table
While we're on the topic of acrylic, this acrylic side table with gold details is in the top 3 for most popular. It's a really great option for smaller nurseries since, like the crib, it doesn't take up much visual space. I love this table because it's sturdy and works so well next to a glider or rocker. See this side table in action in this white and pink nursery, and this boy's navy modern nursery.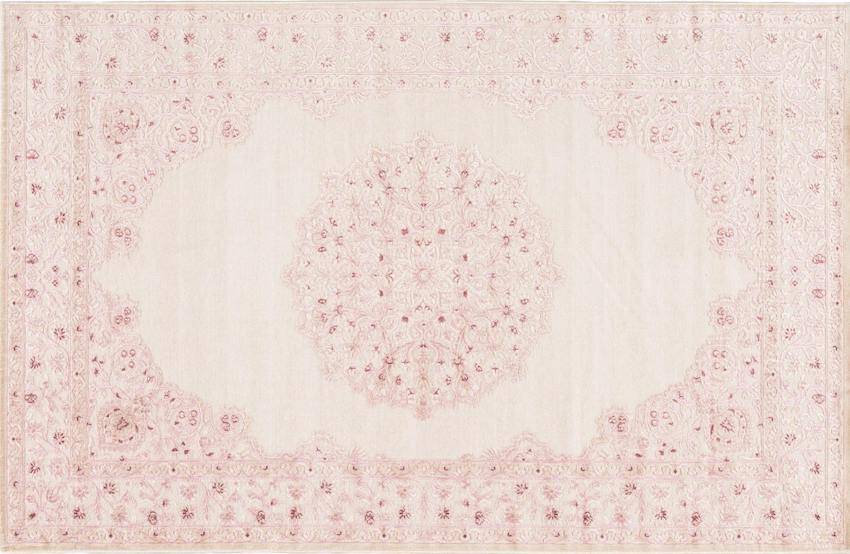 Fables Pink Medallion Rug
This subtle light pink rug has been a reader favorite! Every time I post a photo with it, I get a ton of questions and DMs asking where it's from. The pattern leans more traditional, but it can also be paired with a modern crib, like in this nursery. It also comes in a neutral/white colorway, which you can see in this floral girl's room.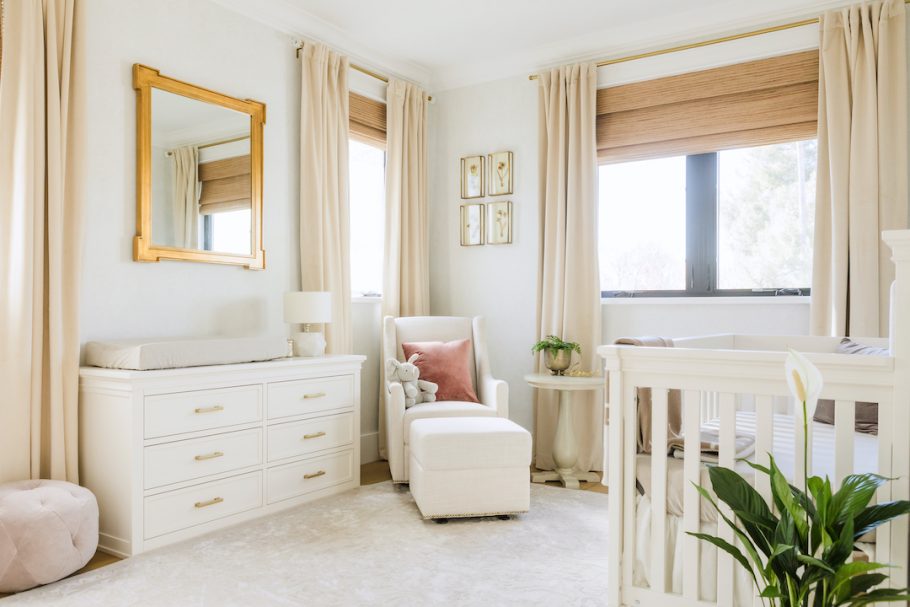 Signature Velvet Blackout Curtains
These velvet blackout curtains have been incredibly popular! I used them in this neutral & gold nursery and if you have been reading the blog for a while, you might know that these are my go-to blackout curtains. The heavy velvet gives these a luxurious feel, and they come in a ton of colors to work with any nursery design. Head over to the Ultimate Guide to Nursery Blackout Curtains post for more blackout curtains and some hardware options too!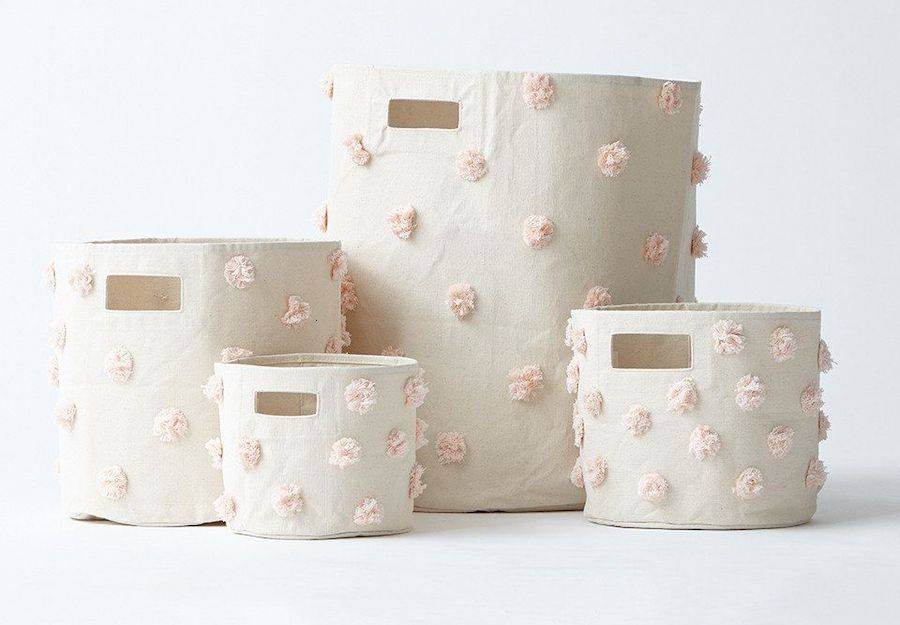 Pom Pom Storage Bin Collection
Almost every nursery or kid's room I design ends up with some kind of basket, bin or hamper. This pom pom hamper is a super popular one! Storage bins are just insanely practical when organizing toys, blankets and stuffed animals, and they make it a lot easier to keep a room looking tidy. There are multiple size and color options available so you can match it to your room.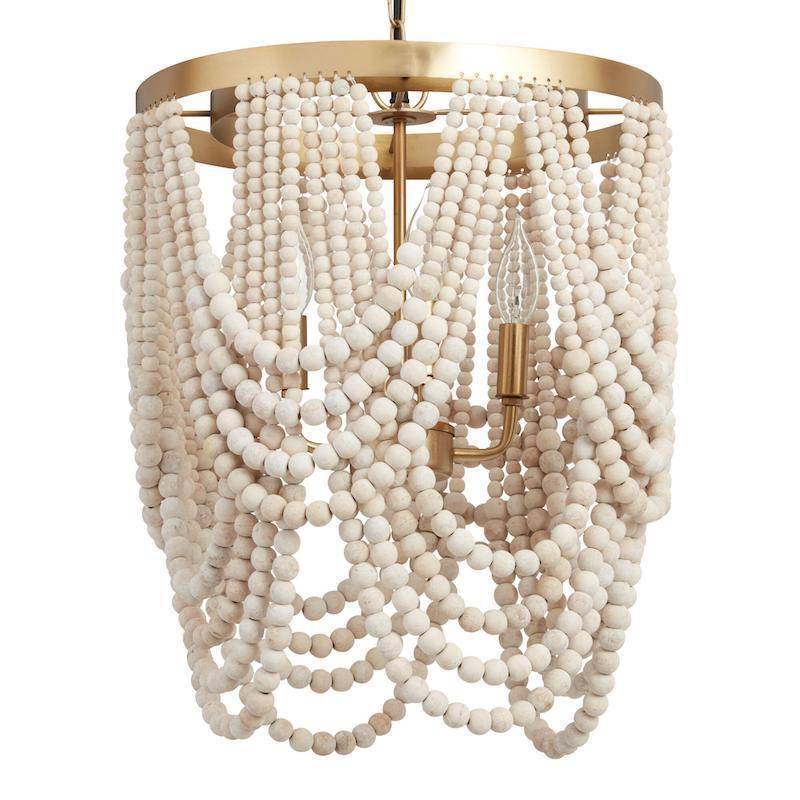 This wood bead chandelier is at the very top of the list! It is petite and elegant and just perfect for those smaller nurseries. It's a gorgeous piece for a great price, and the design is so versatile that it could stay in the room for years. This chandelier was featured in our Favorite Neutral Chandeliers roundup post and it was by far the most popular of the bunch!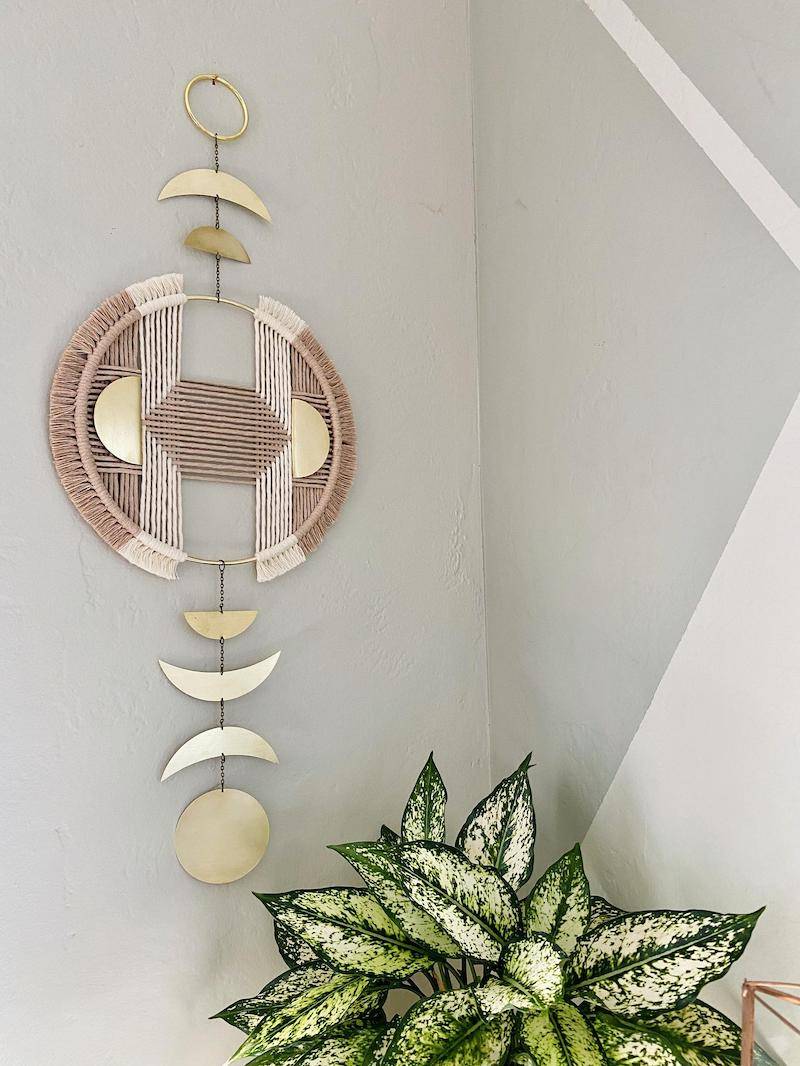 Moons Macrame Wall Hanging
Isn't this macrame wall hanging just gorgeous? Over the years, wall art in the nursery has shifted to have more sophisticated pieces. With a nod to the moon, I think this piece is a super sweet piece of art for a nursery or little girl's room, and it looks like you all did too!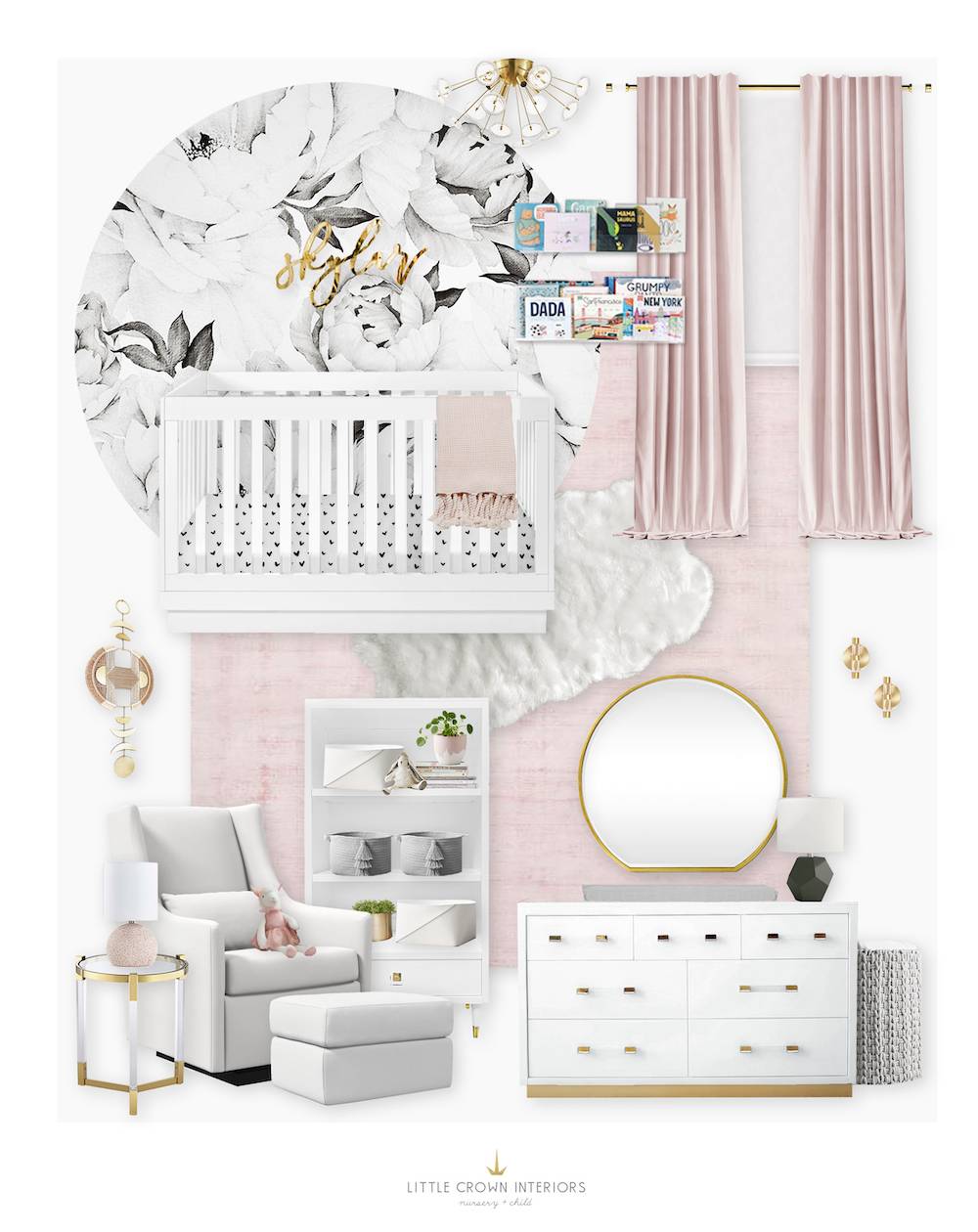 How many favorites can you spot in the E-Design above? This black, white and blush nursery was a hit on the blog, and has 3 of your favorite items in it.
*This post may contain affiliate links, but don't worry, I only link items that I 100% recommend! You can view our Disclaimer here.