Creating a baby registry can be both fun, exciting, and a little overwhelming. Whether you are welcoming the first little one in your family or adding a sibling to the mix, there are lots of products to consider. We always ask our new clients if they are registered because oftentimes the nursery design and baby registry overlap. Our interior design clients are always asking for our top recommendations, so we've pulled together some of our top suggestions below.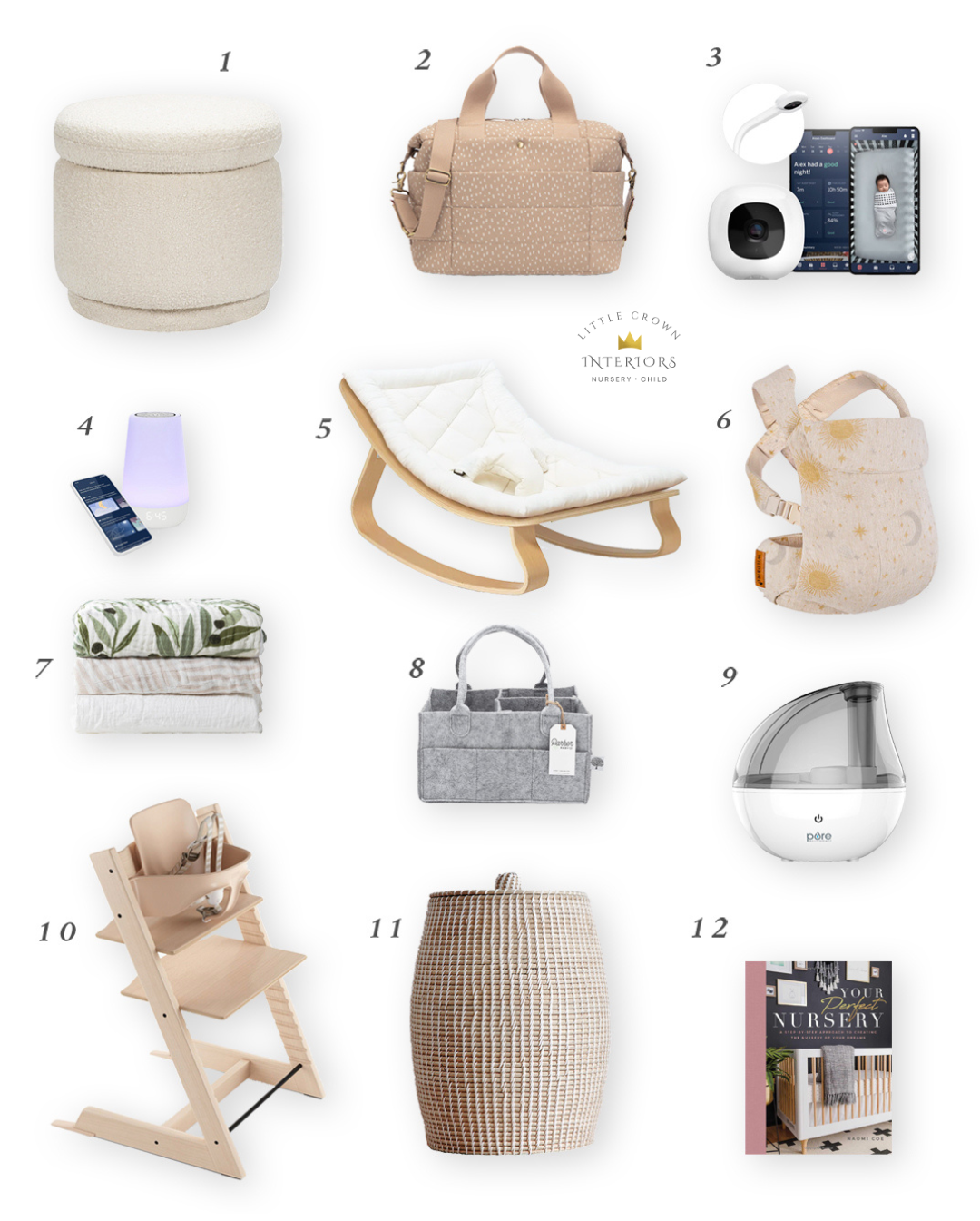 1. Boucle Storage Ottoman: A storage ottoman is a fantastic piece to have in the nursery. It provides a little extra storage and can also be used with your nursery glider for comfort. This particular storage ottoman is a really nice size and is sturdy enough to also be used as a second seat. The Ivory Boucle is right on trend and the lid easily pops off for hiding things inside.
2. Organic Diaper Bag: We love to include wall hooks in our nursery designs, and a gorgeous tote style diaper bag is the perfect thing to hang. This one comes with an organic changing pad and stroller straps, and the pattern is so darling!
3. Nanit Baby Monitor: We've designed nurseries for hundreds of clients, and they love the Nanit monitor far and above any other. This baby monitor is wi-fi based and connects to your phone for ease of use and has all the best features. However, from a nursery design perspective, we love it because it has the option for a floor stand (which means it won't get in the way of artwork or wallpaper above the crib).
4. Hatch Sleep Machine: This can help make bedtime, sleep and night-time feedings just a little easier. This is both a sound machine and a night light. As your child grows, it also has a convenient "okay to wake" light function which we love! We recommend the Hatch to all our clients because it not only functions well, but it's a nice looking piece to include in the nursery.
5. Neutral Baby Rocker: So many of our clients absolutely love this baby rocker. It's a simple and neutral design with light wood details that make it perfect for any space. It takes just minutes to assemble and has the option for adding an activity arch.
6. Neutral Baby Carrier: There are so many gorgeous baby carrier options available nowadays! We love the neutral print and the convenience of this Wildbird baby carrier. It will free up your hands while keeping your baby safe and close. This carrier is designed and created with sustainability in mind with Oeko Tex high quality linen.
7. Organic Crib Sheets: You might have spotted these crib sheet in our designs, most recently in Liv Lo and Henry Golding's nursery design. These organic crib sheets are available for a full sized crib, a midi or mini crib and even in the bassinet size. There are also coordinating changing pad covers and baby blankets in the same breathable muslin material with gender neutral options too.
8. Diaper Caddy: A diaper caddy is one of those nursery items that will instantly make your changing process easier. You can store everything you need for diaper changes in this felt basket, and because it has a handle, it's easy to grab in a moment's notice. While we often recommend a diaper caddy for the nursery changing station, it's also great to have a second one in the living room or kitchen.
9. Cool Mist Humidifier: When we design nurseries, we have to think about all the products that are going to live there since we need space for them all. Most clients end up with a humidifier, and we love to recommend this one because it's small enough to sit on a side table and has a sleek and neutral design.
10. Natural Wood High Chair: We love this high chair! It's less bulky than traditional models and can grow with your child. It converts to a chair with an adjustable seat and foot rest for just the perfect fit. There is also a coordinating infant seat that lets you use this high chair before your child is able to sit up on their own. The light wood color is gorgeous, but it also comes in lots of other colors.
11. Neutral Storage Bin: If you are a follower, you know we love to add pretty storage bins and hampers in our nursery designs. Storage is always key in a nursery, and the more the better! This neutral woven bin is definitely one of our favorites and we recommend it all the time. Because it also has a lid, it's easy to toss things in and hide them away.
12. Your Perfect Nursery Book: Lastly, my book! I packed this book full of information on how to create your dream nursery! It has guides, inspiration, checklists and tons of nursery safety information. If you are planning to DIY your nursery design or just looking for inspiration for you baby's room, this is the perfect book to register for. It also makes a fantastic baby shower gift.
Here are a few more blog posts we've written about various baby registry products if you want a little extra insight:
Best Convertible All-Stages Cribs
Best Non-Toxic Nursery Products
Mini Crib Options for Small Nursery Spaces
*This post may contain affiliate links, but don't worry, I only link items that I 100% recommend! You can view our Disclaimer here.